Tyrone land Sam for third time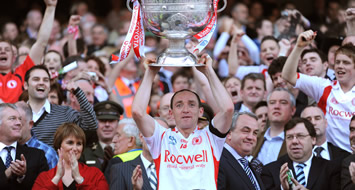 All-Ireland SFC Final:
Kerry 0-14 Tyrone 1-15
Sam Maguire will winter in Tyrone again this year after a two-year hiatus down in the Kingdom.
The three-in-row never came to pass and once again it was Mickey Harte's men who broke Kerry hearts.
It was a truly gripping, blockbuster of a game that will be remembered for its sheer intensity and the physicality adopted by both sides.
Brian Dooher climbed the steps of the Hogan Stand and accepted the Sam Maguire Cup from GAA President Nickey Brennan, his rousing speech reaching a poignant crescendo when he paid tribute to goalkeeper John Devine, who sat the game out after his father passed away on Saturday.
"He as an inspiration to us all, the way he coped over the last 24 hours – this is for you JD," Dooher said before raising the cup aloft.
Devine's was just one thread in an amazing Tyrone story. Dooher also remembered Cormac McAnallen, the former Red Hand captain who passed away suddenly when this team was laying the foundations of its dynasty in 2004.
Four points scarcely reflects the gossamer thin gap that existed between these two fine sides. In fact, the game was level as late as the 64th minute, but Tyrone finished with an elemental fury that was both shocking and ruthless.
Sean Cavanagh nudged the Ulster side ahead with his fifth point from play on the day, before Enda McGinley added two more and Colm Cavanagh another to apply a coat of gloss to a performance that had already guaranteed their place in the pantheon of great football sides.
It was Tyrone's sheer workrate and the manner in which their players have the ability to play almost anywhere on the pitch that won it for them in the end.
The goal that won the game came immediately after the break, when Stephen O'Neill passed to fellow substitute Kevin Hughes who saw his low shot saved by Diarmuid Murphy. The loose ball dribbled free and it was Tommy McGuigan who was quickest to react, his toed effort putting Tyrone into a two-point lead – one they relinquished only briefly in the final 35 minutes.
Kerry had clawed back into the lead in the 57th minute when the brilliant Colm Cooper scored himself and set up another for Darragh O Se. But they failed to score again in the final 13 minutes when Tyrone rediscovered their scoring touch.
Cooper was immense for Kerry when he was fed the right kind of ball, but all too frequently, it was the ineffective Kieran Donaghy and Tommy Walsh who were targeted with the high ball. The McMahon brothers, Justin and Joe, were ready for the aerial bombardment and Justin in particular marked Donaghy cleverly on the edge of the square.
There were brief glimpses of the kind of football Kerry are capable of, while Tyrone rarely deviated from the gameplan that has served them so well this year.
Mickey Harte made three changes to the side he named during the week, with Martin Penrose again coming into the side at centre-forward in place of Brian McGuigan. Ryan Mellon was an unexpected addition at corner forward in place of Ciaran Gourley, while Pascal McConnell started in goal in place of John Devine who tragically lost his father to illness on Saturday.
Tyrone started like they meant business as McGinley won the ball from the throw-in and ran through the entire Kerry defence but panicked when he saw open country in front of him and was fouled as he checked his run. Colm McCullagh took the free and slotted over the opening score of the game.
But Kerry hit back immediately as Darragh O Se won the first kick out and fed Cooper who beat Conor Gormley to the ball and fired over his only point from play of the half.
Tyrone had a chance to sneak ahead again in the fifth minute but Cavanagh, uncharacteristically it must be said, dropped a free into Diarmuid Murphy's hands after Davy Harte had been fouled.
Cavanagh was then upended by Tom O'Sullivan as their tussle began to develop an edge, and Tommy McGuigan popped over the free.
Darragh O Se was beginning to take control of the skies around the middle of the field and he again won clean ball before releasing Tommy Walsh who was fouled by Joe McMahon and Cooper levelled the game for the second time from the ensuing free.
Kerry should have had a goal a minute later Walsh and Cooper exchanged passes and the Killarney man unselfishly played Declan O'Sullivan in on goal, but last year's All-Ireland final man of the match blazed his shot wide from a tight angle.
Tyrone were struggling to make headway in attack and they frequently met a brick wall in the shape of the Kerry defence. However, after good work by Tommy McGuigan and Cavanagh, Davy Harte was given the chance to loft over a delightful effort with the outside of his right boot.
Dooher had started poorly, the Red Hand legend betraying nerves on the big day, and when he gave away the ball to Killian Young, the Tyrone defence was forced to pull down the Kerry defender and again it was Cooper who again did the damage from the free.
Kerry then took the lead for the first time in the 13th minute when O'Sullivan made up for his earlier miss with a point from play after Darragh O Se had again won the ball in midfield.
Cavanagh then hit two points in a row as he took advantage of mistakes by Darragh O Se and Killian Young to give the Red Hands the lead. O'Sullivan was everywhere for Kerry in the first half and he kicked a point before making a great block on Cavanagh as the Tyrone centre-forward was about to pull trigger on the edge of the square.
It is normal practise to isolate a turning point in the game, and one duly arrived in the 24th minute as stand-in goalkeeper McConnell made a great save to deny Tommy Walsh a goal before Dooher went up the other end and sent over a glorious point from the righ touchline.
Stephen O'Neill, back in the Tyrone panel for the first time this year, then came on a s a substitute for the injured Colm McCullagh but was clearly lacking match fitness and failed to make any impact outside the part he played in the Tyrone goal.
The indefatigable Ryan McMenamin picked Darragh O'Se's pocket under the Hogan Stand and set up Penrose, who opted to go for a point when the goal chance presented itself.
But Kerry hit back twice in the next few minutes through Sheehan and Cooper [both frees] to take 0-8 to 0-7 lead into the break.
McGuigan's goal inside the opening minute of the second half set Tyrone on their way.
Kerry could, and possibly should, have goaled on 39 minutes but Eoin Brosnan was blocked by Justin McMahon and Sheehan sent the resultant '45 wide.
Darren O'Sullivan was introduced and made a difference briefly, but the stars just seemed to be aligned in Tyrone's favour. Even a late appearance by substitute Paul Galvin could not save the Kingdom from defeat.
Scorers for Tyrone: R Mellon 0-1, D Harte 0-1, E McGinley 0-1, B Dooher 0-2, M Penrose 0-1, T McGuigan 1-1 [0-1f], S Cavanagh 0-5, C McCullagh 0-1 [0-1f], C Cavanagh 0-1, K Hughes 0-1.
Scorers for Kerry: T O Se 0-1, D O Se 0-1, B Sheehan 0-2 [0-2f] Declan O'Sullivan 0-2, C Cooper 0-6 [0-3f] T Walsh 0-1, Darren O'Sullivan 0-1.
Tyrone: P McConnell; R McMenamin, Justin McMahon, Joe McMahon; D Harte, C Gormley, P Jordan; C Holmes, E McGinley; B Dooher, M Penrose, R Mellon; T McGuigan, S Cavanagh, C McCullagh.
Subs for Tyrone: K Hughes for C Holmes HT, B McGuigan for M Penrose '51, O Mulligan for R Mellon '57, C Cavanagh for T McGuigan '69.
Kerry: D Murphy; M Ó Sé, T O'Sullivan, P Reidy; T Ó Sé, A O'Mahony, K Young; D Ó Sé, S Scanlon; B Sheehan, D O'Sullivan, E Brosnan; C Cooper, K Donaghy, T Walsh.
Subs for Kerry: Darren O'Sullivan for E Brosnan '42, T Griffin for S Scanlon '51, P Galvin for T Walsh '59, D Moran for B Sheehan '67.
Referee: Maurice Deegan [Laois]
Attendance: 82,204
—
Tomas O Dalaigh, Uachtaran Comhairle Uladh would like to congratulate Tyrone on their magnificent achievement in winning their third All Ireland title in Croke Park. As the Tyrone minors are still involved, this renders the County the prospect of winning Ulster's first County minor and Senior double. He wishes the Tyrone minors the best of good fortune for their replay in Longfort on Saturday versus Mayo.
He also extended the sympathy of the entire GAA family to the family, friends and GAA in Club Aireagal Ciarain and Tyrone on the death of the late John Devine.