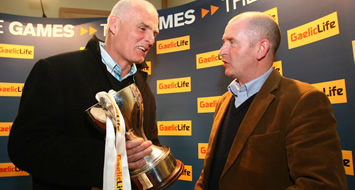 Reigning Dr McKenna Cup Champions Down have been drawn against All Ireland SFC Champions Tyrone in the group stages of the 2009 Gaelic Life Dr McKenna Cup.  Monaghan and St Mary's make up the other teams in Group B.
In Group A, reigning NFL Champions Derry will square up against last year's beaten Ulster finalists Fermanagh along with Donegal and UUJ.
In Group C, new Antrim manager Liam Bradley, who was present at the draw, will have to pit his wits against Ulster Champions Armagh, as well as Cavan and QUB.
In the semi-finals, the winners of Groups B and C will face each other, while the winners of Group A will take on the best placed Runners Up.
The dates and venues for all the fixtures will be confirmed at the next meeting on the Ulster Council's Competition Control Committee.
—
Full Draw:
Group A:
Fermanagh, Derry, Jordanstown, Donegal

Group B:
Tyrone, Monaghan, Down, St Mary's

Group C:
Armagh, Queen's, Cavan, Antrim.

Semi-finals:
Group A Winners v Best Runners Up
Group B Winners v Group C Winners.