Ulster Club Final Refixed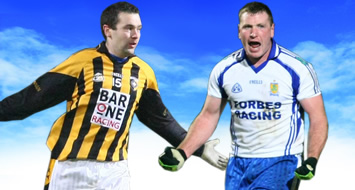 Yesterday's Ulster Club Senior Football Championship Final fell foul of the winter frost and had to be called off at around 12pm.  The refixed final replay will now take place on Sunday 14th December at Brewster Park Enniskillen, with a 2.30pm throw in.
—
Sunday's game – like all replays, is set to be a serious tactical battle.  The past fourteen days will have been a time for reflection for both Donal Murtagh and Martin McKinless and their respective backroom teams.   From a Ballinderry perspective, they will realise that Ronan McGuckin made an impact in the physical stakes when introduced last week and subsequently, could be introduced from the offset.  Darren Conway was extremely busy in the first half where he was very mobile at centre half forward and also pulled Francie Bellew out from the heart of the Cross' defence.  Niall McCusker could be deployed to the edge of the square from the start as Ballinderry are physically small in the inside line.  With Enda Muldoon rightfully deployed at midfield, Colin Devlin, Raymond Wilkinson and Brian McGuckin all contributed to last week's epic, but they lack physical strength and can be swallowed up in the tackle.  These are just some of the ideas that McKinless and co will have discussed since last Sunday.
From Crossmaglen's point of view, they will know that should they find themselves in a similar position to last week with ten minutes remaining, they will need to kill the game off like they have done so many times in the past, but for some reason not last week.  Paul Kernan's deployment at full back worked well, with John Donaldson also having a strong game at wing half back.  In the air, Tony McEntee, David McKenna and John McEntee were at times sublime.  These three provided a strong platform for most of Crossmaglen's attacks.  Michael McNamee looked extremely dangerous at times, but like Tony and Stephen Kernan, he wasn't involved in the game enough.  John Murtagh looked lively when introduced and took a fine point off his left foot, so he could claim a starting berth.
Last weeks final was a far cry from the 2006 decider that was played in horrendous conditions at Casement Park, that ended in a Crossmaglen victory on a scoreline of 0-5 to 0-3.  Today, supporters are looking forward in anticipation to a game to match last week's hugely entertaining tussle.  Will Crossmaglen secure their three in a row or will Ballinderry collect their second Ulster title?  Hopefully, by 4.00pm on Sunday we will have an answer to this conundrum.