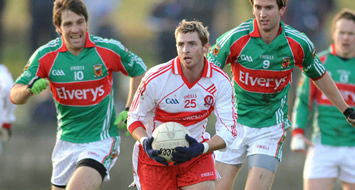 Allianz NFL Division 1:
Mayo 0-10 Derry 1-9
However, it will be the discipline rather than the result that will remain a talking point as four Derry players saw yellow cards and were effectively sent off.  Brian McGuigan, brought in at the last minute to replace Sean Marty Lockhart who became a father last night, was yellow carded for a challenge on Trevor Mortimer and he was replaced by John O'Kane.
Three more were to follow, but the most contentious will be Patsy Bradley's dismissal who was sent off in the 20th minute for an innocuous challenge on Mayo forward Andy Moran; despite already being on a ticking it was felt that Bradley didn't deserve a second.
Mayo were the quicker out of the blocks and on 47 seconds corner forward Moran sent the ball over to open his and the Westerners' league account. They soon doubled their lead through Tom Parsons.
But Derry never let themselves get out of contention and they were back on terms minutes later through two points by Barry McGoldrick, both from frees.
After 35 minutes The Oak Leafers had already three forced substitutions with debutant Brian McAlary added to the list of yellow card recipients. Mayo never made the advantage count as they went in at the break with the score at 0-6 to 0-5 in favour of the home side.
The first ten minutes of the second half saw the visitors take the initiative and the introduction of Paddy Bradley on 43 minutes proved vital as moments later he flicked the ball off to the on-rushing James Kielt and the youngster smashed the ball home putting Derry in the driving seat with a score of 1-6 to 0-7.
Mayo's response was to make a double substitution introducing Conor Mortimer and Pat Harte in place of Parsons and Billy Joe Padden, and the DCU man sparked some life into the forward line, forcing a '45 after pressuring Shane McGuckian in the Derry goal and forcing the 'keeper to concede a 45 which resulted in Ronan McGarrity pointing.
But the home side couldn't get back into the game and in the end their stamina and fitness were outmatched by what proved to be a very strong Derry panel.
Derry's debutants proved the difference, especially Kielt who tormented the Mayo defence and eventually tallied a score of 1-2, with the goal proving the winning score.
Scorers for Mayo: A Dillon (0-3, 0-3f), A Moran (0-2, 0-1 '45), C Mortimer (0-2, 0-1f), P Gardiner, R McGarrity, T Parsons (0-1) each.
Scorers for Derry: J Kielt 1-2, B McGoldrick (0-2), M Goldrick, S Bradley, P Young, P Cartin, F Doherty (0-1) each.
Mayo: D Clarke; L O'Malley, G Cafferky, D Vaughan; P Gardiner, T Cunniffe, P Kelly; T Parsons , R McGarrity; BJ Padden T Mortimer, A Dillon; A Moran, B Moran, M Sweeney. Subs: C Mortimer for BJ Padden (on 49 minutes), P Harte for T Parsons (49), A O'Shea for T Mortimer (51), M Rolandson for M Sweeney (65) and K McLoughlin for D Vaughan (69).
Derry: S McGuckian; B Og McAlary, B McGuigan, R Dillon; P Cartin, J O'Kane, C McKaigue; F Doherty, Patsy Bradley; E Lynn, B McGoldrick, S L McGoldrick; J Kielt, E Bradley, S Bradley.
Subs: G O'Kane for B McGuigan (on 15 minutes), J Diver for Patsy Bradley (20), P Young  for B óg McAlary (35), Paddy Bradley for S Bradley (43), B Mullan for B McGoldrick (50) and D McBride for R Dillon (64).
Referee: Maurice Deegan (Laois).
Yellow Cards: 4: B, Mcguigan, P Bradley, B McAlary, R Dillon.
Attendance: 2,500
—
Allianz NFL Division 1:
Kerry 2-13 Donegal 0-11
Jack O'Connor's second spell as Kerry manager got off to the best possible start with a comfortable 2-13 to 0-11 win over Donegal on Sunday.
It was John Joe Doherty's first game in charge of the Ulster men and without several first team players they struggled in tough conditions, trailing by 11 points, 2-8 to 0-3, at the break.
The game was all but over as a contest when Kerry grabbed two early goals, with Colm Cooper finishing a fine Kerry move with his fist after good work by Aidan O'Shea and David Moran before Tommy Walsh dealt Donegal's hopes a killer blow with a second after 15 minutes.
Stephen Griffin [0-2] and Michael Doherty were the only Donegal players to score in the first half, while Paul Galvin was on form for Kerry, grabbing three points from play which were supplemented well by the free-taking of Moran, who was excellent throughout.
Brian Roper, who was making a record 148th appearance for Donegal, was introduced at the break and he made a massive difference, scoring 0-2 from play to add to a Neil Gallagher score.
But Kerry were comfortable throughout and never looked like relinquishing their lead in a clean game that so no yellow cards.
—
Allianz NFL Division 2:
Fermanagh 1-10 Monaghan 2-12
A Tommy Freeman penalty eight minutes into the second half at Eniskillen proved the difference for Monaghan as they ran out 2-12 to 1-10 winners over Fermanagh in an exciting Allianz NFL Division Two clash on Sunday.
Freeman struck his shot straight down the middle leaving Ronan Gallagher with no chance to give his side a 2-7 to 1-6 lead after Shane Goan was penalised by referee John Bannon for a foot block on the Farney attacker.
Freeman was the stand-out performer on the day, finishing with 1-3, while Dick Clerkin was exceptional at midfield.
For Fermanagh, Enda Ferris finished with 1-3 and Mark Little, who was a late addition to the side, performed well.
It had started perfectly for Malachy O'Rourke's Fermanagh side, who led early on when Ferris scored a goal when he pounced on a loose ball and blasted beyond Padraig McBennett.
Ferris then had the chance to grab another goal when he stood up to take a penalty after Shane O'Brien was hauled down. However, McBennett denied Ferris with a brilliant save low to his right, but there was some consolation for last year's beaten Ulster finalists as O'Brien knocked over the resultant '45.
But Monaghan hit back on ten minutes with a brilliantly-executed goal which involved up to ten players in a fine passing move. Stephen Gollogly fed the ball to Conor McManus, the wing-back, who fired home from the edge of the square to level the game.
Monaghan, despite Dessie Mone seeing yellow, held out to lead 1-7 to 1-4 at the interval.
Freeman then got the crucial goal from the penalty spot and Fermanagh failed to stay with their opponents despite the best efforts of Little and the impressive debutant, Ferris.
—
Allianz NFL Division 2:
Wexford 2-9 Armagh 4-16
Ryan Henderson had a day he will never forget for Armagh on Sunday, when he scored 4-3 in their dramatic 4-16 to 2-9 decision over Wexford at Wexford Park in Division One of the Allianz National Football League.
This was a game of two contrasting halves: Wexford won the first by 2-8 to 2-3; Armagh ran away with the second by 2-13 to 0-1.
Mattie Forde did not start for The Model County and they fell behind to an early Henderson major after a sublime Ronan Clarke pass. He then scored another as Armagh led 2-3 to 0-3, but Wexford dominated the rest of the half.
Their first green flag came from the boot of Paddy Colfer and David Fogarty added another to helo the hosts into a five-point half-time lead.
Armagh had to play all of the second half and much of the first without Ronan Clarke, who was yellow-carded.
Forde came on to predictable acclaim from the crowd in the second half but he was a bystander as Armagh ran riot. Peadar Toal was on scoring form, as were Martin O'Rourke and Stephen Kernan.
With Henderson – in his second spell with Armagh – grabbing two more goals, the Ulster men assumed dominance and went back up north with two points.
—
Allianz NFL Division 3:
Longford 3-6 Cavan 0-12
Tommy Carr's Cavan have plenty of work to do, to judge by this disappointing three-point loss against Longford in Pearse Park.
Glenn Ryan's men were in front, 1-5 to 0-4, at half-time, with Shane Doyle fisting in their opening green flag; indeed, their ability to score goals was the key to this win.
Padraic Shanley added another goal for The Midlanders en route to a three-point win.
—
Allianz NFL Division 3:
Tipperary 1-9 Down 0-18
Down eventually pulled away from Tipperary at Semple Stadium, but they were made to work by the home side.
Down were far stronger in the second half, despite a Premier green flag.
—
Allianz NFL Division 4:
Antrim 0-15 Wicklow 3-6
Michael McCann spurned a late free to win this opening Allianz National League Division Four clash for Antrim against Wicklow.
The Saffrons had led 0-8 to 0-3 at half-time, but The Garden County began the second half very well, with green flags from Sean Furlong and Dean Odlum.
Furlong scored another goal, before Kevin Brady equalised for the home side, but a draw was all that they could manage.