2010 Dr McKenna Cup Launched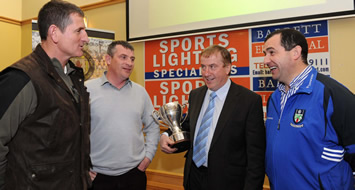 The launch of the 2010 Dr McKenna Cup took place today in the Armagh City Hotel where the new sponsors of the competition were revealed.
The 2010 competition will be sponsored by Barrett Sports Lighting and Managing Director, Martin Barrett stated:
"Barrett Sports Lighting are delighted to sponsor the Dr McKenna Cup.  This is a competition where the future county stars can challenge themselves against current county stars in competitive action.  It also provides counties with meaningful preparation for the National Football League, and we are already looking forward to the Barrett Sports Lighting Dr McKenna Cup".
Ulster GAA President Tom Daly paid tribute to the previous sponsor Gaelic Life, while he welcomed the new partnership with Barrett Sports Lighting as he commented:
"Ulster GAA is extremely grateful for the support from our new sponsors Barrett Sports Lighting.  We look forward to working together to raise the profile of the competition to an all-time high.  We look forward to the beginning of our Inter County programme for 2010 and an exciting and entertaining month of Barrett Sports Lighting Dr McKenna Cup action in January.  I wish all teams well".
—
Videos:
2010 Barrett Sports Lighting Dr McKenna Cup Launch:
Paddy O'Rourke looks forward to his first taste of Competitive action as Armagh Manager:
—
The Groups and Fixtures for the 2010 Barrett Sports Lighting are as follows:
Group A
UUJ
Monaghan
Armagh
Fermanagh
Group B
St Mary's
Cavan
Donegal
Tyrone
Group C
QUB
Down
Antrim
Derry
Barrett Sports Lighting Dr. McKenna Cup 2010
All Sunday games at 2.00 p.m. All midweek games at 7.30 p.m.
(Extra time to be played in Semi finals & Final)
Sun 10th January: (Round 1)
Group A
Monaghan v UUJ at Clones
Armagh v Fermanagh at Crossmaglen
Group B
Tyrone v Cavan at Healy Park
Donegal v St. Mary's at Ballybofey
Group C
Derry v Down at Celtic Park
Antrim v Queens at Casement Park
Sunday 17th January: (Round 2)
Group A
Armagh v UUJ at Crossmaglen
Fermanagh v Monaghan at Brewster Park
Group B
Cavan v Donegal at Kingspan Breffni Park
Tyrone v St. Mary's at Healy Park
Group C
Down v Queens at Pairc Esler
Antrim v Derry at Casement Park
Wednesday 20th January: (Round 3)
Group A
Monaghan v Armagh at Inniskeen
Fermanagh v UUJ at Brewster Park
Group B
Cavan v St Mary's at Kingspan Breffni Park
Donegal v Tyrone at Ballybofey
Group C
Down v Antrim at Pairc Esler
Derry v Queens at Celtic Park
Sat 23rd / Sun 24th January:
Semi Finals:
(1) Best Runners Up v Winner of Section C
(2) Winner of Section A v Winner of Section B
Saturday 30th January:
Final: 1 v 2