Education Minister visits Rathlin PS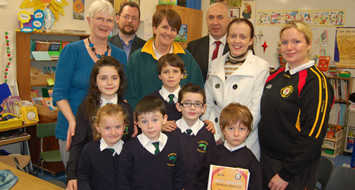 On Wednesday 16th December, the Minister for Education Caitríona Ruane was accompanied on a visit to Rathlin Island by Provincial Director of Ulster GAA Danny Murphy, GAA DENI schools coach Roisin Keenan, Chairperson of Moyle District Council, Councillor Cara McShane and the Gaelic Language Development Officer for North Antrim Andrew Mac Uait.
Upon landing on Rathlin, the group was warmly welcomed by the Principal of St Mary's Primary School Helen O'Halloran.
Indeed, this was Catríona Ruane's first visit to the school as Education Minister, and she commented:
Small rural schools are usually at the heart of their community. St Mary's Primary School provides a vital service to help sustain the Rathlin community and provide a well rounded education for the children. It is the only inhabited island off the north coast of Ireland and it is important that government encourages and supports key services such as education.
"I wanted to visit St Mary's to see the work of the Principal and Board of Governors and introduce the four children to the Primary Languages and Sports Programmes. I am grateful to the GAA and Pobal an Chaistil in Ballycastle for their support in these initiatives."
The day was also used as a platform to launch the new Gaelic Start and Fundamentals programme currently being run out by the Ulster GAA DENI coaches.
Roisin Keenan presented the Minister with the first Gaelic Start pack in Ireland. Caitríona was delighted to see the pack and spoke of the excellent work being done through the DENI coaches in the Sport in Schools initiative. Caitríona in turn presented the pack to Helen who was delighted to receive it and spoke of the enjoyment that the school children would get from taking part.
After all were introduced and acquainted it was time for the main stars of the show to take centre stage, the children. After a good warm up involving everybody, the children went through a few of the Gaelic Start stations. These were working on agility, balance, co-ordination, running, jumping, throwing, catching, kicking and striking. These stations were all completed in a fun way and all the children had rosy red cheeks when they finished, which was just in time before the rain came on.
Before leaving, Provincial Director of Ulster GAA Danny Murphy commented on the importance of the Minister's Sport in Schools Programme and how he was delighted to be in Rathlin.  Danny also presented both the Minister and Helen O'Halloran with special GAA 125 anniversary coins, which were greatly received.
For more information on the Ulster GAA DENI schools coaches programme, please contact:
Terence McWilliams
Ulster GAA Games Development Manager
terence.mcwilliams.ulster@gaa.ie
028 (048) 3752 1900