Emyvale take Junior Title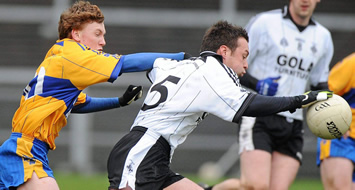 AIB Ulster GAA Club Football Junior Championship Final Replay:
Emyvale (Monaghan) 2-14 St Teresa's (Antrim) 1-11
Emyvale lifted the title when they overcame Antrim champions St Teresa's, Belfast in this final replay in Pairc Esler Newry.
The winners made a brilliant start with a point from John T Trainor and a goal from Robbie McHugh inside the opening two minutes and Emyvale eventually took total control, with Brendan and PJ McKenna dominating midfield. Emyvale weathered the St Teresa's second-half storm and struck for their second goal from Daniel McMahon
Scorers:
Emyvale: D McMahon 1-2, R McHugh 1-1, M McAree, JT Trainor 0-3 each, PJ McKenna, G McQuaid 0-2 each, B O'Brien 0-1
St Teresa's: R Gallagher 0-7, P Dugan 1-1, A Taylor, P McGoldrick, C Sands 0-1 each.
Emyvale: G McCaffrey; K McKenna, S McKenna, P McCarron; B Askin, J Flannery, B O'Brien; B McKenna, PJ McKenna; G McQuaid, M McAree, JT Trainor, D McMahon, G McKernan, R McHugh. Subs: S McMeel for JT Trainor; C Connolly for K McKenna; C McKenna for G McQuaid; S Downey for B Askin; J Morrough for S Downey.
St Teresa's: C Murtagh; B Curran, C Toal, P Johnston; Colm McGoldrick, Conor McGoldrick, S O'Hara; E Doherty, J Rainey; A Taylor, P Maguire, R Gallagher; P McGoldrick, P Dugan, S McIlvenny. Subs: C Sands for J Rainey; K McLaughlin for C Sands
Ref: C Reynolds (Down).
Report: independent.ie