GAA Founder remembered in Canada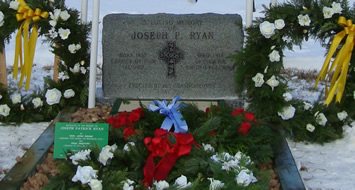 Ninety-one years after his death, Joseph Patrick Ryan, was honoured by the Gaelic Athletic Association on Saturday, December 19, 2009 in Cranbrook, BC Canada as one of the Founders 125 years ago.
Ryan who was born in Carrick-on-Suir, Tipperary, in April 1857 was a solicitor in Ireland before emigrating to Canada in 1899 and becoming involved in the life of British Columbia with the Board of Trade, the mining industry, a judiciary member and prominent journalist.
Ryan was remembered at mass in St. Mary's Church with Mayo's Father Harry Clarke celebrating. The President of the Canadian Board, Brian Farmer, spoke passionately about the role of the Association at the end of Mass and the importance to Canada that one of the GAA Founders would not be forgotten.
Wreath laying ceremonies conducted at Ryan's grave included Clonmore, Armagh's Brian Farmer of the Canadian Board, Eamonn Kelly of the North American Board, John Keane (Honourary Irish Counsel in Seattle) with Loughgiel, Antrim's Paul McGarry of the Seattle Gaels and Cranbrook's Mayor Scott Manjak .
There is no doubt that the location and honour given at Ryan's grave will be known far and wide by the GAA community due to the efforts of our friends and supporters in Canada and Ulster.
John O'Flynn
Rúnaí – Canadian County Board