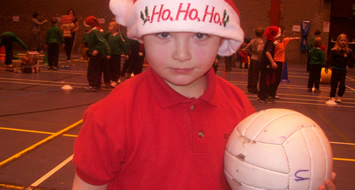 110 children from various primary schools in the Newry area attended the P2 Christmas Fun Day in Newry Sports Centre at the start of December which was organised and delivered by the Down DENI coaches.
Children participated in FUNdamental games with a Christmas theme, among the most popular were 'Pull the Cracker', 'Capture the Turkey' and 'Dodge the Snowmen'.
Special Thanks must go to the P7 pupils from St Ronan's in Newry who were responsible for each individual game ensuring the children knew what they had to do and what skills they were working on.
Down's Martin Clarke was in attendance throughout the day and thoroughly enjoyed helping the kids at 'Jingle-Bell Basketball'.
However the star attractions on the day were the Ulster GAA Snowman and a surprise visit from Santa who encouraged the children to keep active and to develop their skills at home, school and at their local club before leading everyone in a Christmas Sing Song and giving each child a present for attending the event.