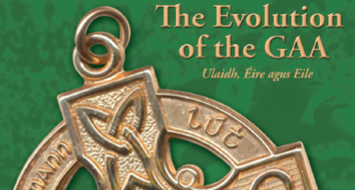 The Evolution of the GAA: Ulaidh, Éire agus Eile brings together leading writers and academics to examine the history of the GAA over 125 years, in Ulster, Ireland, and abroad, and the antiquity of Gaelic games over previous centuries.
The book opens with a series of personal reflections by prominent members of the GAA from Ulster in the last seven decades: President Mary McAleese, Cardinal Seán Brady, Paddy McFlynn, Maurice Hayes, Jim McKeever, Peter Quinn and Mickey Harte. This is followed by a range of academic essays on themes of GAA history, with many new findings relating to such matters as:
Protestant influence on the playing of hurling and variant games pre-1884;
how the GAA's rules may have wiped out traditional styles of play in Ulster;
how John McKay, a founding secretary, came from Co. Down and died in London, and how his son became a world-famous theatrical producer;
why Gaelic games have become less violent over time;
how the football rules for years failed to define the solo-run accurately;
why Ulster was the GAA's weakest province up to the 1940s, and why this began to change;
why camogie flourished after 1930, despite two national splits;
why the Sam Maguire Cup was not presented after the 1947 football final;
how native Bretons have embraced Gaelic games as part of a Celtic identity;
and why, from a global perspective, capitalism, secularism and urbanisation present the biggest challenges to the GAA in future.
There are 23 chapters in all in the book, on the following subjects: the antiquity of hurling and related games in Ulster; the founding of the GAA and the social aspects of early clubs; the GAA's relationship with the press, religion and politics; its initial struggles in Ulster; the development of the playing rules and the 'civilising' of the games; camogie up to 1950; and the international dimensions of the GAA.
Other special features include newly completed records of all Ulster SFC and SHC results and final teams, 1888-2009; the most extensive bibliography of GAA-related material published to date; and dozens of previously unpublished images.
The Evolution of the GAA is edited by Dónal McAnallen, David Hassan and Roddy Hegarty, produced in partnership between the Ulster Council of the GAA and the Cardinal Ó Fiaich Library, and published by the Ulster Historical Foundation. The book retails at £20 sterling.
The book will be launched at the Cardinal Ó Fiaich Library, Armagh, on Monday 7 December, at 7.30 pm; the Royal College of Surgeons, Dublin, on Tuesday 8 December, at 6.30 pm; St Mary's University College, Belfast on Wednesday 9 December, at 7.30 pm; Kelly's Inn, Ballygawley, on Thursday 10 December, at 6.45 pm; Cavan County Museum, Ballyjamesduff, on Friday 11 December, at 7.30 pm; and Downpatrick RGU club, on Saturday 12 December, at 8.00 pm.