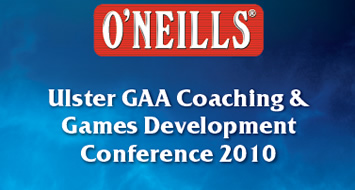 The 6th Ulster GAA Coaching and Games Development Conference will take place on Saturday 30th January 2010 in the Glenavon House Hotel in Cookstown.
This year's conference targets coaches who are working with youth players from 13-18 years. It builds on a successful Conference in 2009 where we targeted children's coaches.
The Conference consolidates the coach education work that is ongoing within the County programmes and the Provincial Coach Development Programme.
Ulster coaches are constantly refocusing and challenging their coaching practices and the speakers this year will again challenge the coaches to raise the bar.
Places are open to all coaches at a cost of £20 / €25.
Places are limited and will be allocated on a first come first served basis.
For further information or to register, please contact
Bernie Fox on 028 (048) 3752 1900 or Email: conference.ulster@gaa.ie
Deadline for Registration is Monday 25th January 2010.
Related:
– O'Neills Ulster GAA Coaching & Games Development Conference Booking Form
Dr Eugene Young, Director of Coaching & Games Ulster GAA, explains why the O'Neills Ulster GAAs 6th Annual Coaching Conference on January 30th in Cookstown is a must for coaches of children aged 13-18: