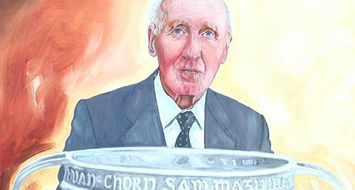 The Ulster Council is saddened to hear of the death of Mick Higgins today. Mick was a member of the Cavan All Ireland winning teams of 1947, 48 and 1952 in which he was the team Captain. He was the last surviving Cavan player from the famous All Ireland final played at the Polo Ground in New York.
Mick was born in New York and became the only player to be born outside of Ireland to win an All Ireland Senior Championship medal outside of Ireland.
As part of the 125 Anniversary celebrations, Mick attended the seminar at the Cardinal Ó Fiaich Library on the 13th March and only 6 months ago, the 86-year-old took his place on the pitch on Ulster Final day alongside all of Ulster's All Ireland winning captains or a representative.
President of Ulster GAA, Tom Daly stated the following:
"It is with great sadness that the GAA in Ulster learns of the death of Mick Higgins R.I. P.. He was a true gentleman, a great sportsman, an outstanding player and a lifetime committed member of the GAA. He will be long remembered for his playing ability and his successes as player for Cavan and Ulster but abiding memory is of a quiet and forthright man that was committed to his wife Margaret, son John, daughters Terry, Jean and Brenda, his Clubs Mountnugent and Kilnaleck, Cavan, Ulster and the Gaelic Athletic Association. We were privileged to have known him and are the richer for it."
Mick, who lived in Virginia, was the oldest surviving captain from Ulster to have lifted the Sam Maguire cup. The Cavan great won three All Ireland medals, including one from the famous Polo Grounds final in 1947 when the Breffni Blues beat Kerry in New York.
In fact, Cavan played in nine All Ireland Finals between 1933-52, with Higgins sealing victory in the '52 decider after an exhibition of free-taking in a replay against Meath. He scored seven of Cavan's nine points in the 0-9 to 0-5 triumph.
"It was a wet day but I kicked a long point after four minutes and I knew it was my lucky day", recalls Mick in an interview specially prepared for the Ulster Council video website.
Mick Higgins also revealed that he had been suffering from flu in the lead-up to the game but recovered to lead Cavan to glory. Modest Mick maintained that being the All Ireland winning captain did not 'excite' him as Cavan had plenty of successful captains before him and he was the captain because the honour always fell to the oldest player on the team.
When asked what he would like to be remembered for, Higgins replied:
"That I never hit any one, I played the game clean and I never was put off".
Video:
Jerome Quinn interviews Mick Higgins ahead of the 2009 Ulster SFC Final:

Mick Higgins goal for Cavan against Kerry in the 1947 All-Ireland football final:
http://www.youtube.com/watch?v=jU0pTxHqNwA