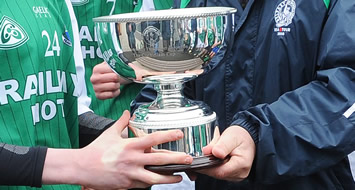 Ulster GAA's pioneering cross-community hurling tournament – the Cúchulainn Cup – is set to take place tomorrow (Wednesday 28th April 2010) in the Mid Ulster Sports Arena in Cookstown from 10:30am to 1.30pm.
Following on from the resounding success of last year's Cúchulainn Cup, this cross community tournament is now set as a key date in Ulster GAA's Calendar. For the first time this year the Unite Against Hate campaign (www.uniteagainsthate.org.uk) will be lending its support the event which takes place during Community Relations Week.
This year the competition has grown significantly with eight teams competing for the prestigious Cúchulainn Hurling Cup.  28 schools are participating from the controlled and maintained sectors and for the first time the tournament will have a cross border involvement with the new Cavan Cúchulainn Team participating.
The Cúchulainn Cup is Ulster GAA's flagship cross community initiative to encourage young people who have no previous experience participating in Gaelic Games to get involved in the Games.  The project also helps to develop relations between schools and pupils from different backgrounds.
The teams participating this year are as follows:
Belfast – St Patricks College, Boys Model, Ashfield Boys & Corpus Christie College
Glengormley – Edmund Rice College, Glengormely High, St Malachy's College
Derry City – St Columbs, Oakgrove Integrated, St Peter's & St Patrick's Claudy
Limavady – Limavady High School, Limavady Grammar, St Patrick's Dungiven & St Mary's Limavady
Cavan – Breffni College & Royal School Cavan
Omagh – Omagh CBS, Drumragh Integrated College & Sacred Heart College
Armagh – Royal School, City of Armagh High School, St Brigid's High School & St Patricks College
Enniskillen – Portora Royal, Erne Integrated College, St Michael's & St Joseph's High School