Ladies Gaelic Football Ulster Schools All Stars 2010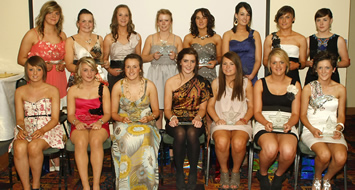 The first ever Ulster Schools All Star Awards for Ladies Gaelic Football were announced on Friday night last at a presentation banquet in Kelly's Inn Garvaghy.  What was a very exciting night for the young girls who received their awards was also a special landmark for Ladies Football in Ulster, as they are the first province in Ireland to introduce All Stars in their schools competitions.
As Louis O'Donnell, Chairman of the Schools Committee explained at the Awards night, Ladies Gaelic football is thriving in Ulster schools with 190 teams entered in competitions from under 14 up to under 20 in the 2009/2010 season.  Mary Keegan, Ulster Schools Secretary was commended for her invaluable work with the schools and all teachers from across the province were thanked for their important role in the development of the game.
Guest speaker Brenda McAnespie from the Emyvale club in Monaghan then provided a great insight into her footballing career which has spanned over many years.  At the age of 44 Brenda still continues to play for her club while juggling life as a mother of seven children.  She said that football is one of the most important parts of life for her family and that the memories that they have from being involved in it will be with them forever just like the young girls who were to receive their first All Star Award.
Before the main presentations of the All Star Awards a special presentation was made to St Patrick's Academy, Dungannon in recognition of their All Ireland Schools Under 16 title which they won last month.  The stage was set for the All Star team of 2010 to be announced.  The team was as follows:
Lauren Gray (St. Genevieve's, Belfast), Maria Carr (Loreto, Letterkenny), Tori Mc Laughlin (Loreto, Omagh), Ellen Mc Grath (Our Lady's and St. Patrick's, knock), Stephanie Cochrane (St. Genevieve's, Belfast), Sarah Mc Conville (Holy Trinity, Cookstown), Siobhan Mackle (St. Catherine's, Armagh), Fionnuala Mc Kenna (St. Catherine's, Armagh), Aoife Mc Guone (Dean Mc Guirc), Maebh Mc Curdy (St. Dominic's, Belfast), Mairead Cooper (Rathmore Grammar, Belfast), Emma Jane Gervin (St. Patrick's Academy, Dungannon), Niamh Henderson (St. Michael's Grammar, Lurgan), Geraldine Mc Laughlin (Loreto, Letterkenny) and Aoife Lennon (St. Catherine's, Armagh).