Poc Fada Uladh 2010 Report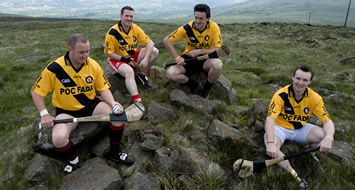 It was sun, fun and long pucks all the way at Divis Mountain in Belfast as many of Ulster 'big hitters' took to the hills in the O'Neill's sponsored Poc Fada Uladh 2010.
The weather couldn't have been better with sunshine and little or no wind giving excellent conditions for the competitors to post great scores.  Competitions took place in Senior, Under 16 and Over 40 Hurling and Senior and Under 16 Camogie.  Ulster Cancer Foundation supported the event and were on hand to issue sun screen to all the competitors, spectators and local walkers who were out to enjoy the summer sun in the Divis and Black Mountain.
The event, which has been played annually over Carn Togher in the Sperrin Mountains, County Derry, was switched to the Divis Mountain for the first time.  This proved to be a good decision with the majority of competitors giving the Belfast venue the thumbs up, and Ulster GAA Officials also gave the venue their backing by vowing to return in 2011.  Divis at 478 metres (1,562ft) and Black Mountain at 390 metres (1,275ft) form the dramatic backdrop to the city of Belfast.  The mountains were formerly used as a shooting range by the Ministry of Defense and were first open to the public in June 2005, finally giving the people of Belfast access to the mountains.
The Senior event was a real thriller that came down to the last puck of the sliothar.  Reigning Ulster Champion, Derry's Ruairi Convery and Down's Karol Keating were neck and neck all the way round the course.  With the finishing line in sight Keating was some 10 metres behind his Derry opponent as he struck an absolute monster of a 33rd shot.  Feeling the pressure Convery could only draw level with his 33rd shot.  Both players now stood with their last puck with both having exactly the same distance to the finish line.  Hoping to pile on the pressure, the Down Champion opted to strike first and once again he hit a superb shot.  Convery paused for a moment, checked the underfoot conditions before launching another fierce shot that came to rest three feet longer than his opponent's.  A magnificent finish to an excellent event with Convery retaining his title and also winning a place in the All Ireland Finals, which will be played over Annaverna Mountain, Dundalk on 31st July.  A special mention must go to young Conor McKee who, just out of Under 16 and playing in his first Senior Poc Fada, finished on 39 pucks and will surely be a force in this competition in the future.
The Senior Camogie event was won by Fionnuala Carr who powered her way to victory with a two shot victory over Antrim's Grainne Connolly.  Fionnuala had her father, former All Ireland winner and Down football manager Ross Carr, on hand as her spotter as she negotiated the rugged terrain.
The Under 16 hurling and camogie events were also closely contested affairs with Padraig Nugent from Antrim edging out Brian Og Murphy from Down on a 41 to 44 score line and Laura Smyth from Armagh had a one shot victory over young Down camog,  Rhia Smith.
In the Over 40 event Down stalwart Gary Savage celebrated victory in his first Ulster Poc Fada event.  Gary, who still plays senior hurling with his club, Ballycran, and who also played for Down in last year's campaign proved too strong for Armagh's Eamonn (Silver) McKee and Donegal's Ray Durak.  These two veterans are regular contenders in this event and in the last couple of years only a single puck has separated them.
Ulster Hurling Chairman, Martin McAviney, presented the winners with their Ulster medals and praised all the competitors, their spotters and indeed the many family members who joined in the trek over the mountain.  Martin remarked that this was a great fun family event that signified all that the GAA was about.  Martin went on to thank O'Neills, who sponsored the jerseys for the event, Lamh Dearg who provided changing facilities and catering and The Ulster Cancer Foundation for the provision of sun screen on what was a very hot day.
Poc Fada Winners 2010
Hurling:
Senior – Ruairi Convery (Derry)
Veteran -  Gary Savage (Down)
Under 16 – Padraig Nugent (Antrim)
Camogie:
Senior – Fionnuala Carr (Down)
Under 16 – Laura Smyth (Armagh)