Festive Fun for Erne Special School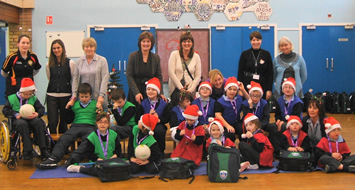 A Special Christmas themed coaching session was organised for the Year 2 – 6 classes in the Erne School.  Ulster Council Coach Teresa McGirr delivers the DENI Minister's 'Primary Schools Curriculum Sports' Programme, in the Erne School weekly.
The Christmas session was enjoyed by all children, teachers and classroom assistants; they played various games such as Snowman Knockdown, Find Rudolph Nose, and Santa's Little Helpers.  While playing and enjoying all the games immensely, the children were also refining their striking skills using Hurls and bats.
At the end of the session each child received a GAA School bag, GAA football kit and medal kindly donated by Fermanagh County Office, a special thanks to GDM Peter McGinnity and also Seamus McMahon.  The children furthermore received different toys and fun stuff such as Action figures, footballs, pencils cases and Santa hats; these were all very kindly donated by Tesco – Community Champion Enniskillen store and a special thank you to Myrtle Woodhouse Community Manager Tesco for her kind help in donating.
Thank you, to Erne School principal Mrs Noreen McElory and teachers Mrs Pugh, Mrs Morton and Mrs Rooney along with classroom assistants who fully entered into the spirit of the festive season.
Ulster Council Coach Teresa McGirr fully enjoyed organising and coordinating the unique Christmas session for all these fantastic children and to see their excitement and joy was the icing on the Christmas cake.