Omagh St Enda's in All Ireland Ladies Junior Final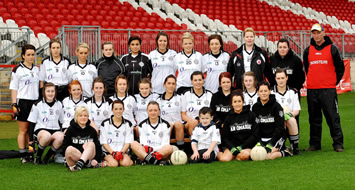 A place in the history books may beckon for Omagh St Endas ladies but manager Vinny McCullagh is keeping his and the players feet firmly rooted to the ground ahead of s Tesco All Ireland Club clash with Caltra Cuans .
McCullagh who also chairs the clubs ladies club took the reigns of the ladies senior squad at the start of 2010, after Paul O'Neill confirmed that after two years, work commitments were to keep him out of the picture for the early part of the year.
O'Neill and veteran of many Omagh campaigns Brendan Moynagh had helped guide Omagh to the Tyrone junior club final last year, a late goal robbed them of a first adult title at wet and windy Greencastle.
Less than one year on St Endas or as McCullagh calls them Mna Naomh Eanna An Omaigh were back in the Tyrone final and this time they made no mistake, a comprehensive victory over Aghyaran gave the club the Brenda Logue cup.
Into the Ulster club football championship was new ground for McCullaghs charges, he didn't know what to expect,
" We were due to play Granemore from Armagh in the quarter final at Pomeroy as part of a double bill with the Omagh men, that men's game was called off so we had to change things around and we played at Omagh, we were unsure of what to expect, thankfully we had a good performance"
St Endas then faced one of the fancied clubs in Ulster Scotstown, Monaghan champions had dominated the Ulster junior championship but the new Tyrone champions showed resilience to push on to a first Ulster final.
Derry champions Ballinascreen were a robust opposition in the Ulster final but once again Omagh served up a quality performance all over the park securing that first Ulster title.
" I am almost overwhelmed at the way our girls performed this year, getting the Tyrone championship was great, they refocused and then went for Ulster, that achieved we all turned to a first all Ireland campaign, again we didn't know what to expect but we knew it would be very very difficult" McCullagh went on
" Against Edenderry in the all Ireland semi-final I never doubted that we would win and I am equally confident of winning the all Ireland title, I am not being over confident But I just see our girls are so focused on what they want, I wonder if anything can stop them"
A remarkable rise then for St Endas, McCullagh puts it down to the culmination of several things, successful underage teams have combined with some experienced and successful older players and everything has just gelled at the right time.
"Its hard to pinpoint things but there has been some defining moments, we had a bit of a heart to heart after we lost a league game in Aghyaran and after that we really focused,  in the past months we have really bonded as a unit and now we have so much belief"
Scoring 21-80 and conceding just 4-27 in seven games tells its own story, Omagh have perhaps the meanest defence in the country while up front they have potential match winners in every position.
Goalkeeper Colleen McCullagh senior has played a key role for the St Endas,  a stunning save at a crucial juncture in the all Ireland semi-final helped steady the ship and drove her side through to the biggest moment in their 19 year history. That defence has been outstanding, remarkable to think though none of this Omagh rearguard appeared for Tyrone this year. Their loss Omaghs gain!!  Charmaine Gormley has never played as well as she has this season, former county player Orla Kelly, youngsters Caiomhe McGovern and Clodgah Mullan have been exceptional while UUJ O'Connor cup defender Christiane Hunter and captain Emma Nugent have been pivotal as St Endas closed out teams and progressed.
Nicola McCrossan and Sacred Heart college student Colleen McCullagh junior have been superb all year while up front, its quality, quality and more quality all the way. Cara McCrossan is the sides top scorer but any one of this Omagh side are capable of finding the scores. Former county minor Kelly O'Sullivan, Terri McCullagh and the versatile teacher Grainne McGale lead the attack while Hayley Ballard, and 15 year old Emma Collins have also been constant thorns in defenders sides.
It's a team effort admits McCullagh who's two daughters, Colleeen junior and Terri have played their parts in this run,
"We have talked about the team ethic all year and that has been very evident especially through the championship run, we don't want it to end and I am confident it wont end with defeat, there's a new animal in the jungle and we are hungry" enthused McCullagh
History in the making at Mulahoran, St Endas are focused and ready, well aware  though that their opponents will be the biggest test they have faced so far, the tests have come thick and fast during the Tyrone, Ulster and all Ireland series, one hour of football separates them and an illusive first club title for any Tyrone club. Omagh are ready for that test.