Derry GAA Launch Strategic Plan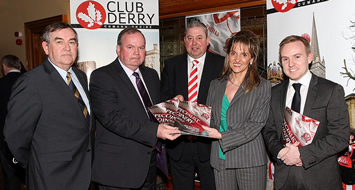 GAA President-Elect Liam O'Neill was the guest of honour as Derry GAA launched their Strategic Development Plan for the next five years last night.
The plan entitled 'Shaping Our Environment' set out the framework for the association's development in the county from 2012 to 2017 was revealed to members of the Derry GAA Community at a special event in the Oak Leaf Restaurant in Maghera.
Chairman of the Derry GAA County Board, John Keenan, explained that the document was an important guide as Derry prepares for the challenges of the years ahead.
"Gone are the days when we hoped that the next year would be better than the last, in these times of economic downturn we need to be well prepared for what lies ahead. I feel it makes perfectly good business sense to have a direction and a purpose to what we want to achieve. This is not a dictatorial document. Instead it reflects the views of all stake holders in the Gaelic Athletic Association in Derry. A questionnaire was circulated to all our Clubs; a County planning workshop was held and invites were sent to all Clubs and GAA stakeholders in Derry, Consultation meetings were also held with our Hurling Development Committee and representatives of the Club Derry Committee.
"The Committee also held a joint consultation workshop with representatives from the local Councils. With careful consideration and collation of all of the opinions and aspirations the committee put together what they consider to be an achievable plan and one that should guide us through challenging but interesting times for our Association. This plan is our road map forward, if followed we will be a leaner and more accomplished organisation in 2017.
"Finally I would like to pay tribute and personally thank our Strategic Review Committee for their devotion and commitment, to all our Clubs, to Mark Conway and last but by no means least to Seán Bradley and Ryan Feeney for their leadership on this strategy and the professionalism with they have put this document together," he said.
Former county chairman Sean Bradley, headed up the county's Strategic Review Committee which drew up the plan in consultation with the Gaels of Derry. He commented:
"The importance of planning ahead cannot be overemphasised. The need to have a clear purpose and direction is a prerequisite for any successful organisation – and the GAA is a very successful organisation. The previous five year plan helped to steer the GAA in Derry through highs and lows to where we are today. This plan needs to do the same, but in a very different context.
"We now face financial recession worldwide, emigration, reduced funding and all the changes to lifestyle that will bring to our community. The Association has a major part to play in the way our community responds to these challenges, putting to work the tremendous energy and skill of our volunteer members for the good of all.
"The process of planning is an enriching and enabling process in its own right. The involvement of our clubs, sub committees, managers, coaches, players and wider community leads to a better understanding and therefore valuing of the work of Cumann Luthchleas Gael Dhoire. The Strategic Review Committee, reflecting a wide range of interests, has brought together the views and priorities of all of our members to produce a "sat nav" for those committed and enthusiastic people who will spend their time and energy to deliver success to Doire in the years ahead. The process has completed the first phase of the task by producing this document."
Ulster GAA President Aogan O'Fearghail welcomed the publication of the new strrategy: "Derry are now the first County Committee in the GAA to complete a second five year development plan and Ulster GAA were pleased to be able to support Derry in their efforts in putting together this excellent document. I look forward to seeing this plan being implemented and more success on and off the field coming to Derry over the next five years."
Pictured at the launch of the Derry GAA Strategic Plan 2012-2017 are (l-r) Strategic Review Committee Chairman Sean Bradley, GAA President Elect Liam O'Neill, Derry GAA County Chairman John Keenan, Minister Martina Anderson MLA, Ryan Feeney (Strategic Review Committee Secretary & Head of Strategy Ulster GAA).
Download:
- Ag Múnlú ár dtimpeallachta – Derry 2012-2017