Irish News scribe Partnership Deal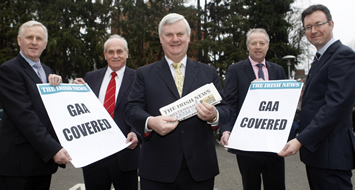 The Irish News has signed up as a Corporate Partner with Ulster GAA for 2012. The partnership builds on the strong relationship that exists between the Irish News and Ulster GAA that sees the daily Newspaper work in partnership with Ulster GAA on the Club & Volunteer Conference and Ulster GAA support the Irish News Club & Volunteer Awards and Irish News Ulster GAA All- Stars.
Pictured are Thomas Hawkins (Sports Editor, The Irish News), Oliver Galligan (Ulster GAA PRO), Aogan O'Fearghail (Ulster GAA President), Martin McAviney (Vice President, Ulster GAA) and John Brolly (Marketing Manager, The Irish News).