Handball O'Neill's Irish Nationals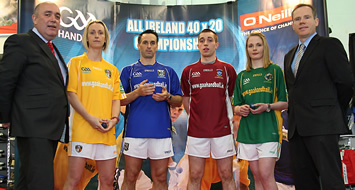 The cream of Irish handball talent, spanning ten to seventy plus years in both male and female codes, will converge at 15 venues across Ulster and North Leinster for the 2012 O'Neill's Irish Nationals this weekend. Winners in certain grades will have the added bonus of an official place on the Team Ireland to complete in the major grades at the 2012 World Championships, to be hosted in the City West Arena in Dublin this coming October.
Westmeath's Robbie McCarthy and Antrim's Fiona Shannon topped the honours twelve months ago and are two of the favourites to book their official Irish spots but both will be well aware of the challenges that lie ahead.
33 year old Shannon secured her ninth GAA Handball senior singles championship at the end of March, when she halted Kerry's Maria Daly from capturing her three in a row and followed that up with a doubles victory over Kerry alongside her sister, Sibeal. Shannon now currently holds all the major trophies on offer in the 40×20 arena which includes the World, USA and Irish titles in both singles and doubles. That statistic looks set to continue after this weekend with Shannon back to her very best. But with the Irish ladies games at its most competitive period in history, anything could happen at the Kingscourt venue. "I am delighted with the double win in the All Irelands this year and especially after getting defeated in both last year. Sometimes it takes a defeat to get the drive and determination back and that I have, as I have been undefeated since then," said Shannon.
Kerry duo, Daly and Ashley Prendiville, Tyrone's Lisa McAleer, Cork's Catriona Casey, Kildare's Anna Spence, Roscommon's Marianna Rushe and fellow Saffron, Aisling Reilly will all be eager to stop Shannon in her tracks from grabbing an astonishing 11th Nationals gong. "I just have to take each competition as it comes and give it my all as all the training and preparations have been done prior. It is a title that everyone will want to get, especially as the winner represents Ireland in the Worlds but this is of little significance to me as I go into it with the same mind set as any other. I aim to perform to my best and hopefully bring the title home."
2011 Men's Open winner, Mullingar's McCarthy, will be hoping to bounce back from his heavy senior championship final defeat to the hands of Cavan's Paul Brady. In that decider the Breffni master won in two straight games, displaying all the qualities that have earned him 3 successive world titles.
Seeded at two for this weekend, 23 year old McCarthy is hot favourite to oust Cork's Colm Jordan to set up a quarter final meeting with either Cavan's Michael Finnegan or Mayo's Dessie Keegan. "I'm looking forward to getting back into the 40×20 court and I'm planning to take just one game at a time and we'll see what happens. I don't think I played my best handball against Paul in the final but I've put it out of my head and I'm not even thinking about it going into this weekend," said McCarthy.
Nine time senior Irish champion and three times world winner, 32 year old Brady looks unstoppable in his current form. In his final victory a fortnight back, Brady was in superb athletic condition and was striking the ball with both hands with impeccable power and accuracy. Very few players will even trouble the Mullaghoran club star when he's playing at his very best.
One player in the draw who can challenge for the title and who lost out to Brady in the 2009 and 2010 Irish championship finals is Armagh's Charlie Shanks. He has made the trip from New York for this year's event. The Lurgan man currently resides in the States and has risen to number 5 in USA tour rankings and his experiences over the past ten months will surely have enhanced his game. 29 year old Shanks will clash with Ger Coonan (Tipperary) with the winner advancing to the last eight to meet either Mayo's Joe McCann or Wicklow's Michael Gregan. Meath's Brian Carroll and 2011 Nationals runner up, Clare's Diarmuid Nash are two others to watch out for.
There will be capacity crowds at all the venues over the weekend with the top class action climaxing in Kingscourt with all the major finals on Sunday from 11am. There will be the launch of the new O'Neill's International Handball for the games on view also while announcements will be made regarding exciting plans for the biggest World Handball event in history coming this October.
FIXTURES: GAA Handball O'Neills 40×20 Irish Nationals:
MENS OPEN SINGLES: (Winner & Runner-Up on Team Ireland for Worlds 2012)
Mens Open Round 2: Friday 20th April 2012, in Kingscourt:
1. Paul Brady (Cavan) v Peter Funchion (Kilkenny) – Court 1, 5pm
2. Killian Carroll (Cork) v Dominick Lynch (Kerry) – Court 1, 7.30pm
3. Brian Carroll (Meath) v Brendan Fleming (Cork) – Court 1, 6.15pm
4. Diarmaid Nash (Clare) v Vinnie Moran (Mayo) – Court 2, 5pm
5. Joe McCann (Mayo) v Michael Gregan (Wicklow) – Court 2, 7.30pm
6. Charly Shanks (Armagh) v Ger Coonan (Tipperary) – Court 3, 5.00pm
7. Michael Finnegan (Cavan) v Dessie Keegan (Mayo) – Court 3, 7.30pm
8. Robbie McCarthy (Westmeath) v Colm Jordan (Cork) – Court 2, 6.15pm
LADIES OPEN SINGLES: (Winner & Runner-Up on Team Ireland for Worlds 2012)
Ladies Open Quarter-Finals: Saturday 21st April 2012, in Kingscourt:
1. Fiona Shannon (Antrim) v Anna Spence (Kildare) – Court 1, 2.30pm
2. Marianna Rushe (Roscommon) v Catriona Casey (Cork) – Court 2, 2.30pm
3. Aisling Reilly (Antrim) v Ashley Prendiville (Kerry) – Court 3, 1.15pm
4. Maria Daly (Kerry) v Lisa McAleer (Tyrone) – Court 3, 2.30pm