Brady cruises to Canadian crown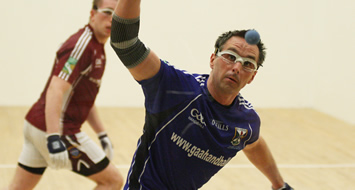 Cavan's Paul Brady added yet another trophy to his ever swelling list of handball titles in Montreal this week when he secured the 2012 Canadian Nationals crown at his first attempt. 33 year old Brady has acquired every major honour in the 40×20 arena since the turn of the century, which includes 3 World titles (2003, 2006 and 2009), the US Open, the US Nationals (7 times), the Irish Nationals and 8 All Ireland Senior Singles and 7 Doubles championships.
In his first ever appearance at the Canadian event, Brady dominated the field with unerring ease and quality with no major test to threaten the world's best player. He cruised to the title with comprehensive victories over some reputable opposition, including Raphael Santerre (Quebec), David Munsun (Illinois) and Miami's Jonathan Iglesias before controlling the highly rated Tyree Bastidas from New York City in the final by 21-6, 21-7.
The Breffni man who bagged his eighth GAA Handball senior gold medal back in April is playing at a level above any other player on the planet at present. The dedicated Mullahoran star has the two most powerful and offensive hands in the business which he combines with a ruthless winning mentality to make him unstoppable when on form. Few would bet against him capturing a stunning fourth World title in Dublin this October at the City West Hotel, when Ireland plays host to the most anticipated handball event ever to be staged. But Brady knows there's bigger fish to fry then and he will be ready to do battle. "I played well enough in Canada but I'm well aware that tougher challenges lie ahead in the coming months so I'm always looking for improvement. I'd never been to the Canadian Nationals before and it was a title I wanted to win before I retired. The people and the tournament were great there and I'm glad I went and I hope to go back again at some stage.", said the Irish champion.
The next major international event will witness the world's elite players descend on Fountain Valley, California, at the end of this month for the 62nd USHA National Four-Wall Championships. Brady missed out last time due to a fractured finger when he would have been chasing a staggering eighth straight US National's gong. No Irish player had won at this juncture before Brady's success which highlights his remarkable achievement. However, his participation in California in a few weeks is still in question.
"As the Race 4 Eight was such a success this year in the US, I'm expecting the competition there to be much tougher this year. My main US opponents will be Luis Moreno (Tucson), the Race winner, and Sean Lenning (Seattle) the Race runner up. Naty Alvarado Jr. (California), the local hero there, will be tough also. Additionally Allan Garner (Texas), Worlds runner up in 2009 always poses a huge threat."
One player from the Emerald Isle who has enjoyed fine US tour success in 2012 is Armagh's Charlie Shanks who moved to New York last October. The Lurgan born man currently resides at number 4 in the official USA rankings and can also go all the way at this event. "Charlie (Shanks) will be the main competition from Ireland and he will have benefited from the experience of re-locating and playing in the US circuit this past year. I'm still unsure if I will be attending and will have to wait and see how things work out on the home-front where right now, I'm just taking it one day at a time."
Looking ahead, Brady will undoubtedly carry the favourite's tag at the upcoming eagerly waited World Championships this October, which will see 33 countries and over 2000 competitors do battle for world honours in a fantastic state of the art purpose-built 22 court arena.
Brady, who is the most celebrated player that this country has ever beheld, is one of three official senior players on Team Ireland challenging for the most coveted prize in the men's game, which is only on offer every three years. The 2012 Irish Nationals winner, Westmeath's Robbie McCarthy and runner up, Wicklow's Michael Gregan are also on board as part of a 32 strong Team Ireland for the event – the last 10 places to be decided at the One Wall Nationals in the Citywest from 6th to 8th July 2012.