Doctorate Honour for Ulster GAA Director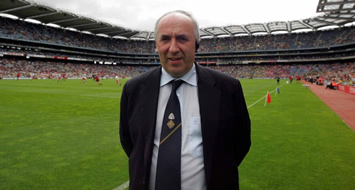 The GAA have warmly welcomed the news that Danny Murphy (Provincial Secretary and Director) has been awarded an honorary Doctorate by the University of Ulster for his Services to Sport and Community Relations.
Uachtarán Chumann Luthchleas Gael Liam O'Neill said: "This is a proud day for the GAA and Ulster. We are delighted that Danny Murphy's long standing and immense contribution to our Association has been recognised in this way by the University of Ulster. Danny's vision and leadership has been at the core of the GAA's Community Engagement and Outreach work, which has a strong and positive impact right across the Community.
"I am personally delighted to see Danny receive this level of recognition for all his hard work and know I speak on behalf of the wider GAA family by acknowledging this accolade. We wish him many more years of active involvement at all levels of the GAA."
Uachtarán Chumann Luthchleas Gael Comhairle Uladh: Aogán Ó Fearghail said: "The entire GAA in Ulster will be delighted at the news today that our Provincial Secretary and Director has been honoured by the University of Ulster for his considerable work in both the spheres of Sport and Community Relations. Danny Murphy's contribution to the GAA has been immense, a former Vice President of the GAA and President of Ulster GAA he has been Chief Executive Officer for the Ulster GAA since 1998 and it is no coincidence that the last 14 years have been a time of considerable change, improvement and success for the entire GAA in Ulster, Danny has been core to all of these developments.
"Danny has overseen more than £100 million of investment in GAA projects and has put in place a strong strategic vision which has resulted in an unprecedented level of success for this Province. Danny's vision and leadership has been core to the GAA's Community Engagement and Outreach work which has a strong and positive impact right across our Community. On a personal level I am delighted to see Danny receive this level of recognition for all his hard work and I thank the University of Ulster for bestowing this honour on both him, his family and his Club St. Mary's Burren GAA."