Gaels to descend on Divis Mountain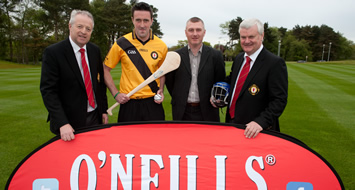 Ulster GAA has launched the 2012 O'Neills Ulster Poc Fada which will take place on the longest day of the year on Thursday 21st June 2012 at 7.00pm on Divis Mountain, just outside Belfast.
Speaking ahead of the event Ulster GAA President Aogán Ó Fearghail said, "The Poc Fada is a very proud tradition for the GAA where Hurlers and Camogs have the opportunity to demonstrate their skills and determination. This year will see an added dimension with a novel 'Cic Fada' competition also being organised.
"We are delighted to hold Ulster Poc Fada on Divis Mountain, just outside Belfast for our third successive year. It promises to be a great occasion and no doubt there will be a great buzz on the mountain, with a good turnout of competitors expected. I wish all participating Hurlers, Camogs and Footballers, both male and female, good luck as they set out to compete for the Ulster Poc and Cic Fada titles."
Ulster GAA introduced a Provincial Poc Fada over a mountain course in 2006 when the competition was held at Carn Togher, which lies close to Slaughtneil in County Derry. Down's Grahame Clarke was successful three years running before Derry man, Ruairi Convery won the event two years running over the Divis Mountain Course. Grahame Clarke is the current National Poc Fada Champion.
The 2012 event, which is sponsored by O'Neill's, will be held over Divis Mountain, which is close to Belfast. Divis at 478 metres (1,562ft) and Black Mountain at 390 metres (1,275ft) form the dramatic backdrop to the city of Belfast. The mountains were first open to the public in June 2005, giving the people of Belfast access to the mountains that were in private ownership for decades.
The mountains offer spectacular views across Antrim, Down, Armagh Tyrone and Derry. The Mourne Mountains, Strangford and Belfast Loughs, the Castlereagh and Holywood Hills and the Sperrins are all visible, as are the coasts of England, Scotland and the Isle of Man.
All Press and photographers are welcome to attend this event.