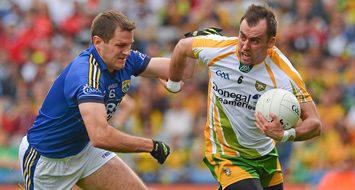 GAA Football All-Ireland Senior Championship Quarter-Final:
Donegal 1-12 Kerry 1-10
Donegal are through to the semi-finals of the GAA Football All-Ireland Senior Championship for the second year running after a deserved win over Kerry at Croke Park on Sunday.
Colm McFadden hit 1-6 for the Ulster champions, who were comfortably in control of the game, and six points clear with five minutes left, before Kerry staged a dramatic late comeback to set up a thrilling finale to a tense game.
Kieran Donaghy snaffled a Kerry goal on 65 minutes, and quickfire scores from Paul Galvin and Anthony Maher left just a point between the sides in added time.
Kerry went in search of an equalisier, but Donegal hit the final score of the game, two minutes into added time from the boot of Karl Lacey, to seal their place in the last four, where they will play Cork in on August 26.
Donegal led by 1-4 to 0-5 the break after McFadden hit a fortuitous goal from a sideline ball on six minutes. Jim McGuinness's side were on top for most of the second half and had Kerry at arm's length for long periods until the Kingdom came charging back in the closing stages.
In the end, despite the late lapse in concentration, Donegal thoroughly deserved the win having given yet another powerful display of disciplined defending and artful, counter-attacking football. The flair shown in the Ulster final win over Down may have been lacking, but McGuinness was always going to implement a modified gameplan to contain the lethal Kerry attack.
They did so in style, with Kerry hitting a string of wides in the second half, while Jack O'Connor's main tactic of hitting Kieran Donaghy early went largely unrewarded until the final seven minutes.
Donegal opened with real intent, their veteran inside forward McFadden getting what would prove to be a very fruitful first half off to the perfect start with a second minute score from play. Kerry's response was equally impressive, Colm Cooper sending over an equaliser with his first touch of the ball.
However, the game was turned on its head on six minutes when Donegal hit a precious goal. McFadden was credited with it, but luck played a huge part. His long delivery from a sideline ball tempted both Michael Murphy and Aidan O'Mahony to contest the ball on the edge of the square, and when it missed both, Kerry goalkeeper Brenan Keeley was powerless as the ball slipped into the empty net.
Murphy then added another point immediately after as Donegal asserted their dominance early on in a brutal battle.
Declan O'Sullivan raised Kerry spirits when he found room and slotted over a score that left a goal between the sides, before Bryan Sheehan added his first score of the day, a free from a narrow angle.
Kerry made it three in a row when James O'Donoghue nailed a superb effort. It was a precious score because Donegal were packing their defence and denying Kerry the oxygen of space. They were also uncompromising in the tackle and subjected Kerry to a series of big hits, while their appetite was highlighted when Killian Young was stripped of possession and McFadden clipped the ball over the bar.
Thirteen minutes elapsed before either side would score again, with Darran O'Sullivan replacing Young in the meantime and centre-back Eoin Brosnan forced off with an injury. However, Kerry's 36th minute point was a telling one and gave them an idea of exactly what they needed to do to break Donegal down. Cooper ran at the Donegal defence and traded passes with Donaghy before slotting over another score. Typically, Donegal had the last say of the first half, with McFadden landing a free to give his side a 1-4 to 0-5 lead.
Kerry started the second half with a fine Maher point, but struggled badly in the face of intense Donegal pressure, with a pair of Cooper frees their only reward in the third quarter, as Donegal moved well clear with a string of four unanswered points – including two from McFadden – to leave them 1-11 to 0-8 ahead and seemingly home and dry.
The game was turned on its head when Donaghy touched a Donnchadh Walsh pass to the back of the net on 65 minutes, before Galvin and the excellent Maher added scores to leave just one point between the sides with added time approaching.
Kerry went in search of the equaliser, but Patrick Curtin fired wide and Lacey tore up the other end to deliver the fatal blow to Kerry's hopes.
Donegal Scorers: C McFadden 1-6 (1-0 sl, 0-2f), M Murphy 0-3 (0-2f), L McLoone 0-1, K Lacey 0-1, C Toye 0-1.
Kerry Scorers: C Cooper 0-4 (0-2f), Declan O'Sullivan 0-1, B Sheehan 0-1 (0-1f), J O'Donoghue 0-1, K Donaghy 1-0, A Maher 0-2, P Galvin 0-1.
Donegal: P Durcan; P McGrath, N McGee, F McGlynn; E McGee, K Lacey, A Thompson; R Bradley, R Kavanagh; R Bradley, R Kavanagh; M McElhinney, L McLoone, M McHugh; P McBrearty, M Murphy, C McFadden. Subs: David Walsh for McBrearty (28- 32), N Gallagher for M McElhinney (HT), David Walsh for R Bradley (60), C Toye for McLoone (61), D McLaughlin for McBrearty (71),
Kerry: B Kealy; M Ó Sé, A O'Mahony, S Enright; T Ó Sé, E Brosnan, K Young; A Maher, B Sheehan; P Galvin, Declan O'Sullivan, D Walsh; J O'Donoghue, C Cooper, K Donaghy. Subs: B Maguire for Brosnan (25), Darran O'Sullivan for Young (32), J Buckley for Sheehan, K O'Leary for Declan O'Sullivan (both 46), P Curtin for J O'Donoghue (56),
Referee: Marty Duffy (Sligo)
Attendance: 56,191