Performance Coaching Qualification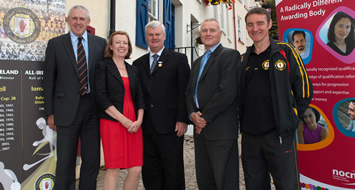 The Southern Regional College in partnership with the Ulster GAA have just announced details of a Performance Coaching Qualification being offered. This nationally recognised qualification is accredited through the Open College Network Northern Ireland (OCNNI).
Ulster GAA President Aogan Ó Fearghail stated, "Ulster GAA is delighted to work with the Southern Regional Council and Open College Network NI to deliver this prestigious performance coaching qualification. This will offer people of all ages, with an interest in GAA coaching, the opportunity to broaden their knowledge and to develop their coaching skills. This will help ensure that the GAA in Ulster has an impressive team of fully qualified coaches at club, school and county level."
Target audience for this course, which starts January 2013, is GAA volunteers in clubs and schools. The courses will be run over three locations in Armagh, Lurgan and Newry with all courses held in the evening time from 7pm to 9pm, as set out below:
· Armagh: Tuesday 7.00 – 9.00 pm
· Lurgan: Wednesday 7.00 – 9.00 pm
· Newry: Thursday 7.00 – 9.00 pm
Units covered are:
· Coaching Strategies for Improving Performance in Gaelic Sports
· Using Technology and Physical Preparation in Gaelic Sports
· The use of Planning and Periodisation in Gaelic Sports
· Building Team Success in Gaelic Sports
Guided learning Hours 200 (20 hours classroom based/180 distance learning).
To apply for these courses, people interested should contact: Michael McDonald at SRC on email: mcdonaldm@src.ac.uk or Roger Keenan Ulster GAA Coach Education Manager at roger.keenan.ulster@gaa.ie or 02837517180.
Please note criteria for selection is as follows:
Essential:
· GAA NGB Foundation Award
· Current involvement (intention to become involved) with a GAA team in some type of coaching capacity
Preferred:
· Other GAA Qualifications
· Some type of exposure to county player either as a player/coach
· Coaching Experience club/county
· Sports Specific Knowledge – Sports Science/Nutrition/Performance Analysis/Periodisation
· Sports Specific Workshops attended (GAA or Other)
· Evidence of commitment to sport or any aspect of voluntary work
For further information Contact:
Roger Keenan: 02837517180
Photo Caption:Launching the new Ulster GAA accredited courses are Director of Coaching and Games Eugene Young, NI Manager for Skills Active Siobhan Weir, Ulster GAA President Aogán Ó Fearghail, Sean McCormack, Open College Network Northern Ireland and Ulster GAA Coaching Development Officer Roger Keenan outside Ulster GAA Office in Armagh.