Ulster interest in Camogie Finals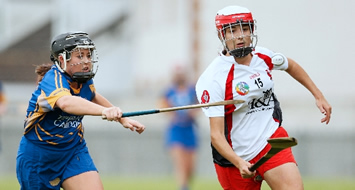 Derry's Karen Kielt and Down's Fionnuala Carr are looking forward to their respective All Ireland Camogie Finals in Croke Park this Sunday.
Derry forward Karen Kielt says that while she and her teammates in the Derry forward line are getting plaudits it is only because their defence has built the platform for them to attack. The Oak Leaf rear-guard have been miserly in conceding only 31 points in their four games on route to the All-Ireland Intermediate Final and hopes this will continue when they take on Galway on Sunday.
'Our defence has been unbelievable and is the big reason that we are undefeated all year. Even when we have jigged things around after losing Katrina O'Kane and Maria Mooney they have been great. Aoife Ni Chasaide is only 17 and went in at Full Back and has been outstanding. We have a strong half back line and there are no wasted 70 yard balls and this gives the forwards a real chance' said Karen
Looking at the progress this year Karen believes that Derry are in good spirit 'We have performed well all year and had a real tough game against Down in the NWP Recycling Ulster Championship. We looked out of it in normal time and in extra-time and battled through for the win. We were 10 points down against Galway in the league and fought back to win by a point. Derry Camogie is in a good place right now as our Minors and U16's have been performing well for the last couple of years and these players have moved into the Senior team. The squad is young with an average age of 22 and this bodes well for the future as we hope to be in Division One League and Senior Championship next year'.
The Derry set up has allowed the girls to succeed and Karen believes the management of Gerard McErlaine and John A Mullan have the girls well prepared. 'The training is very tough and the in house games are great. There are some tough battles coming up against our defenders. Even after injuries the team has been jigged about and shows the management have got a strong squad working together to win this All-Ireland. We have had setbacks like missing players of the calibre of Katrina and Grainne McGoldrick in recent games but quality has filled in and there is great competition for places which has helped a lot'.
Karen was recently awarded Irish News Merit Award at their 2012 All-Stars banquet and was quick to deflect it the praise to those who have helped her gain the award 'It's nice on a personal level but it could really went to any of our players, especially the backs and it's also nice for my club Kilrea for all effort that they put in over the years is being recognised'.
Croke Park on All-Ireland Final day is a special place and Karen is thankful that many of their players have played there over the last few years for either Eoghan Rua in 2011/2012 and for Derry in All-Ireland Junior Championship 2006/2007. 'Croke Park is where you want to play, it's a special place and it will be good that many of our players have the experience of playing there. I also want to wish Down all the best in their Final also. It would be great to have an Ulster double'.
Here's hoping Karen and Derry can add more silverware to a successful season on Sunday.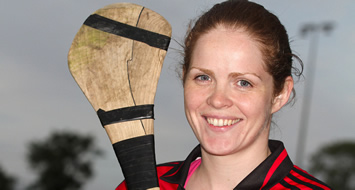 Fionnuala Carr believes that that the Down team must focus for a full 60 minutes to ensure that they emerge victorious in the All-Ireland Premier Junior Final on Sunday against Meath. Throughout 2012 Down have played in fits and spurts which has led to an inconsistent campaign. Fionnuala believes the squad will address this when they get to Croke Park at the weekend.
'Training has been going well and since we have got through to the final there has been a renewed effort. Our panel is back to full strength and there's competition for places. Throughout the year we had been playing for only 30 minutes at a time. On occasions we left ourselves with too much to crawl back in the second half. Against Meath in the league we didn't perform and got beat by a point so we know we can do better'.
Down reached this stage last year when a late comeback was not enough to beat Waterford at Croke Park. 'Down have probably underachieving for 10 years. When we play to our ability we are more than capable of competing at a higher level. We need to start believing in ourselves and the performance should take care of itself'.
In the NWP Recycling Ulster Championship Down were edged out by Derry in Extra-Time and the Oak Leaf girls have gone from strength to strength and Down captain Fionnuala believes this is something they can take heart from. 'We should have beat Derry in the Ulster Championship and we performed strongly that day. When we come up against Antrim and Derry we are not that far away and they have went on to a higher level and this something we believe we can do'.
Down have a well-balanced side with a good blend of youth and experience and this can work to Down's advantage believes Carr. 'We have some young players who don't fear losing and aren't concerned with pressure and we have more experienced players like myself and Ciara McGovern who can help maintain the focus in the squad. Our defence has been great all year with Karen Tinnelly, Emma McCormick and Catherine Rocks playing really well and we have conceded very little from play. We need to push on in games and the best form of defence is attack so the forwards need to do their bit. We have been making chances in all our games and we just need to take them. If we play the game and not the occasion, concentrate then playing at Croke Park will not factor into the equation'.
Best wishes to Down and Derry for the weekend as they search for an Ulster Double.