Casement to Rock for Michaela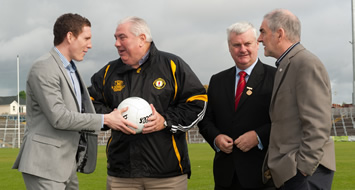 Casement Park is set to Rock on Saturday night for the Match for Michaela – a Festival with football, with Gaels expected to travel from all over Ireland to support this one-off fundraising event.
The highlight of an energy-packed evening will be when All Ireland Champions Donegal take to the field of play against Ulster's finest players. Donegal manager Jimmy McGuinness and Ulster boss Joe Kernan have already expressed that there is a lot on the line with this game. Spectators will be treated to a managerial showdown with some of Ireland's greatest mentors along the line. Joe Kernan will be joined by his Tyrone rival Mickey Harte on the line for Ulster. Gaels are more use to Joe and Harte plotting against each other but on Saturday night the Armagh/Tyrone rivalry will be put to one side as the two All Ireland winning managers aim to bring down Jimmy McGuinness' impressive Donegal.
Donegal fans are travelling in their bus loads to the game to see their beloved team play, the first game since winning Sam Maguire back in September. It's going to be something very special and a real opportunity for the whole of Ulster to salute Donegal and welcome Sam Maguire back to the Province.
The Match for Michaela is a festival with football and the evening will begin at 6pm with a great line-up of entertainment scheduled including a specially commissioned Railway Band made up of traditional musicians from across all nine counties of Ulster. Tyrone's X Factor star Janet Devlin will also take to the stage to perform ahead of launching her new solo album. While headline act More Power to your Elbow will have Casement rocking with their traditional and electric anthems. There will be plenty of colour and activity on the pitch as well as performances, comedy, song and dance, with a spectacular surprise finale.
This evening is being billed as a night for all the family, with a real festival atmosphere – there will be face painting, dancing, balloon modelling. Clubs and families are urged to wear their club and county colours and to bring plenty of banners and flags. The Big Screen cameras will be throughout the grounds to capture spectators.
A major prize draw will also be launched on the evening, with the opportunity to win thousands of pounds worth of shopping vouchers in Shopping Centres across Ulster – a real treat for Christmas.
This is a night not to be missed. Admission is payable at the gate but patrons are urged to buy their tickets in advance so that they are not disappointed. A very limited number of seating tickets have been released on www.themichaelafoundation.com and are expected to be snapped up fast.
Casement Park is the place to be on Saturday evening #NothingBeatsBeingThere
For further information Contact:
Sharon Haughey: 02837517180