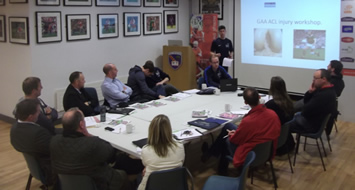 On Monday 22nd October senior medical staff from the Sports Institute Northern Ireland (SINI) in partnership with Ulster GAA met with medical personnel from the various senior county teams to discuss possible causes and strategies to combat the increasing problem of ACL injuries.
The joint piece of work exploring ACL injuries within Gaelic football follows on from the Gaelic Groin document produced in January 2012 and will seek to produce a resource for the broader management of ACL injuries within Gaelic football.
You can follow this link to Download the Gaelic Groin document.
Speaking about the resources, Head of Sports Medicine at SINI, Dr Phil Glasgow had this to say;
"This piece of work will build on specific knowledge that the medical team at SINI have around injuries in Gaelic football and also draw on international best practice in terms of rehab and management of injuries."
Roger Keenan, Coaching Development Manager at Ulster GAA had this to say:
"Ulster GAA in partnership with The Sports Institute are confident that this project will not only help us to understand the conditions leading to ACL injuries but will also provide a best practice strategy to reduce the incidence of such injuries."