Power NI Dr McKenna Cup Round-Up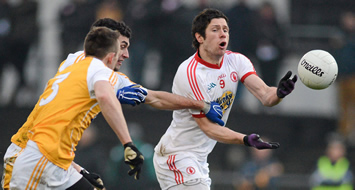 Power NI Dr McKenna Cup Group C:
Antrim 1-10 Tyrone 2-13
Two Peter Harte goals and five points from Darren McCurry helped Tyrone make it two wins from two with a 2-13 to 1-10 success over Antrim.
Harte bagged his first goal after six minutes, finishing with conviction when the ball broke to him.
The Saffrons hit back with 1-1 in the space of a minute, Kevin Niblock netting an eighth-minute penalty.
But Tyrone got a second goal on 26 minutes, as Harte followed up to net after his first effort had been saved.
The Red Hands would have won by more than the six-point margin at Casement Park but for a series of super saves from Saffrons goalkeeper Chris Kerr.
Kerr, though, was partly at fault for the first Tyrone goal. He gifted the ball to Darren McCurry, before pulling off an excellent save from Conor McAliskey. However, the ball broke to Harte who finished from close-range for a four-point advantage.
Niblock's penalty boosted Antrim's hopes but Tyrone stunned their hosts with a second goal.
When Harte had his initial shot saved by Kerr, he picked up the rebound to hit the net for the second time.
And late in the half, Darren McCurry hit two points and Plunkett Kane grabbed his second for a 2-6 to 1-4 interval lead.
Tyrone tightened their grip in the second half, with McCurry bringing his tally to five from play.
Stephen O'Neill, Ronan McNamee and Johnny Lafferty were also on target, with Colm Fleming and Justin Crozier (2) responding for the home side.
Paddy Cunningham came off the bench to slot over two late points for Antrim, but there was to be no stopping Mickey Harte's side.
Antrim scorers: Kevin Niblock 1-0 (pen), Colm Fleming 0-3 (3 frees), Paddy Cunningham, Justin Crozier 0-2, Michael McCann, Sean McVeigh, Conor Murray 0-1 each.
Tyrone scorers: Peter Harte 2-0, Darren McCurry 0-5, Plunkett Kane, Ronan McNamee, Stephen O'Neill (1 free) 0-2 each, Johnny Lafferty, Niall Morgan ('45) 0-1 each.
Antrim: Chris Kerr, Kevin O'Boyle, Paul Doherty, Sean Finch, Tony Scullion, Dermot McCann, Justin Crozier, Sean McVeigh, Sean McCarron, Conor Murray, Kevin Niblock, Colm Fleming, Michael McCann, Michael Herron, Michael Pollock.
Subs: James Laverty for D McCann, Brendan Herron for Fleming, Ryan Murray for Pollock, Paddy Cunningham for Niblock, Peter McNicholl for Doherty
Tyrone: Niall Morgan, Aidan McCrory, Cathal McCarron, Dean McNally, Ronan McNamee, Conor Gormley, Sean Warnock, Plunkett Kane, Sean Cavanagh, Tiarnan McCann, Peter Harte, Paddy McNeice, Darren McCurry, Stephen O'Neill, Conor McAliskey.
Subs: Mattie Donnelly for McNeice, Johnny Lafferty for Harte, Joe McMahon for O'Neill, Mark Donnelly for Carlin
—
Power NI Dr McKenna Cup Group A:
Donegal 1-5 Monaghan 3-16
Monaghan made it back-to-back wins in the Power NI Dr McKenna Cup with an easy 3-16 to 1-5 success over a young Donegal team.
None of Donegal's victorious All-Ireland side started Sunday's Section A match in Ballybofey with Under-21 players again being given their chance.
Monaghan led 0-7 to 1-1 at half-time with Donegal taking 28 minutes to score through an Adrian Hanlon goal.
Keith McEnaney, Dermot Malone and midfielder Darren Hughes scored the Monaghan goals in the second half.
Monaghan had five points on the board before Hanlon got Donegal off the mark, although Gary McFadden then pointed to reduce the deficit to one.
However, the second half was a stroll for Malachy O'Rourke's men who had beaten St Mary's in their opening cup game.
O'Rourke had made eight changes for this game and the visitors were simply too strong for their inexperienced opponents.
Corduff corner-forward McEnaney got Monaghan's first goal inside the first minute of the second half, Malone then turned to find plenty of room to fire in the second goal and Darren Hughes fisted the third into the net late on.
Darren's brother, right half-forward Kieran Hughes, starred for Monaghan, scoring five points, four of them from play.
Donegal's points in the second half were scored by Stephen Griffin (2), Willie Gillespie and Declan Walsh.
"It was a tougher challenge today, with our young lads up against a tough, settled, inter-county team like Monaghan, but there are plenty of positives," said Donegal manager Jim McGuinness.
"We made a conscious decision not to risk the lads coming back from holiday by putting them straight into football against teams who had been training for quite a while.
"That could possibly have led to injuries, so the senior players are focusing on their training.
"We will do that for the next couple of weeks, building up the intensity level and be right for a first game in the National League in three weeks' time."
—
Power NI Dr McKenna Cup Group A:
Fermanagh 2-15 Monaghan 1-5
First-half goals from Shane McCabe and Paul Ward helped Fermanagh to a 2-15 to 1-5 victory over St Mary's – their second Power NI Dr McKenna Cup win in five days.
Fermanagh were 2-7 to 1-2 up at half-time after former Glentoran player McCabe found the net after half an hour and Ward quickly added a second.
Peter Canavan's side had far too much firepower for St Mary's who led briefly through Brian Doyle's 20th-minute goal.
The students only hit three points in the second half.
Fermanagh pulled away to secure the 13-point success, with Daryl Keenan hitting 0-3 from play.
The Erne county had seven different players on the scoresheet, with the entire full-forward line scoring from play.
Paul Ward (2-4) and Daryl Keenan (0-5) were influential against the struggling students.
On Wednesday, Fermanagh had opened their campaign with a win over a depleted Donegal side.
Fermanagh now face a winner-takes-all clash against Monaghan in Inniskeen on Wednesday night to decide who qualifies for the semi-finals.
Fermanagh: C Snow; R McCluskey, S Lyons, J Woods (0-1); D McCusker (0-1), B Cox, M O'Brien; J Sherry, R Jones (0-1); T McElroy, S McCabe (1-0), E Donnelly; P Ward (1-4, one f), D Keenan (0-5, 2f), K Connor (0-2)
Subs: N Bogue for McCluskey (HT), M McGrath (0-1) for Sherry (HT), S Quigley for Connor (HT), A Breen for McCusker (55), N McElroy for Donnelly (61)
St Mary's: D McAnenly; S Mullan, A Maguire, M Murray; R Loughran, C O'Hara, B Doyle (1-2); R O'Callaghan, B Hasson; R Sexton (0-1, f), B Herron, N Sludden; D McKinless (0-1, f), J Johnston, J Duffy
Subs: S O'Neill (0-1) for Hasson (HT), R Johnston for Maguire (42), R Lynch for Duffy (51), C McMahon for J Johnston (54), E McGee for Loughran (62)
—
Power NI Dr McKenna Cup Group B:
Armagh 1-11 3-9 Cavan
Cavan registered their first win of this year's Power NI Dr McKenna Cup with a four-point victory over Armagh in the Group B game at the Athletic Grounds.
Tomas Corr and Martin Dunne scored goals for Cavan in the opening 17 minutes, before Gavin McParland pulled one back for Armagh before the break.
The visitors led 2-5 to 1-5 at half-time and Dunne added his second goal of the game after 42 minutes.
Armagh midfielder Kieran Toner was red-carded in the last minute of the match.
Toner was dismissed for a second bookable offence.
A more experienced Cavan side led from start to finish against an experimental Armagh outfit, which included seven debutants.
Played in front of a crowd of 2,346, Cavan were always in command after their early goal burst.
Midfielder Corr burst through the middle after a great pass from Cian Mackey and drilled a low long-range shot to the net after seven minutes.
Dunne took advantage of a defensive blunder in the Armagh fullback line to curl the ball past Niall Geoghegan.
Ten minutes elapsed before Armagh got their first score through rookie Niall McConville.
Gearoid McKieran's point stretched Cavan's lead to 2-4 to 0-4 after half an hour.
McParland replied instantly with a goal for Armagh, just minutes after he had moved to full-forward, and the home side trailed by three points at the break.
Armagh made a bright start to the second-half with three points in as many minutes but Dunne's fisted goal after 42 minutes wiped out their good start.
Stefan Forker was impressive for Armagh and hit 0-6, four from frees, while McKiernan hit four from play for Cavan.
The result means that the final game in Section B between Down and Armagh on Wednesday will decide who goes through to the semi-finals of the competition.
Armagh: N Geoghegan; C McKeever, J Donnelly, F Moriarty; N Rowland, A Forker, M Shields; S Harold (0-1), K Toner; G McParland (1-0), N McConville (0-1), E Rafferty; D Carville, S Forker (0-6, 4f), E McVerry (0-1)
Subs: A Duffy for Rowland (23), C Rafferty (0-1) for Carville (29), B Mallon (0-1) for McConville (48), D McKenna for A Forker (59), S Campbell for Mallon (70)
Cavan: J Reilly; O Minagh, K Brady, D Barkey; P Reilly, A Clarke, J McCutcheon; T Corr (1-0), G McKiernan (0-4); D O'Reilly (0-1), D McKiernan, M McKeever; C Mackey, M Dunne (2-2, 2f), N McDermott (0-2, 2f)
Subs : J Hayes for Minagh (34), N Murray for Brady (47), O O'Connell for Dermott (66), D Tighe for O'Reilly (70)
—
Power NI Dr McKenna Cup Group C:
Derry 1-13 0-6 UUJ
Brian McIver clinched his first win as Derry manager with a 1-13 to 0-6  success over UUJ at Celtic Park on Saturday night.
The teams traded points early on but Derry led 1-6 to 0-3 at the break thanks to a goal by debutant Ciaran McFaul on the stroke of half-time.
The Oak Leafers extended their lead in the second half with substitute Lee Kennedy among the point scorers.
Enda Lynn and McFaul were also to the fore as Derry ran out 10-point winners.
Eoin Bradley scored the first point of the match, but UUJ replied soon after and an Aaron Devlin point on 19 minutes made it 0-2 apiece.
A Conor McAtamney point edged the home side in front again and further points from Bradley and James Kielt (2) ensured that Derry took control.
Kennedy made an impact after replacing Bradley at the interval.
Derry started the second half brightly and were 1-10 to 0-4 ahead after 46 minutes.
UUJ, who have lost both of their fixtures, face a daunting trip to Healy Park to play Tyrone on Wednesday night, while Derry entertain Antrim.
—
Match Reports: bbc.co.uk/ni