Mixed Inter-Pro results for Ulster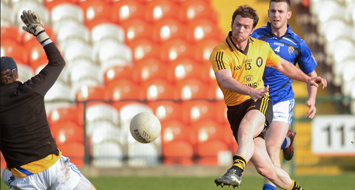 There were mixed results for Ulster's footballers and hurlers in the weekend's M Donnelly Inter-Provincial Championship semi finals.
M. Donnelly Interprovincial Football Championship Semi-Final:
Ulster 1-14 Munster 1-13
Champions Ulster are back in the M. Donnelly Interprovincial Football Championship Final, but only after coming through a compelling duel with Munster on Sunday at the Athletic Grounds, Armagh.
Joe Kernan's side looked to be cruising back into the final when they had opened up a 1-11 to 0-4 lead close to the end of the first half. However, they only hit three more points before the end of the game as Munster produced a superb comeback, only being pipped by a single point in the end.
Ulster led 1-3 to 0-1 with just under 15 minutes gone. Their goal came from Tyrone's Martin Penrose, who beat his man well before a sharp finish to the net. The lead was 1-8 to 0-3 soon afterwards, with Seán Cavanagh (Tyrone) and Conor McManus (Monaghan) hitting 0-2 each.
Things looked grim for Munster when the lead had stretched to 10 points close to the break, but they hit the last two scores of the first half, the second of which was a brilliant effort from Cork's Aidan Walsh.
The comeback was made possible shortly after the restart when Donncha O'Connor (Cork) tucked away a penalty. That made it 1-11 to 1-6 and then points from Gary Brennan (Clare) and Colm O'Neill (Cork) left just three between them.
The dismissal of David Givney (Cavan) tilted things further in the direction of Munster, who pulled level at 1-11 apiece after a score from Paul Kerrigan (Cork), and then went ahead when Walsh fired over.
However, Ulster dug deep in the closing stages, and two points from Ciarán McKeever (Armagh) and a free from Cavanagh ended Cork's scoring run, which had stretched to 1-8 without reply by the time they took the lead. Those scores from McKeever and Cavanagh left Ulster two ahead though, and although Aidan O'Mahony's point ensured a thrilling finale, Kernan's side hung on for the win.
Ulster will now play Leinster in the M Donnelly Inter-Provinicial Football Championship Final next Sunday 24th February at Croke Park, with a 3.45pm throw in.
—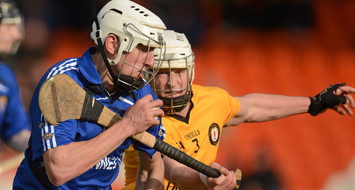 M. Donnelly Interprovincial Hurling Championship Semi-Final:
Munster 3-20 Ulster 1-14
Meanwhile in the M. Donnelly Interprovincial Hurling Championship on Sunday, Munster progressed to the final the with a comfortable victory over Ulster at the Athletic Grounds in Armagh.
Munster had all three of their goals on the board before even 20 minutes had elapsed, and led 3-6 to 0-3 midway through the first half. Two of those goals came from Limerick's Graeme Mulcahy, with the other coming from Cork hurler Paudie O'Sullivan.
However, Ulster, backboned by the Antrim hurlers, battled hard for the remainder of the game, despite trailing by 12 points at an early stage. Shortly after Mulcahy's second goal, Antrim's Neil McManus scored a superb goal for Ulster to make it 3-7 to 1-3.
Munster were in total control at the break though, leading 3-12 to 1-4. Cork's Patrick Horgan was their main pointscorer in the first half, hitting six frees.
The second half was a much lower-scoring affair as Munster brought on a number of substitutes. Ulster chipped away at the lead, with McManus their scorer-in-chief. He finished with 1-7, and was among their scorers when they hit five unanswered points towards the end.
Munster's big lead was never seriously threatened though, and Limerick's Shane Dowling completed the scoring for the day to seal a 12-point win.