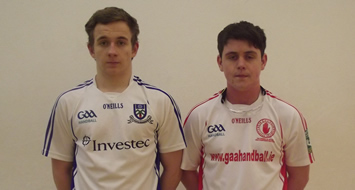 It's Ulster final time in the 2013 handball championships as the provincial 40×20 series draws to an exciting close over the next two weekends.
This weekend there's a busy programme of singles deciders across all the adult competitions, with matches taking place at seven different venues featuring six counties.
The following weekend will see the adult doubles finals take place across the province.
The singles finals have already produced a stunning title win on Wednesday night for Tyrone's Gabhainn McCrystal in the provincial minor final against defending champion, Monaghan's Darren Doherty. (pictured)
The rest of the adult singles champions are due to be confirmed by Sunday evening, with an interesting intermediate final, featuring Tyrone and Cavan, bringing the curtain down on the weekend action.
The mens and womens open champions were crowned back in January as reigning world champions, Paul Brady and Aisling Reilly, unsurprisingly lifted the two biggest prizes in Ulster handball.
Meanwhile, Kingscourt will be a busy place this weekend as the Cavan venue hosts the All-Ireland colleges handball finals on Saturday, followed by all the semi-finals of the 2013 Ulster juvenile championships on Sunday.
Ulster 40×20 Handball Champiopnship Finals 2013
Weekend 1 (Singles Finals)
Wednesday 13th February @ Eugene Quinn's, Armagh
Minor Singles – Gabhainn McCrystal (Tyrone) beat Darren Doherty (Monaghan) 21-20, 21-18
Saturday 16th February
Eugene Quinns, Armagh
Junior B Singles – Sean Digney (Dow) v Mark McCullagh (Tyr) 2pm
Over 35 B Singles – Martin Turley (Dow) v Rory Grogan (Tyr) 3pm
Silver Masters B Singles – Kevin McParland (Ant) v Kenny Curran (Tyr) 4pm
Junior Singles – Terry Kiernan (Mon) v Barry Devlin (Tyr) 5pm
Gortnamona
Ruby Masters Singles – Seamus Graham (Ant) v Richard Murphy (Ant) 2pm
Silver Masters A Singles – John McGarry (Ant) v Paddy Crothers (Ant) 3pm
Over 35 A Singles – Ricky McCann (Ant) v Sean Devine (Ant) 4pm
St. Paul's
Golden Masters A Singles – Thomas Maguire (Ant) v Paddy Roberts (Ant) 2pm
Beragh
Ladies Intermediate Singles – Lisa McAleer (Tyr) v Avril McNamee (Don) 2pm
Diamond Masters A Singles – Michael McCarron (Mon) v David Mulhern (Don) 3pm
Loughmacrory
Emerald Masters A Singles – Anthony Caddell (Ant) v Martin McEntee (Mon) 5pm
Diamond Masters B Singles – John McManus (Ant) v Cathal Digney (Dow) 6pm
Golden Masters B Singles – Sean McNally (Dow) v Conor McDonnell (Mon) 7pm
Tydavnet
U21S – Terry McElvaney (Mon) v Conor McElduff (Tyr) 2pm
Masters B Singles – Jimmy McKeown (Cav) v Tom Savage (Dow) 3pm
St. Mellan's
Ladies Junior B Singles – Niamh Farrell (Mon) v Michelle Warren (Tyr) 4pm
Emerald Masters B Singles – Brian Havern (Dow) v James Fealy (Mon) 5pm
Sunday 17th February – Eugene Quinns
Intermediate Singles – James Brady (Cav) v Shane O'Neill (Tyr) 6pm
Ulster Winners already decided…
Ladies Minor Singles – Maeve McElduff (Tyr)
Ladies Junior Singles – Anna Madine (Dow)
Masters A Singles – Niall Kerr (Tyr)
Over 70's Singles – Des McNeill (Dow)
All Ireland singles Semi Finals – Ulster v Munster
Saturday 9th or Sunday 10th March (as per the clar)
Note: Ulster championship doubles finals – Sunday 24th February