Ulster Hurling Team Named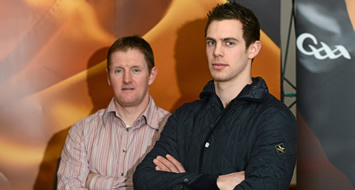 Ulster Inter-Provincial Hurling Manager Gregory O'Kane has named his team for Sunday's M Donnelly Inter Provincial Hurling Semi Final v Munster.
Ulster will take on Munster in a fantastic double header scheduled for Sunday 17th February at the Athletic Grounds in Armagh. The hurling game will throw in at 12.30pm with the football at 2.15pm.
1) Ryan McGarry (Aontroim)
2) Barry McFall (Aontroim)
3) Arron Graffin (Aontroim)
4) Michael Warnock (Doíre)
5) Neal McAuley (Aontroim)
6) Liam Hinphey (Doíre)
7) Simon McCrory (Aontroim)
8) Karl Stewart (Aontroim)
9) Kevin Hinphey (Doíre)
10) Alan Grant (Doíre)
11) Neil McManus (C) (Aontroim)
12) Paul Shiels (Aontroim)
13) Shane McNaughton (Aontroim)
14) Ryan Gaffney (Ard Mhacha)
15) Oisin McCloskey (Doíre)
16) Stephen Keith (An Dún)
17) Michael Ennis (An Dún)
18) Eoin Clarke (An Dún)
19) Conor Corvan (Ard Mhacha)
20) John Corvan (Ard Mhacha)
21) Cathal Carville (Ard Mhacha)
22) Stephen Donnelly (Tír Eoghain)
23) Conor Quinn (Doíre)
24) Martin Grogan (Tír Eoghain)