Champions Donegal march past Tyrone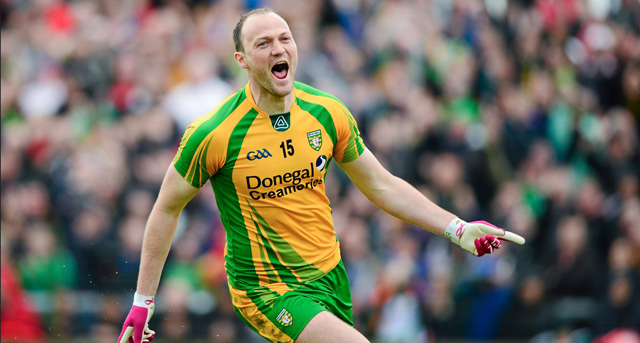 Ulster GAA Football Championship Quarter-Final:
Donegal 2-10 Tyrone 0-10
All-Ireland champions Donegal sent out an ominous warning to all their rivals across Ireland with a very impressive six-point win over Tyrone at a very wet Ballybofey on Sunday afternoon.
Donegal showed that despite their relegation earlier this year from Division I of the Allianz Football League, they remain every bit as good as they were last year, if not even a little bit better.
They ground Tyrone down gradually at a packed MacCumhail Park, and they were the better of the two sides at adapting to the poor conditions, which came about as a result of heavy rain at the venue for much of the match.
Goals proved crucial for Donegal, with one in either half both coming at very decisive times. Patrick McBrearty was outstanding throughout, and he was heavily involved in both goals, which on both occasions sent Donegal into the lead. They had been a point behind in the first half when McFadden found the net on 32 minutes, and were level in the second half when substitute Ross Wherity majored.
Once Wherity's goal went in, on 50 minutes, that was effectively the end of the game as they built on it immediately with two quick-fire points, from McBrearty and Michael Murphy, to go five points ahead.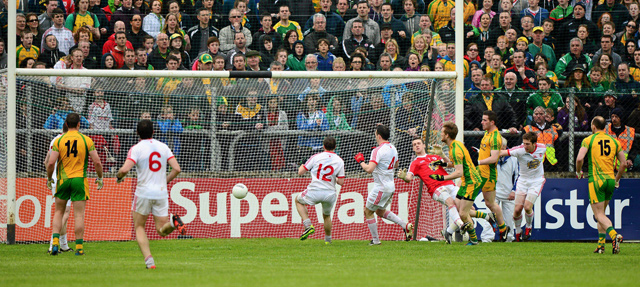 Then, the sending-off of Joe McMahon on 62 minutes was the symbolic end of Tyrone's challenge, and the game fizzled out thereafter as Donegal saw out the victory.
Tyrone had certainly played their part in a compelling match, and were firmly in the hunt early in the second half when they made the better start after the resumption to get level at 1-6 to 0-9.
Incredibly though, Tyrone didn't score between the 41st and 73rd minute of the game, and that failure, combined with Donegal's remarkable fitness, efficiency in front of goal, organisation and sheer quality, all contributed to their ultimate defeat.
The rain was falling heavily in Ballybofey at the throw-in, but Donegal made light of it in the early stages and raced into a 0-4 to 0-1 lead inside the first eight minutes.
This was despite that fact that neither Mark McHugh nor Karl Lacey started, despite being named in the Donegal team during the week. Both have been on the road back from long-term injuries and their places were taken by Declan and David Walsh respectively.
Colm McFadden, who top-scored for Donegal with 1-3, knocked over two early frees, while Michael Murphy and David Walsh also got in on the scoring act early. Conor McAliskey kicked an early point for Tyrone.
Tyrone gradually found their way into the game, and kicked four of the next five points to be level at 0-5 apiece after 25 minutes, by which time McHugh had been introduced for Donegal. Niall Morgan knocked over a long range free, while Matthew Donnelly and Stephen O'Neill both kicked excellent points from play.
Mickey Harte's side edged ahead when Colm Cavanagh pointed to make it 0-6 to 0-5, but soon afterwards, Donegal found the net for the first time to lead by two. The goal came about from a free way back towards the Donegal goal which was moved forward.
Murphy pumped a long kick in and McBrearty used all his guile and strength to brilliantly flick the ball into the path of McFadden, who kept a cool head to slot past Morgan into the net. Murphy and Matthew Donnelly traded scores before half-time, and Donegal led 1-6 to 0-7 at the break.
Tyrone had been much more wasteful in front of goal in the first half than Donegal, and Niall Morgan had been beginning to show the strains of the pressure that came with being expected to land long range frees. He kicked a number of wides, and continued to struggle with his kicking into the second half.
Nonetheless, Tyrone made a fast start to the second half, and quickly got level at 1-6 to 0-9 on 41 minutes, following points from Justin McMahon and Seán Cavanagh. Remarkably though, Cavanagh's point would be Tyrone's last until injury-time, when Martin Penrose registered a consolation point at the very end.
Donegal's second goal, with just over 20 minutes to go, completely changed the complexion of the match and McBrearty was central to it again. The Kilcar man won possession from a Rory Kavanagh free on the right wing, and he brilliantly evaded his marker, showing skill, strength and pace to cut inside, eventually playing the ball towards Wherity, who had the relatively easy task of palming the ball into the net.
When the score was followed by a fisted effort from McBrearty, and an elegant effort from play from Murphy, the gap was suddenly five and a familiar picture of the dominant Donegal of 2012 was re-emerging for 2013.
The introduction of Karl Lacey, to a very warm reception, was a further reminder of Donegal's 2012 heroics, and he played an influential role in the final quarter, showing few signs of rustiness having been out for so long with a hip injury.
Tyrone didn't look like they would have mustered a comeback anyway, but Joe McMahon's dismissal with 10 minutes to go brought an effective end to their challenge. They had a chance late on when Peter Harte had a shot at goal, but it was blocked brilliantly by Mark McHugh, who as per usual was deep inside his own half, defending and working tirelessly.
The match ended as it began, in heavy rain. But Donegal, as they had been throughout, were unmoved by the elements, perhaps because by this stage they have become an elemental force themselves.
Scorers for Donegal: C McFadden 1-3 (2f), R Wherity 1-0, M Murphy 0-3 (2f), P McBrearty 0-2, R Kavanagh 0-1, David Walsh 0-1.
Scorers for Tyrone: S Cavanagh 0-2 (1f), Matthew Donnelly 0-2, C McAliskey 0-1, N Morgan 0-1 (1f), S O'Neill 0-1, C Cavanagh 0-1, Justin McMahon 0-1, M Penrose 0-1
Donegal: P Durcan; P McGrath, N McGee, E McGee; A Thompson, Declan Walsh, F McGlynn; N Gallagher, R Kavanagh; David Walsh, L McLoone, R Bradley; P McBrearty, M Murphy, C McFadden.
Subs: M McHugh for F McGlynn (21), M O'Reilly for R Bradley (HT), M McElhinney for David Walsh (43), K Lacey for A Thompson (47), R Wherity for L McLoone (47).
Tyrone: N Morgan; PJ Quinn, C Clarke, C McCarron; Justin McMahon, Joe McMahon, C Gormley, C Cavanagh, S Cavanagh; Matthew Donnelly, P Harte, Mark Donnelly; M Penrose, S O'Neill, C McAliskey.
Subs: P McNeice for C McAliskey (27), D Carlin for PJ Quinn (HT), A McCrory for D Carlin, A Cassidy for Justin McMahon (56), K Coney for Mark Donnelly (60).
Referee: Joe McQuillan (Cavan)
Report: gaa.ie