JP Mone Previews Monaghan V Donegal USFC Semi Final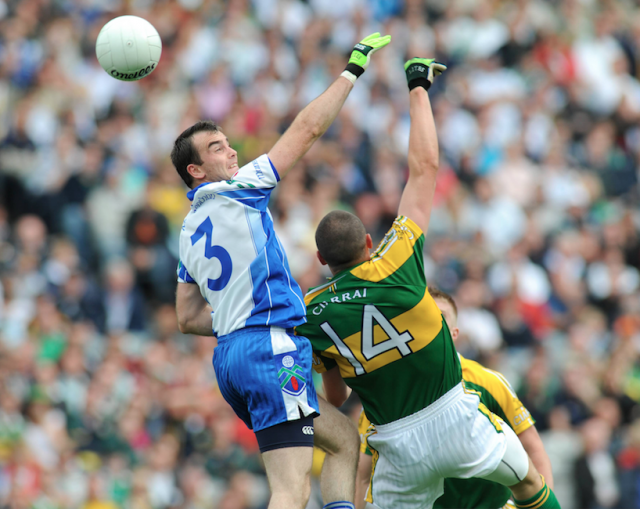 Former Monaghan player JP Mone gives his thoughts ahead of  the Donegal v Monaghan Ulster Senior Football Championship semi-final:
"The Ulster Championship has undoubtedly been a very good place for Monaghan football in the last few years and the victory in last year's final to regain the Anglo Celt was very satisfying. A big part of our success in recent years has been down to the very intense rivalry that has been built up with the Donegal men and I expect another fierce battle in Kingspan Breffni Park this Saturday. Donegal have been the most consistent team in Ulster in the last five years and have laid down a big challenge to everyone else but it has brought out the best in the Monaghan boys.
I think Monaghan are coming good at the right time. The league was really all about retaining our position in division one to be honest. The performances were good in the first few games but then hit a sticky patch and we needed a last day victory to survive – ironically against Donegal. However, a lot of our experienced, key men were not playing or near full fitness during the campaign. The break from the end of the league to the start of the championship has been good for Monaghan and the boys have been grafting very hard to get ready for these big games.
For me the two Hughes brothers will be key men in this game and seem to be hitting form and fitness bang on time, as they showed against Down. Conor McManus was quiet in the first round by his own sky high standards so to rack up 2-22 with his best still to come is a huge positive. Big Vinny Corey will be vital for Monaghan to do well this season again so I am delighted to see him in good shape for championship action.
Some people have suggested Donegal are on the slide but they are still a very very tough team to get past in Ulster. In my view, Paddy McBrearty is a top class act and will cause serious damage for Donegal if allowed space to operate in. Michael Murphy is obviously a danger wherever he plays, and while some say he was quiet the last day, he will always need serious watching. In the past, we have had Vinny Corey assigned to that difficult job and he could be asked to take that role up again on Sunday. Neil McGee's suspension is a loss but their system should allow them to slot someone in as they never really allow their fullback line to be exposed anyway. In saying that, Kieran Hughes and Conor can do damage with the right quick ball and I'm sure they would like his power in there. If Neil Gallagher is not able to take part that will be a huge blow for Donegal as he has been a massive part of their system and success in the last five years. As a Monaghan man, I'll be happy if he doesn't play though!
Tactically, the game will be the same cagey affair as we have seen in the last few years – but Monaghan need to be positive and go on the front foot. They are defensively strong anyway and work men back to into the defence when needed but need to keep switched on offensively and put teams under pressure. I thought they were impressive in that regard in Croke Park against Dublin – getting the ball forward quickly as you know you have men inside that can do damage. Monaghan play their best football when they look to put the other team under pressure. It doesn't really suit us to sit back and soak up pressure and we need to take the game to Donegal. In the first half of last year's Ulster Final, the boys took it Donegal and were superb but in second half we sat back more defensive and were lucky to get out with our great win.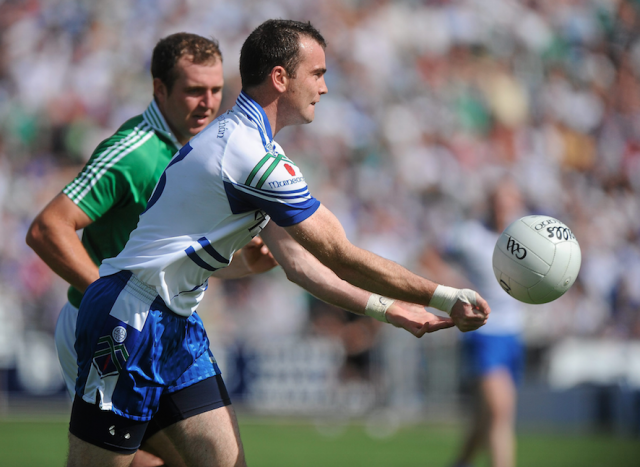 I remember playing back to back championship matches against Donegal in 2007/08. In 2007 we had just lost the Ulster Final to Tyrone and were really disappointed with ourselves but bounced back and had a great win over Donegal up in Omagh. The following year we drew them again in the back door draw, up in Ballybofey. It was a tight affair on a really hot summers evening and we slipped through by a single point. I think I marked Michael Murphy for a good part of that game – he was a big strong cub then and you knew was going to be a top player with some of the frees that he clipped over that day. The striking thing from those games is that nine or ten of those boys that we beat two years on the trot then went on to win the All Ireland title a few years later under Jim McGuinness.
The Ulster Championship results this year have all gone with predictions so far and last week was the closest to a potential shock. Personally, I think Cavan maybe missed their opportunity to beat Tyrone last week as I doubt if they will get the opportunity for three goals again. I was actually a bit apprehensive about the Down game as a potential banana skin as anything can happen on the day in the championship as we showed in 2003 when we caught Armagh on the hop in Clones and they were the reigning All Ireland champions. We weren't ready to win Ulster then but it was a huge scalp for us to take and showed just how competitive this provincial championship is. These final three games are much tougher games to call but I would be confident Monaghan will come through a tough test in Cavan by a couple of scores to make it to the big day on 17th July."