EirGrid Ulster U21 Football Championship 2017 launched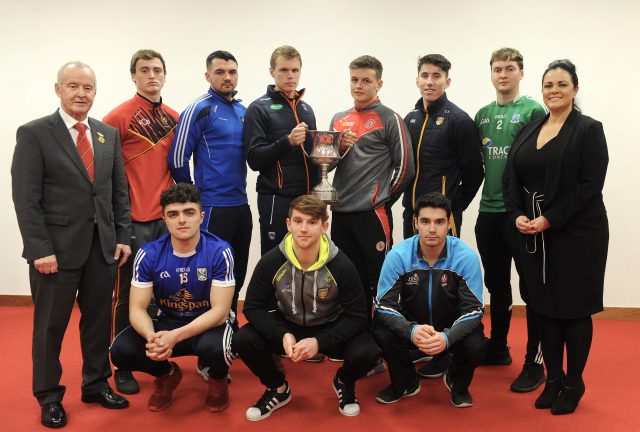 The launch of the 2017 EirGrid Ulster U21 Football Championship took place last night, Monday 6 March, at the Tyrone GAA Centre in Garvaghey, in the company of players and management from all of the competing Counties.
Speaking at the launch, Ulster GAA President Michael Hasson said:
"Over the years, the EirGrid Ulster U21 Football Championship has been an excellent platform to display the young talent in our Province and to showcase the senior Ulster GAA stars of tomorrow. This year once again promises to be a very exciting and open competition with all teams hopeful that they can claim the title away from current holders Monaghan. I would like to acknowledge the continued support of our title sponsors Eirgrid, now in their 3rd year of sponsorship and I look forward to an intriguing series of games in the EirGrid Ulster U21 Football Championship."
Commenting at the launch, Natasha Sayee Head of Public Affairs at SONI (System Operator for Northern Ireland), EirGrid's sister company said:
"At EirGrid and SONI we are immensely proud to partner with the GAA and delighted to be renewing our sponsorship of the GAA Football U21 All-Ireland Championship which affords us the opportunity to get behind the most talented young footballers in the country. The EirGrid GAA Football U21 Ulster Championship is always very keenly contested and we are really looking forward to see the talent and competition to come from Ulster again in 2017.
"At EirGrid and SONI we manage the electricity grids North and South; keeping the lights on in homes, farms and businesses across the country and we feel that what we do mirrors the hugely positive impact that the GAA also has across the island.   On behalf of EirGrid I would like to extend our very best wishes to all players, managers and backroom teams, as well as their parents and families, for the Ulster Championship ahead."
The EirGrid Ulster GAA U21 Football Championship will begin on Wednesday 8 March as Antrim will host holders Monaghan at QUB, The Dub, Belfast. For complete fixtures and ticketing information visit www.ulster.gaa.ie/u21football2017
EirGrid Ulster U21 Football Championship 2017 Fixtures
All games at 8.00p.m.unless stated otherwise (Extra time if required in all games)
(Replays if required will take place the following week)
Wed 8th March: First Round:
Wed 15th March: Quarter Finals
(b) 4. Tír Eoghain V 5. Dún na nGall
(c) 6. Fear Manach V 7. An Cabhán
(d) 8. Ard Mhacha V 9. An Dún
(e) 3. Doire V (a) Aontroim / Muineachán
If Doire V Aontroim at Owenbeg
If Muineachán V Doire at Grattan Park, Inniskeen
Wed 29th March: Semi Finals:
(b) V (c)
(d) V (e)
Wed 5th April: Final: (Replay 12th April)