No Smoking Day 2017 – GAA Clubs Going Smoke-free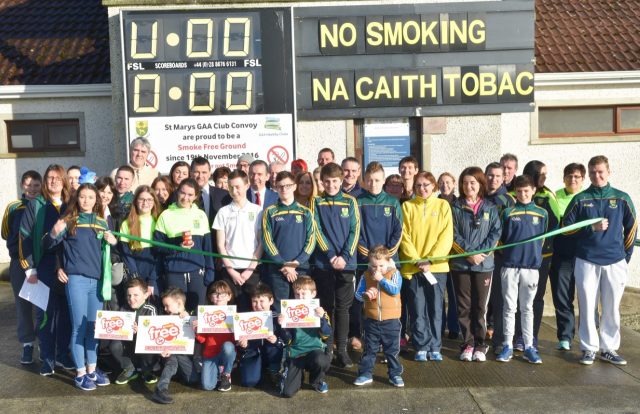 To mark No Smoking Day 2017, Ulster GAA is urging all GAA clubs across the province to go smoke-free.
By adopting the Club Tobacco, Alcohol, and Drugs Policy, every club is playing its part in promoting no smoking among its membership and on its premises
However, a number of Ulster clubs have gone a step further and have gone completely smoke-free in recent months.
St Marys GAA club in Convoy, Co. Donegal have been smoke-free since 19th November 2016, as have Erne Gaels GAA club in Belleek, Co. Fermanagh since the 1st March 2017. Smoke-free signage is visible around each club's grounds, asking members and visitors to respect the smoke-free philosophy. Both of these clubs are involved in the GAA Healthy Club Project and recognise the importance of simple steps GAA clubs can implement in order to promote positive health and well-being messages to the wider community. The smoke-free initiative was made possible through the work of the respective Club Health and Wellbeing Officers, in conjunction with the Club Executive Committee, and entire club membership; once again highlighting the fantastic work being undertaken by GAA clubs on such important issues.
Should you wish to quit smoking, or would like your club to become smoke-free you can contact your respective support, please visit:
Cavan/Monaghan/Donegal:
Armagh/Antrim/Derry/Down/Fermanagh/Tyrone:
For more information about the GAA smoke free initiative please contact the Community & Health Department at community.health@gaa.ie. For information on Ulster GAA's Health and Wellbeing programmes visit: www.ulster.gaa.ie/health/ or contact maura.mcmenamin.ulster@gaa.ie