Derry too good for Cavan in Ulster MFC Final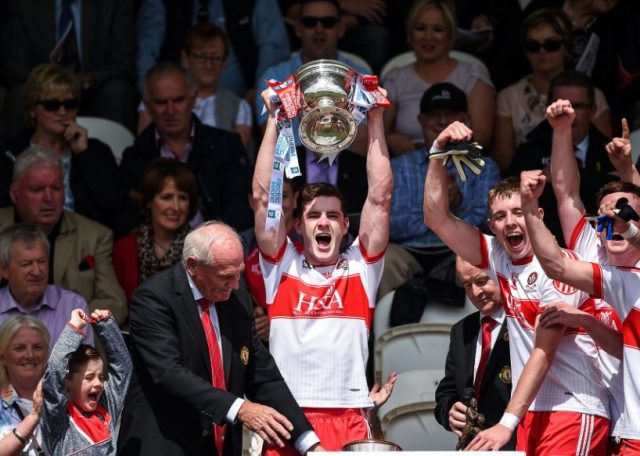 Ulster Minor Football Final
Derry 1-22 Cavan 2-12 
Derry claimed their second Ulster Minor Football title in three years after defeating Cavan by four points at St Tiernach's Park in Clones.
Despite losing captain Paddy Meade (to injury) and midfielder James Smith (to a black card) Cavan trailed by just four at the break, running in 0-14 to 1-7 down.
But confident Derry, with captain and man of the match Padraig McGrogan sweeping in the second half, never looked in any real danger as they cruised to victory with McGrogan lifting the Fr Murray Cup.
Come from behind wins over Monaghan and Down reunited Cavan and Derry in a repeat of the 2015 final which Damian McErlain's team won narrowly. Derry's campaign this year included victories over Tyrone and Antrim as the Oakleafers looked to make amends for last year's final defeat at the hands of Donegal.
Derry repeated their early blitz against Antrim and raced to a 0-4 to no score lead after just five breathless minutes. Paddy Quigg opened the scoring before a Conleth McShane point was sandwiched by scores apiece by the McWilliams twins Lorcan and Oisin.
Cavan responded superbly when midfielder James Smith countered swiftly before burying the ball past Oran Hartin for the only goal of the half. A Cian Madden point straight after signalled that Derry, despite their early dominance,  were very much in a contest.
Stung into action the favourites volleyed back impressively, hitting seven of the next eight points including a brace from Bellaghy's Declan Cassidy. But once again Cavan fought back and finished the half the stronger. Patrick Lynch hit the first Breffni point for ten minutes in the 20th minute, but that was soon followed up by white flags from Cian Madden, Tiarnan Reilly and a couple of clinkers from the impressive Philip Rogers.
Two rapid fire score from Oisin Pierson left Cavan just two adrift shortly after the restart.
But after that Derry took control, and the introduction of the athletic Callum Brown was their catalyst with the Limavady man's high fielding ability and his direct running.
Ben McCarron, Paddy Quigg and Declan Cassidy continued as they left off in the first half and found important scores for their side, before Cavan found a crucial lifeline through a palmed Philip Rogers goal in the 42nd minute. A neat Lorcan McWilliams point soon after stretched the Oakleaf lead to 0-19 to 2-9 with ten to go.
A Ben McCarron goal, Derry's only major, would prove to be the key score of the second half in the 52nd minute.
Cavan battled right to end, with Oisin Pierson and John Cooke adding late scores, before points from substitutes Alex Doherty and Fergal Mortimer wrapped things up for the new Ulster champions – Derry.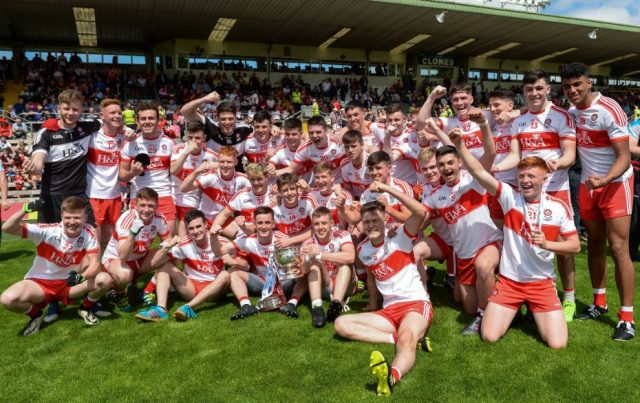 Scorers for Derry: Lorcan McWilliams 0-6 (0-3f), Ben McCarron 1-3, Paddy Quigg 0-4 (0-1f), Declan Cassidy 0-3, Conleth McShane 0-1, Padraig McGrogan 0-1, Tiarnan McHugh 0-1, Alex Doherty 0-1, Fergal Mortimer 0-1, Oisin McWilliams 0-1f
Scorers for Cavan: Philip Rogers 1-2, Oisin Pierson 0-4 (0-2f), James Smith 1-0, Cian Madden 0-2, Patrick Lynch 0-1, Cian Madden 0-1, Tiarnan Reilly 0-1, John Cooke 0-1
Derry: Oran Hartin, Oran McGill, Conor McCluskey Sean McKeever, Simon McErlain, Dara Rafferty, Conleth McShane, Padraig McGrogan, Oisin McWilliams, Patrick Quigg, Richie Mullan, Declan Cassidy, Ben McCarron, Lorcan McWilliams, Mark McGrogan. Subs: Tiarnan McHugh for M McGrogan (HT), Callum Brown for R Mullan (HT), Alex Doherty for O McGill (39), Martin Bradley for D Cassidy (47), Fergal Mortimer for P Quigg (55), Cormac Murphy for B McCarron (57)
Cavan: Gary O'Rourke, Evaan Fortune, Paddy Meade, Killian Brady, Danny Cusack, Cormac Timoney, Kevin Hendrick, Ronan Patterson, James Smith, Oisin Kiernan, Cian Madden, Philip Rogers, Oisin Pierson, Patrick Lynch, Sean Keogan. Subs: John Cooke for P Meade (21), Tiarnan Reilly for J Smith (BC 24), Philip Nulty for K Hendrick (39), Niall McCabe for S Keogan (49), Callum Lynch for O Kiernan (51)
Referee: Martin McNally (Monaghan)