Praise for young Belfast Gael's inspiring volunteering effort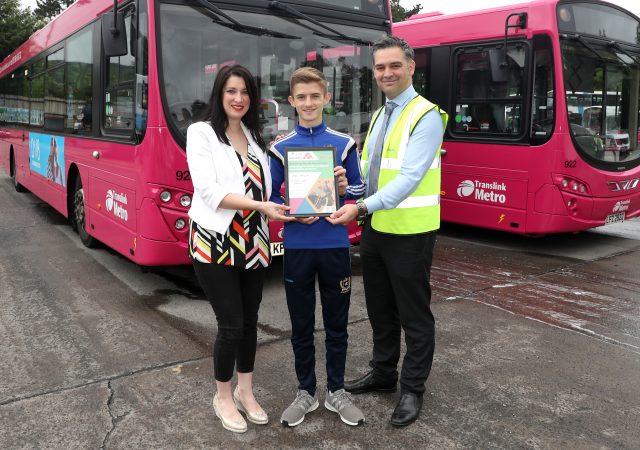 Ulster GAA in association with Translink has selected a 15 year old Gael from St Gall's GAC Belfast as winner of the Translink Young GAA Volunteer Award for June 2017.
The young man impressed judges with an impressive nomination which detailed a serious level of commitment and passion for the GAA club and his community. Sean Kelly Jnr is the latest young person to receive official recognition for his outstanding volunteering effort.
Ulster GAA President Michael Hasson said, "Ulster GAA is proud to raise the profile and recognition of the contribution many young people make to the Association through their clubs across all nine Ulster counties. The Translink Young Volunteer Award and our hugely successful GoldMark Programme emphasis the impact young people are making everyday in their GAA clubs and that needs to be encouraged at the very highest levels.
"I am exceptionally proud to hear of Sean Kelly Jnr contribution to St Gall's GAC Belfast. He is an outstanding volunteer who lives and breathes GAA. At such a young age he makes a significant and positive impact on his club and his community and I am delighted to recognise his efforts."
St Gall's GAC Representative Kevin McGourty, who nominated Sean said, "Sean Kelly Jnr is the living embodiment of everything that's makes our association so special. Player, Volunteer, Friend, and role Model. Growing up in an urban city where young men his age have many temptations outside of our association he represents our club and our area with great pride."
Speaking at the conferment of the award, Sean McGreevy, Service Delivery Manager, Translink said: "Young people like Sean make an enormous contribution to community, civic and sporting life in many of the local communities we serve, and we are delighted to partner up on this scheme to recognise those efforts. On behalf of Translink I'd like to congratulate him on this much deserved award. The standard of nominees was extremely high, so this recognition is a real credit to Sean's hard work and the impact he makes in his area."