President congratulates Irish Scholars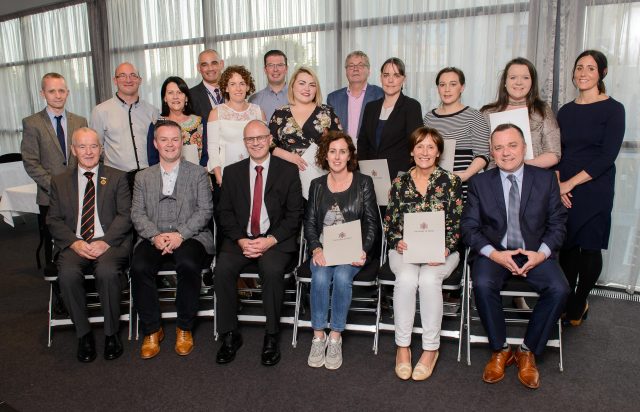 Ulster GAA President Michael Hasson and Chair of Ulster GAA's Heritage and Cultural Committee Michael McArdle attended the Ulster University's Irish Diploma Graduation Ceremony to congratulate the Gaeilge Sa Chlub Scholars on completion of their study.
For the past 5 years, Ulster GAA has provided scholarships for GAA members to study the Irish Diploma at Ulster University.  The call for application for the coming academic year 2017/18 remains open until 5pm Friday 8th September.  Full information including rules & regulations and application form is available online at www.ulster.gaa.ie/gaeilgesachlub
Speaking following the Graduation Ceremony in Burnavon Centre, Cookstown Michael Hasson said, "The Irish Diploma at Ulster University and Ulster GAA's support for GAA members to undertake this part-time course means a diverse range of students have the opportunity to learn the Irish language.
"In its fifth year, Ulster GAA is delighted to continue our investment in the Gaeilge sa Chlub scholarships which rewards GAA members wishing to develop their knowledge of the Irish Language and also benefits our clubs as successful scholars are committed to delivering an Irish Language project back in their club.
"Ulster GAA is committed to the development and promotion of the Irish Language and it is very welcome that so many GAA members are graduating from Irish Language study.  I congratulate all those who have completed their study and I encourage any GAA member from across Ulster clubs interested in undertaking the course to apply for the Gaeilge sa Chlub scholarship by next Friday.
"I would also like to thank Mid Ulster Council for their ongoing support for this diploma and it's wonderful for the students to learn in the beautiful and fantastic facility of the Burnavon Centre."
All applications MUST be received by the deadline of 5pm Friday 8th September 2017 by either email to Sharon.haughey.ulster@gaa.ie or by post to Sharon Haughey-Grimley, Gaeilge Sa Chlub, Ulster GAA, Ceannaras Uladh, 8-10 Market Street, Armagh, BT61 7BX.  Applications received after the deadline will not be considered.
For further information contact Sharon Haughey-Grimley on 028 37517 180 or email Sharon.haughey.ulster@gaa.ie