Young GAA mentor wins volunteer award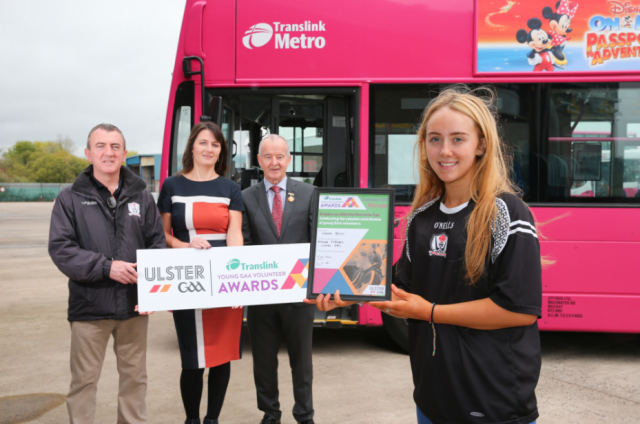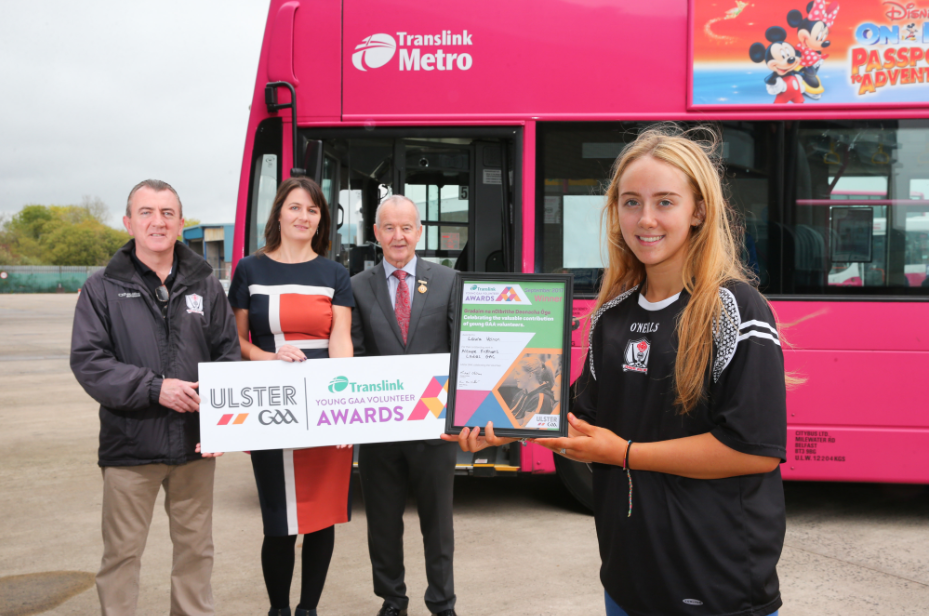 An inspiring young GAA volunteer from Ardoyne Kickhams Ladies GAC has picked up the prestigious Translink Young GAA Volunteer of the Month award. Sixteen year old Laura Vernon has been described as an inspiration and mentor to younger members of her club.
Speaking while awarding Laura, Ulster GAA President Michael Hasson said,
"Once again this monthly award in association with Translink has recognised the outstanding contribution of a young Gael to her club. Laura Vernon has contributed immensely to the underage section of her club, mentoring and inspiring children and young people. She is a credit to herself, her family and Ardoyne Kickhams."
Jana Rabikova, Service Delivery Manager, Translink added,
"On behalf of Translink I'd like to congratulate Laura on winning this award. It is clear that she sets a great example to young people in her community, balancing the demands of studying, playing and volunteering to help others in the local area. She is clearly an inspiration to many young people in North Belfast and we are delighted to recognise her efforts in this way. "
Club Chairperson Stephen McVickers, who nominated Laura said,
"Laura has been helping us with underage football training for u8's, u10's, u12's and u14's and since January 2017, she has volunteered at least 11 hours every week. Aged just sixteen, she is already dedicated to helping the younger children wherever she can and determined to help her club get better and stronger. The young girls are already looking up to her for guidance and she makes each training session fun for all involved. Laura is totally dependable and dedicated to her club. We wish we had more like her!"
In recognition of her achievement, Laura was presented with a framed certificated and a pair of Enterprise tickets, courtesy of Translink.
The Translink Young GAA Volunteer Monthly Award is a prestigious recognition for outstanding young people contributing to their local clubs. Anyone wishing to nominate a young GAA volunteer for this award should log onto http://ulster.gaa.ie/youngvolunteeraward/ or email Sharon.haughey.ulster@gaa.ie for further information.
Pictured:
Laura Vernon of Ardoyne Kickham Ladies GAC receives Translink Young GAA Volunteer for September. Pictured with her Club Chairperson Stephen McVickers, Jana Rabikova, Translink Service Delivery Manager and Ulster GAA President Michael Hasson