GAA contributes to Belfast pitches improvement strategy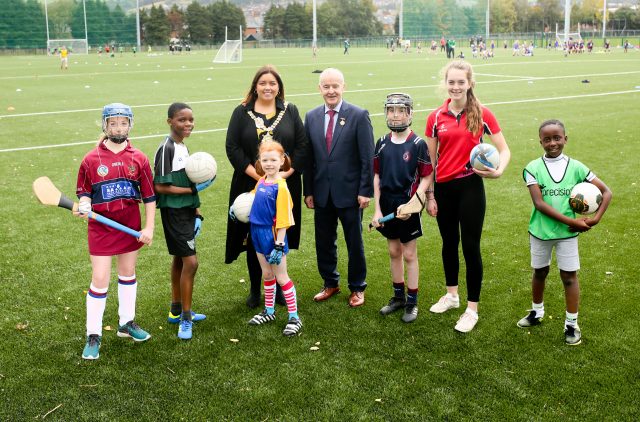 Belfast's sporting community came together at Cherryvale playing fields this morning to celebrate the completion of Belfast City Council's £15 million pitches strategy.
The Council have invested £14m and the GAA contributed £1.1m to improving facilities at 10 sites across Belfast since the strategy was agreed in 2012, including new 3G pitches and changing pavilions.
Michael Hasson, President of Ulster GAA, said: "I'm pleased that we have been able to contribute to the investment in these sporting facilities. It's so important that our young players have high quality facilities for both training and play, and I'm delighted that the GAA has had a role in the successful completion of Belfast City Council's pitches strategy.
"I commend the Council, our officials from Ulster GAA, Antrim GAA and Down GAA for their input to these projects. We warmly welcome this and look forward to working with Belfast City Council to develop new sporting programmes in the future."
The investment from the GAA fits perfectly with the GAA's 'Gaelfast' initiative that was announced earlier this year – a 5-year project aimed at promoting the GAA across the city of Belfast and ensuring that the next generation are involved with gaelic games.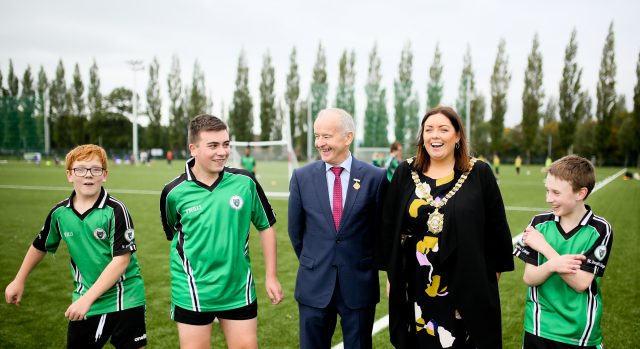 Lord Mayor, Councillor Deirdre Hargey, said: "As part of our Belfast Agenda, we're committed to improving the health and wellbeing of residents, addressing health inequalities and reducing social isolation; so our pitches strategy, along with our £105 million Leisure Transformation Programme, is an important element to achieving those goals, creating state-of-the-art facilities to encourage participation and promote an active, healthy lifestyle for citizens."
As well as improving council facilities, £750,000 was given to six schools in the city to improve their sporting facilities to encourage greater community use.
"One of our main objectives was to work with various sectors and sporting organisations to develop these hybrid pitches – Sport NI, governing bodies, sports leagues and clubs, and the Education Authority – to encourage shared use of space and maximise their use, and I'm pleased to say this has been a huge success," Councillor Hargey added.
Alderman Jim Rodgers, Chair of the Council's Strategic Policy and Resources Committee added: "I'm delighted that so many sports clubs across the city and beyond will be making use of these new facilities.  To have their support is crucial and I'm pleased that they fed into the strategy, helping to fine-tune the details of the improvements that have been carried out."
Cherryvale is the last of the 10 sites to have benefitted from Council's £15m capital investment, and to mark the completion of the works, senior representatives from Belfast City Council, GAA, IFA and IRFU, as well as Friends of Cherryvale representatives, watched as young people tried out the new pitches for themselves.
As well as Cherryvale, there was also investment at four other sites, Woodlands, Falls Park, Ormeau Parks and Cliftonville.