Ulster GAA launch Save Our Smiles campaign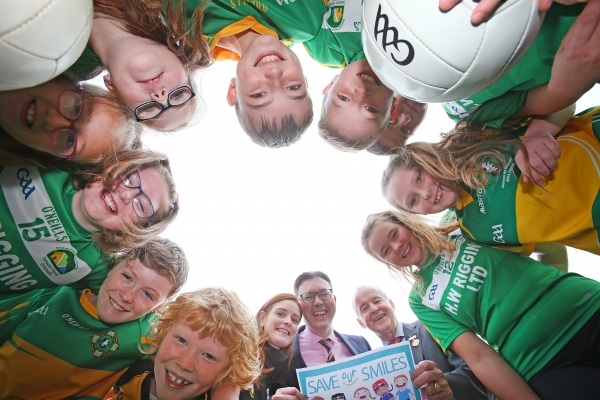 Ulster GAA, in partnership with The Irish News, launched the Save Our Smiles campaign in support of the NSPCC Parents in Sport week, which takes place on the 1st – 7th October 2018.
GAA parents play a pivotal role in encouraging and supporting their child's participation, success and fun when engaging in Gaelic games and activities and without their input many of our clubs would cease to function effectively. To celebrate and raise awareness of the important role parents play in our clubs, Ulster GAA are encouraging all our constituent units to join us in supporting Parents in Sport week, through our Save our Smiles campaign which focuses on the positive role that parents play in helping young people reach their full potential.
Children and young people take greater enjoyment from participating in sports if their parents are positively involved. They are also more likely to continue playing the sport for longer and have more opportunities to reach their sporting potential. It is important that parents reflect on their own behaviour when their child is participating in sport, ensuring that their support having a positive impact on their child's progression, development and enjoyment of the sport.
Parents are key stakeholders in all clubs, the contribution they can make to our games and activities is invaluable, particularly at underage level and in the day to day running of the club from washing team kits through to transporting players, assisting with teams, fundraising and beyond. Therefore, it is vital that all of our clubs embrace parental involvement in the club in a positive way and that channels of communication between the club, its volunteers and Parents are working as effectively as possible from the very start. We encourage all our clubs to support parents and encourage that they engage with their child's GAA activities in a positive way. Informing parents that you are responsive and open to their ideas can help to ensure that everyone involved has an enjoyable experience.
Ulster GAA President, Michael Hasson said: "As we build on a very successful Save our Smiles Campaign in 2017, we are delighted to be working again in partnership with the Irish News for 2018. Once again, we call on all clubs to support us in celebrating the very valuable role parents play in the Association."
Irish News Marketing Manager John Brolly endorsed the Save our Smiles campaign saying: "Children should enjoy sport, learn new skills, get fit and make friends as well as understand the importance of team work. Parents should be there to support their children in their enjoyment of sport and create a positive environment for their own children and all the children involved in the sport their children play in. I would encourage all parents to sign up to the Save our Smiles pledge and ensure their child is smiling when they walk off the pitch, whatever the result in the game they have just taken part in."
Your club can download the Save our Smiles pledge for parents to sign from irishnews.com/offers/smiles
Pictured: Michael Hasson, President, Ulster GAA, John Brolly, Marketing Manager, The Irish News, Bernie Fox Child Protection Manager, Ulster GAA along with children from Bun Scoil Bheann Mhadagain.
Pic: Mal McCann, The Irish News