Coach Development Programme 2016 – 2017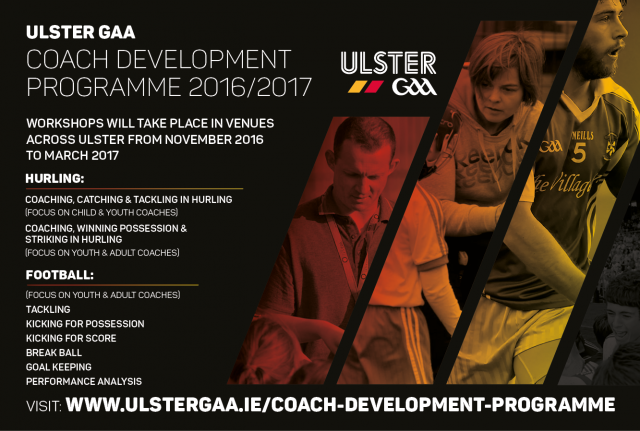 Ulster GAA will host workshops in venues across the province from November 2016 to March 2017 as part of its Coach Development Programme.
Below is a full list of CDP Coaching Programmes in both Football and Hurling. Come join us at a venue near you!
For more information about any of the Football or Hurling CDP Workshops, please email info.ulster@gaa.ie with your query.
County
Kicking for Score
Kicking for Possession
Tackling
Break Ball
Goalkeeping
Performance Analysis
Antrim
14/11/16
05/12/16
09/01/17
30/01/17
20/02/17
06/03/17
 Creggan GAC
 Lamh Dhearg GAC
 Tír na nOg GAC
 Sarsfields GAC
 Venue TBC
 Venue TBC
 Armagh
20/02/17
14/11/16
05/12/16
09/01/17
30/01/17
13/03/17
 Venue TBC
 Athletic Grounds
 Athletic Grounds
 Venue TBC
 Venue TBC
 Venue TBC
Cavan
30/01/17
20/02/17
14/11/16
05/12/16
09/01/17
20/03/17
 Venue TBC
 Venue TBC
 Breffni Park
 Breffni Park
 Venue TBC
 Venue TBC
Derry
09/01/17
30/01/17
20/02/17
14/11/16
05/12/16
27/03/17
 Banagher GAC
 Craigbane GAC
 Watty Grahams GAC
Watty Grahams GAC
 Owenbeg
 Owenbeg
Donegal
05/12/16
09/01/17
30/01/17
20/02/17
14/11/16
06/02/16
 St Michaels GAC, Dunfanaghy
 Ardara GAC
 Malin GAC
 St Nauls GAC
 Glenswilly GAC
 Glenswilly GAC
Down
23/11/16
07/12/16
11/01/17
01/02/17
22/02/17
01/03/17
 St Johns GAC Drumnaquoile
Cumann Pheadair Naofa Warrenpoint
Venue TBC
Venue TBC
Venue TBC
Venue TBC
Fermanagh
22/02/17
16/11/16
07/12/16
11/01/17
01/02/17
08/03/17
St Michaels College Enniskillen
Tempo GAC
St Michaels College Enniskillen
St Michaels College Enniskillen
St Michaels College Enniskillen
St Michaels College Enniskillen
Monaghan
01/02/2017
22/02/2017
16/11/2016
07/12/2016
NA
15/03/2017
 Cloghan
 Cloghan
 Cloghan
 Cloghan
 NA
 Cloghan
Tyrone
 11/01/2017
01/02/2017
22/02/17
18/01/17
TBC
22/03/17
 Venue TBC
 Venue TBC
 Venue TBC
 Clonoe Community Centre
 Venue TBC
 Venue TBC
County
Coaching, Catching & Tackling in Hurling
Coaching, Catching & Tackling in Hurling
Coaching, Winning Possession & Striking in Hurling
–
–
–
Antrim
16/11/16
21/11/16
05/04/17
 –
–
–
 Tír na nOg GAC
 Unit 2 Social Economy Village, Belfast
 Dunsilly CoE
 –
–
 –
 Armagh
15/11/16
 –
–
–
 –
 –
 Keady High School
 –
 –
 –
 –
 –
Cavan
10/11/16
–
25/03/17
–
–
–
 Army Barracks, Dublin Road, Cavan Town
 –
 Breffni Park
–
–
–
Derry
23/11/16
–
04/03/17
–
–
–
 St Patrick's College, Maghera
 –
Owenbeg CoE, Dungiven
–
 –
–
Donegal
25/11/16
–
11/02/17 or 18/02/17
–
–
–
 Aura Leisure Centre, Letterkenny
–
St. Eunan's, Letterkenny
 –
–
 –
Down
02/11/16
09/11/16
04/03/17
–
–
–
 Portaferry GAC
Hilltown Youth Club, Clonduff
Downpatrick GAC
–
–
–
Fermanagh
30/11/16
–
–
–
–
–
St Michaels College Enniskillen
–
–
–
–
–
Monaghan
–
–
11/03/17
–
–
–
–
 –
 Cloghan
 –
 –
 –
Tyrone
 16/11/16
–
07/02/17
–
–
–
 Healy Park, Omagh
–
Tyrone GAA Centre, Garvaghey
–
 –
 –