DENI Schools Coaches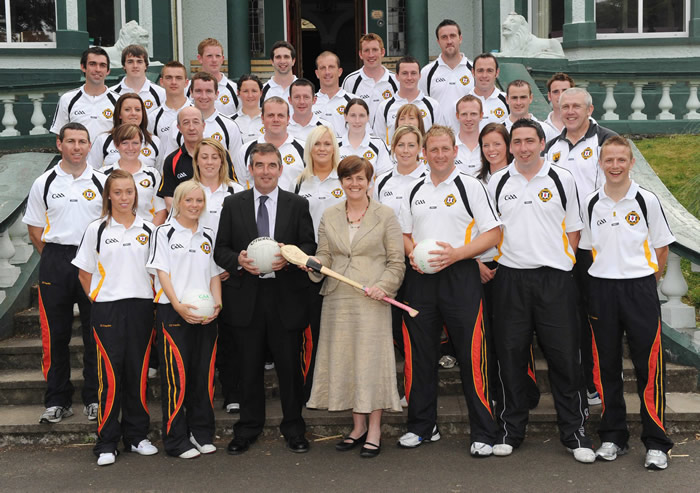 The DENI Primary Schools Curriculum Sports' Programme was first introduced in the 2007/2008 school year.  The pilot project which was planned for one year was so successful that schools have asked for it to be continued.  We now have 32 coaches employed who are focused on delivering the generic physical literacy skills in 320 schools, impacting 850 teachers and over 18,000 pupils.
The Main programme objectives are to:
Develop the generic physical literacy skills of our youngest pupils through participation in enjoyable fun activities
Help raise pupils' confidence & self-esteem, their motivation to learn and their achievements in other curricular areas, particularly literacy and numeracy, supported by a homework project
Raise the confidence of, and provide support to, primary teachers in delivering P.E.
Delivery:
The 32 GAA coaches work closely with the class teacher in delivering a games programme to primary classes
The intended focus is on Foundation Stage (P.1 & 2) and Key Stage 1(P.3 & 4), as these are the vital years for learning the basic fundamental movement skills of agility, balance, coordination, speed, running, jumping, handling, kicking and striking
We hope eventually to continue this programme into KS2
The lessons take place during curriculum time in support of the PE curriculum. Sample lessons in handling, kicking and striking have been specially written for all classes in these age groups
The main advantage of this programme is that after a full year the class teacher will be able to continue the programme after the coach leaves.
Schools will work closely with the coaches to clarify expectations, roles and support to the coach at the outset.  The response to the project from principals, teachers, parents and pupils has been very favourable with many teachers seeing the benefits of physical literacy and the carry over into the class room.
Many more teachers are now able to take their P.E. lessons, which was not the case before the programme started. The coaches have noticed a marked increase in children's skills and behaviour and this can only benefit our children, community, clubs and their sporting lives in future years.
New initiatives:
We have just started a Gaelic Start Project which we are piloting in some clubs by using our schools coaches as tutors. The aim is to help club coaches with little or no coaching experience and parents to become involved in the coaching of their own children at home.  You can get more information, as well as how to purchase the Gaelic Start packs here.
For more information on the Ulster GAA DENI Schools Coaches Programme, contact Terence McWilliams on terence.mcwilliams.ulster@gaa.ie / 07795 120437