Translink Ulster GAA Coach of the Year

Tell us who you think deserves to win!
The Translink Ulster GAA Coach of the Year is a new award which celebrates the incredible work carried out by volunteer coaches within Ulster GAA.
We're calling on clubs, players, parents, teachers and teams to nominate coaches who are most deserving of the award. Whether it's an under-age manager who, come rain, hail or shine, always goes the extra mile to make sport fun for the stars of the future, or a senior trainer who inspires everyone in the club with their passion and commitment, we want to hear about them!
The winning coach will be declared Translink Ulster GAA Coach of the Year. They will WIN specially commissioned commemorative training gear for themselves and FREE coach travel for their team over the next 12 months (subject to T&Cs).
Nominations are NOW OPEN!
Nominations are open until Sunday 29 October 2017. When submitting your nomination, please remember that Translink and Ulster GAA are looking for evidence to ensure the nominee meets some or all of the criteria:
Coaches a team at any level, from any code, within an Ulster GAA club
Demonstrates exceptional commitment to coaching Gaelic games
Holds a recognised coaching qualification
Makes a positive impact on the local community through volunteering as a coach
Acts as a role model for other people in their community
Adopts a player-centred approach to learning and development
After nominations have closed a panel of experts will select a shortlist, to include one finalist from each county. After that it's back over to you for the public vote to decide who will be declared the 2017 Translink Ulster GAA Coach of the Year.
The winner will be announced on Sunday 26th November.
Nominating your coach is easy. Just tell us a little bit about them and why you think they should win in the boxes below.
Meet the Judges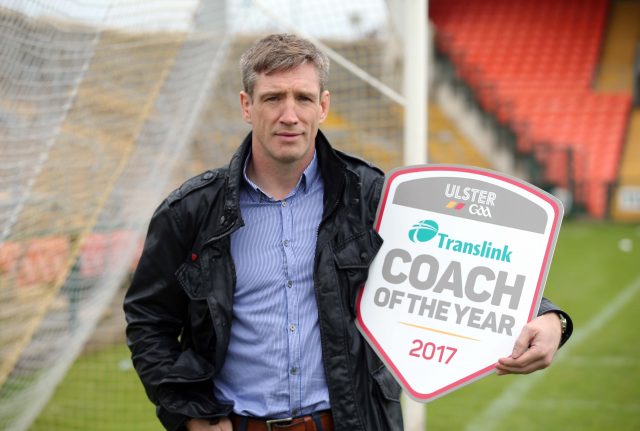 Kieran McGeeney
Armagh
Football Manager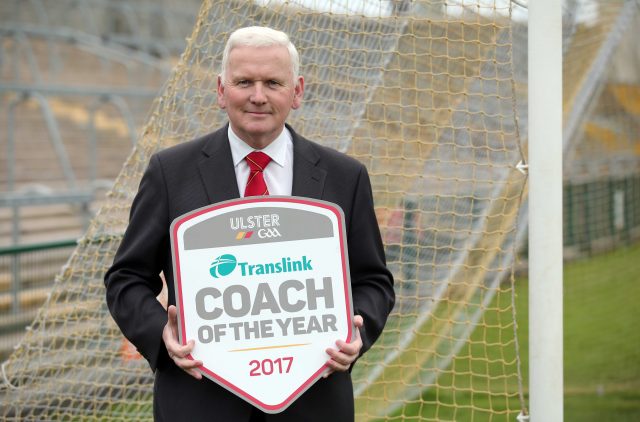 Michael Geoghegan
PRO,
Ulster GAA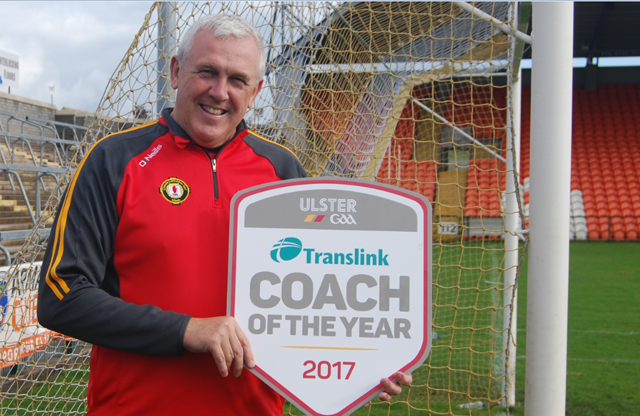 Eugene Young
Director of Coaching & Games Development, Ulster GAA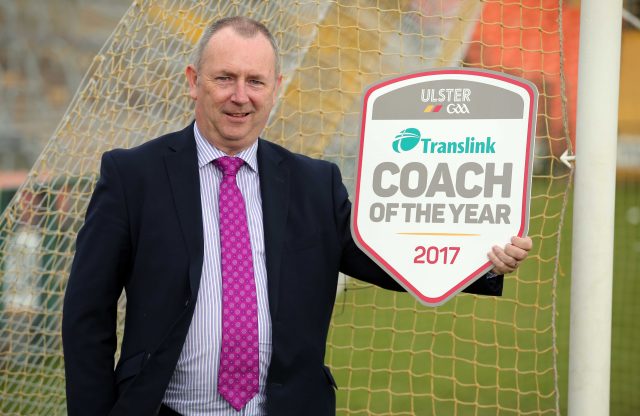 Gerry Darcy
Service Delivery Manager, Translink
Neil Loughran
Irish News
columnist
Terms and Conditions
Nominees must meet the following criteria:

Must be a volunteer coach who lives out the volunteer ethos of the GAA
Must be actively involved in coaching at least one team from any code, at any level, within their local GAA club
Nominees also be willing and available to participate in PR photographs and other media profiling opportunities as requested by Translink

The nominating period will open at 12am 10th October 2017 and will be accessible through ulster.gaa.ie. Each nominator will provide a full name and explanation (max: 250 words) explaining why this person should win.
Nominations must be submitted by 11.59pm Sunday 29th October 2017. Nominations after this time will not be included.
Following the nomination deadline, an independent panel will then select the most deserving nominees to be on the shortlist.
Once the shortlist has been announced, the voting phase will begin and the public will have the chance to vote for overall Coach of the Year
Voting for the overall winner will open at 12am Sunday 5th November 2017 and close at 11.59pm Sunday 19th November 2017. Votes after this time will not be counted.
Only votes submitted via ulster.gaa.ie will be counted.
To nominate your Coach of the Year, visit ulster.gaa.ie. Once the shortlist has been announced, return to ulster.gaa.ie to vote for your winner.
The overall winner will be announced at the Senior Championship Football Final on Sunday 26th November
Translink will offer the winning coach bus travel to a maximum of 10 away games for the team they coach. This must be redeemed within 12 months of winning the prize. One bus will be provided per game. Translink must be provided with at least three weeks' notice for each individual booking.