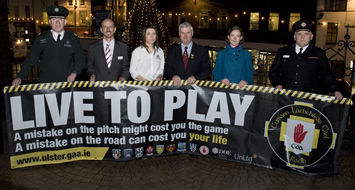 Ulster GAA has launched the 'Live to Play' 2011 Promotional Campaign which will result in a poster campaign for Schools and Clubs and pitch side signage for major GAA grounds. The poster campaign has gained the support of the major GAA stars in the Province with players such as Brian Dooher, Ronan Clarke and Paddy Cunningham lending their faces to the campaign. The initiative will also offer competitions for school children, providing the chance to win sports bags with reflective imagery, ensuring the carrier is visible in traffic. It is anticipated that these promotional materials will reinforce the education work which is ongoing as part of the Live to Play programme in Ulster.
'Live to Play', Ulster GAA's Road Safety programme, aims to raise awareness and educate members on how best to stay safe on the roads. The programme is delivered in partnership with the County boards, with a particular focus on young people as it is they who are most likely to be involved in a traffic collision.
Roads Minister Conor Murphy was among those present to witness Uachtarán Uladh CLG Aogán O Fearghail launch the 2011 campaign. He was joined by members of the Garda Siochana, PSNI, Fire & Rescue Service; who provide education to Clubs on Road Safety; along with representatives from DOE and UnLtd will have funded the promotional element of the campaign.
Uachtarán CLG Uladh, Aogán Ó Fearghail said "Live to Play has already made a significant impact in Ulster and the new Campaign for 2011 will allow us to take our message to a new audience while prolonging the impact among those who have already an awareness of the programme. We are grateful to all those who have assisted in the delivery of the programme and to the DOE and UnLtd for their financial contribution to this new element."
Assistant Chief Fire Officer, NIFRS, Eoin Doyle said "NIFRS is committed to making our roads a safer place for all road users. We are pleased to support the 'Live to Play' road safety awareness campaign in its aim of tackling road user behaviour to reduce deaths and serious injuries on our roads. Firefighters across Northern Ireland respond to road traffic collisions every day and we witness first hand the carnage on our roads and the lives completely destroyed as a consequence of bad road user behaviour. Together we all have a responsibility to make our roads safer."
Assistant Chief Constable Duncan McCausland, PSNI said "We are particularly pleased to support and endorse the excellent GAA Live to Play Initiative. Ulster GAA is inherently connected to the heart of many communities across the country, with membership and supporters from the very young to the old, a massive audience for road safety advice, particularly for you men who are starting their driving careers"
Superintendent John McFadden, An Garda Síochána said "An Garda Siochána is particularly pleased to be working alongside Ulster GAA and our colleagues in the PSNI and NI Fire and Rescue Service in the rollout of the Live to Play programme. As we approach the Christmas season this campaign highlights an important message to everyone who is travelling on our roads".