125 Reminder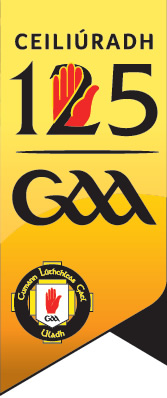 A Chara,
We write to you to highlight the importance of La na gClub which is scheduled for Sunday next, 10th May.
La na gClub is absolutely central to this year's GAA 125th Anniversary Calendar and we encourage all Clubs across Ulster to mark this special occasion by organising events at their Club grounds. Nearly 3,000 GAA Clubs throughout the world will celebrate La na gClub as a day when we can be proud of everything that we have achieved as an Association over the past 125 years.
Clubs and Volunteers have always been the focus of the Ulster Council's work, including its 125 Celebrations. We have provided every Club in the Province with a 125 Club Pack which includes as 125 Flag which should be flown at every Club Ground in Ulster on May 10th. Ulster GAA has also commissioned a special 125 Pin which is available to purchase from the Ulster Council Offices. We encourage all GAA members in Ulster to proudly wear a 125 pin to signify the importance of this special year. In the pack we have also provided guidance about how Clubs could structure La na gClub. The most important thing is that we all use it to have a good, enjoyable and very local day which will reinforce the importance of the GAA to us all and to our communities.
The Ulster Council has set up a special "125 micro site" and we would like Clubs to e-mail photos and reports of their La na gClub to 125@ulster.gaa.ie so we can display and archive the various events that will happen across our Province on Sunday. It's important that we keep a legacy of this very significant day.
La na gClub is central to celebrating the GAA at its most important level – the Club. But we need to remember too that our GAA work will continue beyond next Sunday. The start of the 2009 Ulster Championships is almost upon us and we have a range of special 125-related events organised for both the Football and Hurling Championships. We are also working with both the Ulster Ladies Gaelic Football and Ulster Camogie Councils to ensure that we have outstanding summer of Gaelic Games for everyone. We look forward to seeing you supporting your Association and your County at the games.
It's not just about our inter-County fare of course and County Club Leagues and Championships are already underway across our nine Counties. We hope too that you will continue to support these absolutely vital parts of the GAA world, whether as an active volunteer or as a spectator. Bí linn is cuidigh linn: come and join us… do your bit!
Our Volunteers and Clubs are vital to everything that we do in the GAA. Without your work and effort the GAA would simply cease to exist. Thank you for your continued effort in making the GAA what it is and best wishes in organising La na gClub and your 125 Club programme.

Beir Bua,
Tom Daly
President Ulster GAA
Danny Murphy
Provincial Director & Secretary Ulster GAA
back to top

Weather-Proof Your Celebrations!
Unfortunately the weather forecast is not great for Sunday but clubs should not allow this to put a dampener onto their celebrations. The message from Ulster GAA is plan ahead and clubs are urged to have a contingency plan in place in case playing fields are water logged.
Preparations for Lá na gClub are well underway across all clubs in Ulster and it's important that no matter the weather celebrations must continue. We are aware that most clubs are planning to activities on the playing field but this may not be possible on Sunday if this spell of bad weather continues.
Clubs should consider maximising their indoor facilities to ensure grass root GAA members can come together and celebrate 125 years of the GAA.
Indoor activities could include: club history exhibitions, past matches shown on big screens, Scór activities including traditional singing, music, recitation, GAA quizzes and Irish dance, displays of handball, and indoor games – the possibilities are endless!
Clubs should get their thinking caps on to make sure that the rain does wash away Lá na gClub celebrations.
back to top