Ulster GAA 125 Celebrations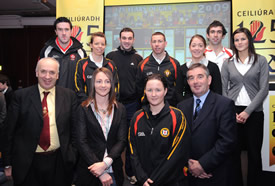 The Ulster Council GAA launched the 125th Celebrations of the Association in Ulster in the Europa Hotel in Belfast on Tuesday 3rd February. During the launch, the details of the events that are due to take place throughout this anniversary year were revealed.
In Ulster, the theme of these celebrations is focused around what we are, looking at all our past achievements and creating a stronger GAA to serve as a legacy for the future.
A wall chart of the events has been published distributed as a free supplement in the Irish News. This calendar highlights the events that will take place in 2009 and include:
A series of Historical Lectures with the Cardinal O Fiaich Library culminating in a Conference on 13th/14th March 2009

GAA Schools Day - 24th April 2009

La na gClub – 10th May 2009

National Handball Championships – 15th-17th May 2009

Gala Ulster Championship events covering all Gaelic Sports culminating the Ulster Football Final

125 Themed Championships incorporating Scór, Ladies Gaelic and Camogie

Special Foundation Ceremony in Armagh – 1st November

Gala Banquet in November

Dedication of commemorative plaques in significant GAA areas.
The launch was attended by over 150 representatives from all codes within the GAA Family including county managers Mickey Harte, Ross Carr, Terence McNaughton, Dominic McKinley. Players from across Ulster were also in attendance with Jane Adams, Joe McMahon, Ryan Mellon, Ruairi Convery and Aoife McDonnell. Other notable attendees included Maeve Kyle, Trevor Ringland and Sean O'Neill. Master of Ceremonies for the event was BBC championship presenter Austin O'Callaghan who introduced Ulster GAA President Tom Daly.
In his presentation, Tom Daly reiterated that "in Ulster we want 125 celebrations to be Club and Volunteer focused and the provincial council will endeavour to support our all our clubs in organising their 125 events."
Daly also highlighted that the 125 celebrations would focus on the entire GAA family "This celebration is about all of the GAA in Ulster including our sister codes of Ladies Gaelic Football and Camogie and we want to work with both Ulster Councils to ensure that the 125 year is relevant and meaningful for our players and members both male and female."
For further information on the 125th Anniversary celebrations in Ulster please log on to www.ulster.gaa.ie
---
Picture: Guests at the official launch of the Ulster Council's GAA 125th Year Celebrations in the Europa Hotel Belfast.
---
back to top

'For Community, Club, County & Country'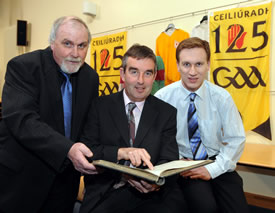 Details were announced recently of a major conference celebrating 125 years of GAA history, to be held at the Cardinal Ó Fiaich Library & Archive, Armagh, on Friday 13 and Saturday 14 March.
President Mary McAleese and Cardinal Seán Brady will be the keynote speakers at the conference, entitled, 'For Community, Club, County and Country', which is organised by the Ó Fiaich Library in partnership with the Ulster Council of the GAA, and supported by the Heritage Lottery Fund.
21 speakers in all will take part in the conference over the two days. The addresses of President McAleese and Cardinal Brady, which open the Friday and Saturday programmes respectively, comprise reflections on their personal involvement with the GAA and perspectives on the association's position and influence in Irish life, as observed from their offices of leadership.
In a similar vein, the conference will close on Saturday afternoon with talks by four Ulster GAA figures who have done much to shape Gaelic games in the northern province and nationally.
Jim McKeever will recall the progress of northern teams after the Second World War, the introduction of PE teaching into Gaelic games, and their acceptance by bodies such as the BBC and the Youth and Sports Council for NI. Maurice Hayes will reminisce on events such as the famous 1947 decision to hold the All-Ireland final in New York, meeting Michael Cusack's son at the GAA's 75th anniversary celebration dinner, and the national breakthroughs by Down teams while he was county secretary in the 1960s.
Peter Quinn will reflect on his periods as Ulster and national GAA president, and the role of Ulster in the recent advance of the GAA. Mickey Harte will bring the chronological narrative up to the present day with an analysis of his lifetime in the GAA in Ulster, and the renewed success of northern teams in the new millennium.
The conference will also feature six sessions of papers by a range of academics on subjects as diverse as the origins of Gaelic games and the GAA, the GAA and national political questions, the Catholic Church's relationship with the GAA and the role of the media in popularising Gaelic games. Prof. Alan Bairner of Loughborough University will round off these sessions with a paper about the GAA in modern global sporting context.
Tom Daly President Ulster GAA highlighted the significance of the event: "This is a milestone event in the GAA's 125th Anniversary Celebrations which will highlight the significant role the Association has had in all facets of Irish society over the past thirteen decades. I am grateful to the Cardinal Ó Fiaich Library & Archive for their important work which includes promoting the historical aspects of the GAA, I am particularly grateful to Donal McAnallen assistant Education Officer in the Library and a member of the Ulster Council's 125 Committee who is coordinating the Conference. We are expecting considerable interest in this event and will be over subscribed so I would recommend that interested parties book early".
Places at the conference are limited. Tickets cost £10 for either day, or £15 for the two days combined. To book, patrons should contact Bernie McGlinchey at the Ulster Council, (028) 37521900 or bmcglinchey@ulster.gaa.ie. Further information on the conference speakers and papers can be found at www.ofiaich.ie or www.ulster.gaa.ie.
The event will also mark the opening of the first part (1884-1959) of an Ulster GAA history exhibition in the Ó Fiaich Library. Any queries or offers of donation for the exhibition should be made to Roddy or Dónal at the library at (028) 37522981.
---
Picture: Kieran McConville, Head Librarian The Cardinal O'Fiaich Memorial Library & Archive; Tom Daly, Ulster GAA President and Donal McAnallen, Education Officer The Cardinal O'Fiaich Memorial Library & Archive.
---
back to top

Gaelic Life Dr McKenna Cup 2009 Round-Up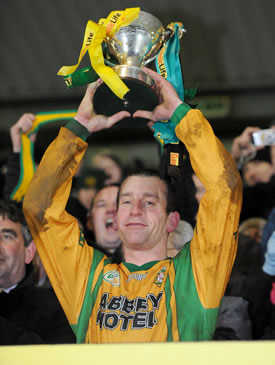 The Gaelic Life Dr McKenna Cup saw the commencement of Gaelic games in our province at the start of this year. There was added interest in this year's competition as counties had to overcome the ban on collective training in the months of November and December and there was also the introduction of the Experimental Disciplinary Rules, where a player who received a yellow card was to be replaced and each team was only allowed a maximum of six substitutions.
Once again, the Gaelic Life Dr McKenna Cup was played in a tight timescale with 21 games played in a period of 22 days. TG4 again provided coverage of three of the games, including the final. The nine counties were again joined by St Mary's College, Queens University and University of Ulster, Jordanstown.
In the group stages, there were noteworthy victories for St Mary's College over Monaghan, Queens over Cavan and Antrim and University of Ulster, Jordanstown over Derry. Other interesting points from the group stages included the fact that Derry drew two of their three games, Down's win over Tyrone, Cavan's win over Armagh and Tyrone and Monaghan served up a fantastic game at Healy Park, Omagh in a match that was covered live on TG4.
In the semi finals, Donegal defeated Armagh in an entertaining game in dreadful weather conditions at Healy Park, by 1-14 to 2-09. The following night, Queens University defeated Down by 1-17 to 1-11 at Pairc Esler to become the first university side to reach the Dr McKenna Cup final. On Saturday 24th January, they met Donegal at Healy Park, Omagh in another game that was covered live by TG4. In a tight game, Queens University had a couple of chances to win the game in normal time, but Donegal eventually ran out 2-12 to 0-11 winners after extra time to collect the first silverware of 2009. Comhghairdeas Dún na nGall!
---
Picture: Donegal captain Barry Monaghan lifts the 2009 Gaelic Life Dr McKenna Cup.
---
back to top

Packed house for Coaching Conference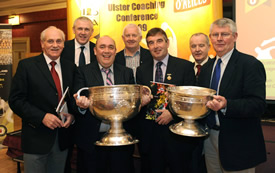 The 5th Ulster GAA Coaching and Games Development Conference took place in the Glenavon House Hotel in Cookstown recently with over 430 delegates in attendance. The Conference was again sponsored by O'Neills who sponsored a new kit that was won by Cargin GAC, Co Antrim. O'Neills also kindly supplied a conference pack for all delegates that was distributed at the end of the conference.
The Conference theme was on "Common Goals, Different Roles" and it focused on the key stakeholders who deliver Gaelic Games to children and youth. The keynote speakers and workshop facilitators delivered their sessions to challenge current thinking and practice in coaching and games. A clear message emerged that there is a need to focus on developing good physical literacy skills with young children.
Walter Bleakley, Senior Lecturer in Education at the University of Ulster stressed the need to work closely with educationalists in achieving good fundamental movement skills, something that is embedded in the new curriculum. Greater emphasis on coaching through games and developing better decision makers from an earlier age was evidenced. For the older age groups Dr Eugene Young stressed the need for the key stakeholders in the GAA, the schools, the clubs and the counties to work much closer together in a range of issues such as fixtures planning and player management to ensure that young players are nurtured and developed to their full potential.
Kieran Kennedy, O'Neills International Sportswear stated:
"This year's Coaching Conference turned out to be a massive success, with over 400 delegates in attendance. O'Neills International Sportswear are delighted to be associated with this event and we hope that all the delegates enjoy their conference pack. I would also like to congratulate Cargin GAC, who won the set of jerseys sponsored by O'Neills"
Conference delegates are encouraged to pick up the sessions on the Ulster GAA website www.ulster.gaa.ie and to review the video footage on www.irishnews.com/gaaconference
---
Picture: Oliver Galligan, Chairman of Ulster Coaching & Games Committee; Dr Eugene Young, Provincial Director of Coaching & Games; Kieran Kennedy, O'Neills Sportswear; Jimmy Smyth, MC of the Conference; Tom Daly, Ulster GAA President; Michael Hasson Ulster GAA PRO and Walter Bleakley, Senior Lecturer UUJ.
---
back to top

Students receive €1,000 Bursary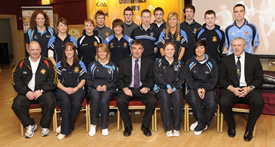 Forty-four Ulster students have been awarded a bursary of €1,000 each for their contribution to Gaelic Games, including their playing, coaching and administrative roles.
The awards are part of a National initiative and are administered by the Provincial Councils, who contribute 60% of the €260,000, which is awarded annually.
The scheme, which is now in its second year, was open to members of the Association who attend a full-time Higher Education course and who are active participants in their Higher Education club. Students who hold another GAA-related or college scholarship/bursary were ineligible to apply for a GAA Bursary.
The popular Bursary scheme received 158 applications from students and after rigorous assessment 44 awards were made to Ulster students. Selection for an award was based on a number of criteria, which included the student's playing, coaching and administrative roles.
Presenting the awards, Ulster GAA President Tom Daly congratulated the successful students and praised them on their commitment to Gaelic Games and to their academic studies. Tom wished the students every success for the future both on and off the field of play and he assured the students that the Bursary would go a long way to assisting them to meet the soaring costs associated with pursuing their academic studies.
---
Picture: Students of UUJ who received GAA Bursaries.
---
back to top

Community Development Unit Launched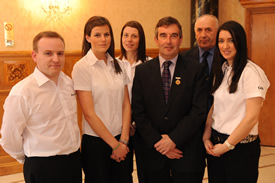 Two new staff have joined Ulster GAA Community Development and Inclusion Unit - Maura Kelly as Community Development Officer and Sharon Haughey as Volunteer Development and Research Officer. Both commenced employment with Ulster GAA in January.
Maura will be responsible for the roll out of the new Ulster GAA Club Maith programme and will oversee the Club Development Programme and manage various diversity initiatives while Sharon will oversee the development of the Volunteer training programme and will oversee provincial research and policy initiatives.
Ulster GAA Provincial Director Danny Murphy welcomed both staff:
"I welcome both Sharon and Maura to the staff. The Community Development and Inclusion Unit now have five dedicated staff who are responsible for Club, Volunteer and Community Development, Strategic Development, Public Affairs, Health and Wellbeing and Diversity/ Community Outreach initiatives. I look forward to seeing some exciting projects being developed by the CDIU over the coming months."
---
Picture: Ryan Feeney, Head of the Community Development and Inclusion Unit; Maura Kelly, Community Development Officer; Aileen Tohill, Health and Wellbeing Manager; Tom Daly, Ulster GAA President; Danny Murphy, Provincial Director Ulster GAA and Sharon Haughey, Volunteer Development and Research Officer.
---
back to top

Focus on Volunteers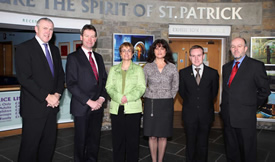 Ulster GAA has joined, Department of Social Development, Department of Community, Rural and Gaeltacht Affairs Volunteer Initiative, Church and Ireland and Voluntary Arts Ireland in new volunteer development initiative. The pilot scheme is jointly funded on an equal basis by the Department for Social Development and the Department for Community, Rural and Gaeltacht Affairs.
The Church Of Ireland, Voluntary Arts Ireland and Ulster GAA will collaborate to share best practice from each of their initiatives on a cross community and cross border basis, using their existing networks to develop their volunteer base, promote community development and help build community cohesion. GAA projects will work across border counties; Voluntary Arts Ireland will work in Fermanagh, Sligo and Donegal; and Church of Ireland will target areas in Derry and Donegal.
Speaking at launch in Downpatrick in January, Minister Ritchie said:
"There is a real need to increase the number and diversity of volunteers. These innovative projects will help to do just that. They are the first of their kind on the island of Ireland.
"I am delighted that the Church Of Ireland, Voluntary Arts Ireland and the Ulster Council of the Gaelic Athletic Association, in designing their individual projects, have agreed to work together to share best practice from each of their initiatives on a cross community and cross border basis. I commend them for their courage, innovation and leadership."
The Department of Community, Rural and Gaeltacht Affairs is supporting the project as part of its mission to promote and support the sustainable and inclusive development of communities and alleviate disadvantage. Minister Curran, addressing the launch said:
"This is an innovative project which will contribute to the growing volunteer base on both sides of the border. Volunteering is central to the ideals of democracy, social inclusion and active citizenship. It is also an expression of the individual's involvement in their community. I am particularly pleased to be working with Minister Margaret Ritchie and the Department for Social Development in Northern Ireland. I hope this will be the first of many mutually beneficial cross border joint initiatives."
Danny Murphy Provincial Director of Ulster GAA said:
"Ulster GAA are delighted to be part of the Volunteer Project which will be managed by the Ulster GAA Community Development Unit, we hope to build a meaningful and productive partnership with all project participants and look forward to developing a range of Volunteer support resources that will benefit our grassroot GAA volunteers."
---
Picture: At the Launch of the Volunteer Development Initiative: Dr. Eugene Young, Director of Coaching and Games Ulster GAA; John Curran TD Minister of State Department of Community, Rural and Gaeltacht; Margaret Riche MLA Minister for Social Development; Brenda Kent, Director Voluntary Arts Ireland; Ryan Feeney, Community Development & Public Affairs Manager Ulster GAA and Rev Earl Storey, Church of Ireland.
---
back to top

Heartstart Ulster GAA Courses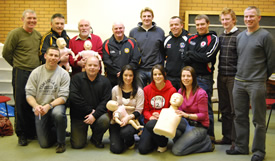 As part of Comhairle Uladh's Health and Wellbeing Programme a new partnership has been established with Heartstart, with the aim of equipping GAA members with life saving skills.
A group of County and Provincial staff attended a training day for tutors as part of this initiative which will see 'Heartstart Ulster GAA' courses being made available to Club coaches and officers across Ulster. Initially a series of pilot programmes will take place over the next month and for the first time ever the GAA has a network of tutors equipped to deliver to GAA members!
The courses will enable attendees to respond to situations including choking, bleeding and dealing with conscious and unconscious casualties. It is hoped that as a result of the programme, GAA members across Ulster will be better equipped to cope with life threatening situations wherever they arise.
---
Picture: County and Provincial GAA Staff who attended a Heartstart training day.
---
back to top

Get Ready for Club Maith

Work is continuing on the Club Maith project. We hope to have our "Toolkit" feature available on the Club Maith website from the beginning of March. The "toolkit" will act as an invaluable aid for clubs applying for Club Maith accreditation. It provides extensive information on all areas of Club functioning with specific advice on Governance; Duty of Care; Community Enhancement; Culture & Heritage; and Coaching & Games Development.
Having completed training of Comhairle Uladh core staff in Club Maith facilitation, we hope to recruit volunteers from across the Province for this training in the coming months. We anticipate a large response from clubs so yet again the role of the volunteer will be mammoth in the success of this exciting project.
For more information click on the "Club Maith" icon on Ulster GAA's homepage or alternatively visit: ulster.gaa.ie/club-maith
back to top

We Want your Opinion
Over the coming year we hope to bring you a monthly e-newsletter keeping you up-to-date with all that's going on in Ulster GAA.
Any suggestions for development or improvement to the newsletter are welcome - simply email shaughey@ulster.gaa.ie to make your views known.
Also encourage as many GAA supporters as possible to sign up for the Ulster Council's E Newsletter by logging onto: http://ulster.gaa.ie/media/newsletter/

back to top