Launch of new Ulster GAA Strategy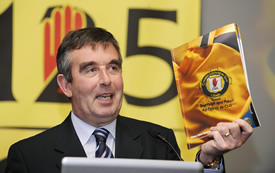 Ulster GAA has launched the Council's third strategic plan "Teaghlaigh agus Pobail an Fabraic de CLG: Family and Community the Fabric of the GAA" at the Stormont Hotel Belfast. The plan will direct the work of the Ulster Council right up until 2015.
Launching the Plan Ulster GAA President Tom Daly said: "This is really about the GAA in Ulster putting its best foot forward in a very well planned and open way and saying "this is what we want to do over the next six to seven years and these are our objectives and targets".
The new Ulster GAA plan has five strategic themes:

Governance- Keep Ulster GAA fit for purpose

Increasing and Improving the Games

The GAA Plant-Improving and increasing GAA facilities and Infrastructure

Enhancing the Gaelic in GAA; Culture and Heritage

The GAA's end purpose: Community Development and Inclusion
The Ulster Hurling Strategy is also included as an appendix to the document. Tom Daly highlighted the importance of the inclusion of the Hurling as appendix in the plan: "Because of the responsibility to, and the challenge we face in boosting hurling in Ulster we have developed a new specific Strategy for hurling in the Province, which is included as a full appendix to the overall Strategy and which will be useful to people involved in hurling promotion as a stand alone action plan."
Daly also stated: "Over recent years we have invested a lot of time and effort at Provincial Council and Committee levels determining how we want to move forward with games development and promotion, cultural matters, our internal GAA links, our links with associated organisations including camogie and ladies Gaelic football. We have also carefully considered our external linkages - with Local Authorities, Government Agencies and Departments in both jurisdictions - and also considered how we relate to civic society generally and the contribution we can make, in a positive way to a better life for all in Ulster. You will find that in producing our Strategic Plan we have set ourselves objectives and targets in all of these areas. We have also tied into our targets everything that has been set out for us in relation to targets and tasks in the National GAA Strategy. Ulster has a long track record of supporting national GAA objectives and our commitment to the new National GAA Strategy is without equivocation."
Danny Murphy Ulster GAA Provincial Director concluded by stating: "What we have set out in this plan will stretch us; it will involve a lot of hard work and commitment. All of us involved in the development of the Strategy believe that this is the right way to go and we are prepared to invest our own funds in order to achieve our targets. We also believe that the approach which we are taking will fit in well with various exchequer funded programmes in both jurisdictions and with National GAA Programmes. We would expect support from all of these sources in order to move forward."
Pick up your copy of the Ulster GAA Strategy: Teaghlaigh agus Pobail an Fabraic de CLG: Family and Community the Fabric of the GAA by contacting Bernie McGlinchey bmcglinchey@ulster.gaa.ie or phoning the Ulster Council offices on 028 (048) 3752 1900.
Listen to a podcast outlining the key aspects of the new strategy by logging on to: www.gaelgames.com
back to top

Successful GAA History Conference held in Ó Fiaich Library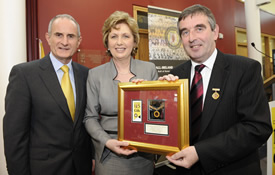 Earlier this month, over 150 delegates attended the Cardinal Ó Fiaich Library & Archive, Armagh, for the GAA history conference, 'For Community, Club, County and Country: Celebrating 125 Years of the GAA'.
The conference, which was organised by the Library, in partnership with the Ulster Council of the GAA and the Heritage Lottery Fund, was a tremendous success.
Keynote speakers on Friday and Saturday respectively, President Mary McAleese and Cardinal Seán Brady, spoke glowingly about the GAA, and entertained the crowd with many incisive comments and humorous anecdotes about Gaelic games, based on their personal experiences. President McAleese paid special tribute to the GAA in Ulster for its initiatives to spread Gaelic games to communities which have been historically outside the GAA fold.
Delegates also heard approximately twenty other speakers over the two days.
Most of these presented short papers from an academic perspective on a diverse range of subjects, from the reasons for the foundation of the GAA, to the civilising of Gaelic games in Ireland and the development of the GAA around the world.
The conference was also made special by the attendance of Mick Higgins, the sole surviving Cavan player from the 1947 All-Ireland final and the county's last All-Ireland-winning captain (in 1952). Aogán Ó Fearghail, Vice-President of the Ulster Council, gave an entertaining talk about the 1947 final.
The Ulster-based aspects of the conference reached a climax in the last session on Saturday. Jim McKeever, Maurice Hayes, Peter Quinn and Mickey Harte outlined general reflections on the GAA's advance in the north during their lifetimes. The attendance and contribution of many other Ulster GAA greats, such as Seán and Kevin O Neill of Down, further enriched the event.
A further highlight of the weekend was the opening of the first part of an Ulster GAA history exhibition (1884-1959) in the Ó Fiaich Library. This exhibition comprises many valuable artefacts, such as old trophies and rare GAA documents, as well as jerseys worn by star players from Ulster in the 1950s.
Before the conference, Ulster Council President Tom Daly and national GAA President Nickey Brennan laid a wreath on the grave of the late Cardinal Tomás Ó Fiaich. President Mary McAleese also unveiled a plaque in the library to mark the occasion of the conference.
To hear President McAleese's speech in full please log on to: www.gaelgames.com
back to top

Call on Clubs to enter Irish News Awards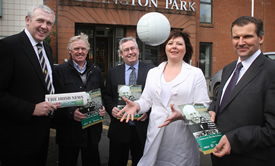 Celebrating the club, valuing the volunteer is the message in this, the seventh year of The Irish News Club & Volunteer Awards. The awards scheme continues to evolve to match the different times and challenges with awards available for clubs, volunteers and schools.
An addition this year is the '125 Special Recognition Award' to mark this historic anniversary of the GAA, with the winner of this special category chosen from all entries received.
Tom Daly, Ulster Council President, commented: "The Ulster Council are delighted to once again endorse and support The Irish News Club and Volunteer Awards. The awards have become a permanent fixture in the GAA calendar and I commend The Irish News for their ongoing commitment to the GAA at all levels.
"I would encourage as many clubs and schools as possible to enter the various categories which have a special significance in 2009, the 125th anniversary year of the GAA."
Once again, all sizes of clubs have the opportunity for their good work to be recognised, in Small, Medium, and Large categories, and volunteers will also be applauded in those three categories. Schools' awards will once more go to those at both primary and second level.
Irish News editor Noel Doran said: 'This initiative always receives a fantastic response from our clubs and schools of all sizes, and it is great to be able to offer recognition to these key sectors."
Entry packs can be obtained by post from The Irish News Marketing Department or by emailing requests to club awards@irishnews.com and official application forms can also be downloaded from www.irishnews.com/clubawards
This year, The Irish News Club & Volunteer Awards will be run in partnership with the Ulster Council, O'Neills, Cardiac Risk in the Young, and the Mooney Hotel Group.
back to top

Ulster GAA Stars against Racism – Take one!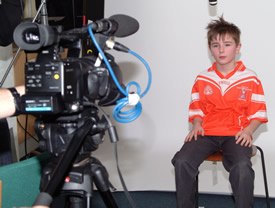 Wednesday 11th March was a busy day at Abbey Street with the filming taking-place of a Sport Against Racism Ireland (SARI) DVD. Comhairle Uladh came on-board with the SARI project which aims to highlight the role of sport in tackling racism issues.
High profile players, ex-players, and managers gave up their time in order to support this worthwhile project. Among the football fraternity were current players Ryan Mellon, Martin Mc Grath, Ronan Clarke, Gemma Begley and Caoimhe Marley, with others hoping to become involved at a later date. Former greats included the likes of Peter Canavan, Tony Scullion, and Diarmaid Marsden.
From camogie we were honoured to have Antrim's Jane Adams and from handball the World Female Champion, Fiona Shannon.
Current managers Mickey Harte and Terence 'Sambo' Mc Naughton also came-along in support of the project.
A special mention must go to St Matthews Primary School who have four GAA stars in the making! The kids shared in the fun speaking about their involvement in Gaelic games. But the highlight of their day was getting a chance to have their photo taken with Tyrone great Peter Canavan.
It is hoped the DVD will be shown on a number of popular television channels in the near future, as well as on the large screens at Croke Park on match days.
back to top

'Have a Go' at Breifne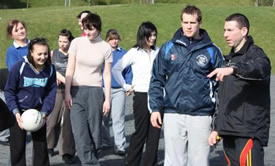 As part of Breifne College's International Week, in which the school's cultural diversity was celebrated, Cavan GAA Development facilitated a workshop to encourage International students to 'Have a Go at GAA'.
The workshop was co-ordinated by Cavan GAA Development Manager Nicholas Walsh, Diarmuid Marsden and Breifne College's Brenda Lynch.
Over forty students took up this unique opportunity to try out Gaelic games for the first time. The success of the workshop could only be measured in the buzz of excitement and laughter that followed the students off the playing field and it seemed as though the love of the game surpasses any cultural differences.
It is hoped that many of the international students will now get involved in Gaelic Games at Breifne College and also through their local GAA clubs.
back to top

Full House expected for Underage Hurling Blitz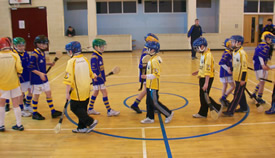 Meadowback Sports Arena in Magherafelt, Co.Derry is expected to be full to capacity on Sunday 19th April as Ulster GAA hosts a major U10 Indoor Hurling Blitz.
With the exception of Blitz 8 (125 Provincial Blitz on Sunday 19th April from 1:30pm-3:00pm) all the Ulster Blitzes are now full up. It is therefore crucial that any club wishing to get registered for the final few places contacts Kevin Kelly at Ulster GAA as soon as possible. If you would like to attend Blitz 8 please contact: kkelly@ulster.gaa.ie with number of teams you will be bringing.
108 teams will participate in this special blitz to mark 125 years of Gaelic Games and its promise to be an exciting day for all children taking part.
back to top

Ulster Recipients of President's Awards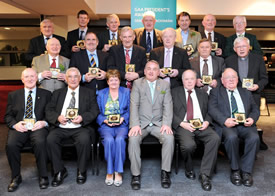 Congratulations to the 5 Ulster recipients of the GAA President's Awards.
On St Patrick's Day, GAA President Nickey Brennan honoured 18 members of the association who have made outstanding contributions to the GAA in their respective areas across Ireland.
The 5 Ulster recipients this year were Declan O'Neill (Tyrone), Peter Sherry (Monaghan), Teresa Kelly (Tyrone - Ladies Football), Gilbert McIlhatton (Antrim) and Eugene Gallagher (Donegal) who all picked up awards for their services.
back to top

St Pat's retain MacRory Cup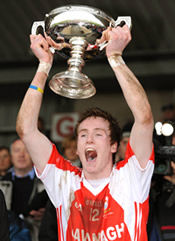 MacRory Cup Final:
St Patrick's Dungannon 2-7 Omagh CBS 1-9
St Patrick's Dungannon retained their MacRory Cup following a hard fought 1 point victory over rivals Omagh CBS at Healy Park.
Dungannon opened the scoring through Kiefer Morgan, but Omagh responded with 3 quick-fire points and a goal from Peter Harte in the 13th minute to put them in a commanding position.
The sides traded points, but the crucial score of the half came just before the break from St Patrick's midfielder Niall McKenna as he found the net to leave the score 1-06 to 1-03 at the break, with St Patrick's looking forward to playing with the aid of the breeze in the second half.
Dungannon corner forward Derek Thornton narrowed the gap to 2 after the restart then cooly slotted home a penalty after Niall McKenna was brought down in the large rectangle.
With full time approaching Dungannon held a 3 point advantage and points from Peter Harte and Conan Grugan left the minimum between the sides, but they were unable to find the equalizing score.
St Patrick's and their coach Ciaran Gourley will now march on to the All-Ireland series where they will be dreaming of repeating their Hogan Cup success of last year.
St Patricks Dungannon: N Morgan; P Muldoon, B Kelly, J Grimley; S McGarrity, G Teague, D Toner; D Lavery, J Loughran; S Small, C Gervin (0-2), L Gervin (0-1); K Morgan (0-3), N McKenna (1-0), D Thornton (1-1). Sub: D Quinn for McGarrity.
Omagh CBS: R McAnenly; D Connolly, S Warnock, F McQuaid; S McCrory (0-1), A O Donnell, S Mullan; C Grugan (0-1), S Harper; P Harte (1-4), R O Neill, B McGarvey; J Donnelly, C Hicks (0-1), R Lynch (0-2). Subs: K McCullagh for Donnelly, T Canavan for Harper.
Referee: J White (Donegal).
back to top