Schools celebrate 125 years of Gaelic Games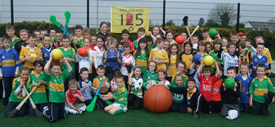 Thousands of schoolchildren got a break from the books on Friday 24th April to celebrate 125 years of Gaelic Games.
Ulster GAA encouraged Pre-schools and Primary schools to take part in activities related to Gaelic games to mark the special occasion. Many children swapped their shirt and tie for their county or club jersey, while other schools introduced county stars to the future players.
Pupils at St Malachy's Primary School held a GAA parade in Castlewellan, Co Down. Principal Maurice O'Neill said businesses in the area had sponsored specially designed T-shirts, which the pupils wore to mark the day.
He said, "We felt we wanted to mark the day by bringing the children out into the community because the GAA is such a parish-based organisation. "It was a fantastic day and one the children will never forget."
Pictured are children from Creggan Primary School, Co Antrim who took part in the 125 Schools Day.
back to top

Good Luck to Team Ireland at World Handball Championships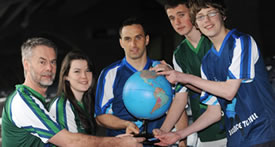 Cavan's Paul Brady will lead Ireland handballers to this year's World Championships in Portland, Oregon following his 21-16, 21-11 victory over Dublin's Eoin Kennedy in the Envirogreen Irish Nationals at Kingscourt.
Brady sealed his place on the Irish team in dramatic fashion and, despite a shaky start, showed some clinical finishing and top commitment in the second game to collect the Men's Open crown.
"I'm delighted with the win," said dual-star, Brady, who is also a member of the Cavan senior football panel.
"It was always going to be tough against Eoin and I'm just relieved to have come through it, and looking forward to Portland now."
Brady, the current world number one, now moves a step closer to the retaining his World title following victories in 2003 and 2006.
Also bidding to retain her World title in Portland next October, Antrim's Fiona Shannon defeated fellow Saffron, Aisling Reilly, on a 21-5, 21-11 scoreline in the Ladies Open Final to seal her place on the Irish team. Ten players booked their places on the Irish squad this weekend, including Kilkenny legend Michael 'Ducksy' Walsh who defeated Meath's Tom Sheridan to take the Masters spot of the squad.

TEAM TO REPRESENT IRELAND AT THE WORLD CHAMPIONSHIPS IN PORTLAND, OREGON IN OCTOBER:
Michael 'Ducksy' Walsh (Kilkenny) - Masters
Kevin Geraghty (Mayo) - Golden Masters
Lauren O'Riordan (Roscommon) - 15 and Under Girls
Padraig McKenna (Monaghan) - 15 and Under Boys
Catriona Casey (Cork) - 17 and Under Girls
Jamie Lynch (Clare) - 17 and Under Boys
Shauna Hilley (Wicklow) - 19 and Under Girls
Diarmaid Nash (Clare) - 19 and Under Boys
Fiona Shannon (Antrim) - Open Women
Paul Brady (Cavan) - Open Men
back to top

Ulster Clubs should pick up their 125 Packs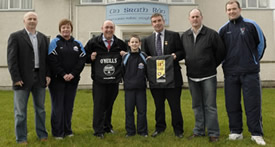 GAA Clubs across Ulster are to receive a very special Club Pack to enable them to celebrate 125 years of the GAA.
The packs, sponsored by O'Neills Sportswear, contain everything that is needed to help clubs play their part in celebrating 125 years of the GAA including:
A special 125 Flag to be flown at club grounds throughout the anniversary year
A 125 Wall Planner highlighting significant events
Foras na Gaeilge Irish Language Pack
GAA 125 DVD
Club Maith Tool-Kit
Ulster GAA Strategy
The 125 Packs have particular emphasis on planning for the 10th May, a key date for the Association when all GAA clubs across Ireland will host a festivity of activities and events to commemorate 125 years of Gaelic Games - the day will be known as Lá na Chlub.
Also included in the packs are useful guidelines for schools in their preparations for GAA 125 Schools Day on April 24th.
The packs are now available from County Grounds and all clubs are asked to make arrangements with their County Board Secretary for pick-up immediately.
Speaking at the launch of the GAA's 125 Club Pack, Ulster GAA President Tom Daly said, "Nearly 3,000 GAA clubs throughout the world will celebrate"125″ this year. It's important that our 600-odd Clubs in Ulster should also play their full part. "125″ is about being proud and appreciative of everything that we have achieved as an Association since 1884: we need to give it the focus it deserves.
"The pack has been provided to assist Ulster Clubs in organising their own events to mark the 125th Anniversary of the GAA. It is important that in all parts and at all levels of the GAA we take the time to celebrate this land-mark achievement."
Ulster 125 Club Packs are free for all GAA Clubs and it is the responsibility of Clubs to contact their County Secretary to arrange to pick up their pack as soon as possible.
back to top

Congratulations to Ulster Scór Sinsear Champions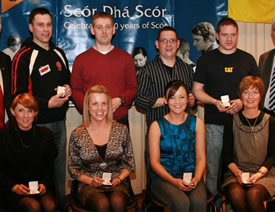 Ulster was well represented at the All Ireland Scór Sinsear Finals in Killarney recently. A huge army of supporters travelled to the Kerry town to support their county stars and Provincial Champions – from Monaghan, Armagh, Tyrone and Cavan.
The standard of competition across all categories was extremely high and the Ulster contingent were outstanding in their performances of Ceili Dancing, Solo Singing, Instrumental Music, Recitation, Ballad Group, Novelty Act, Set Dancing and Question Time.
Ulster was unfortunate only to walk away with one All Ireland title, going to Muineachan Ceilie Dancing Champions Scairbh na gCaorach, Emyvale. We extend our heartiest congratulations to Emyvale and we commend all the Ulster performers who were exceptional ambassadors for the Province.
All Ireland and Ulster Ceile Dancing Champions - Muineachan (Scairbh na gCaorach- Emyvale)
Maire Ni Chuuirc, Lorna Maitui, Vanessa Nic Aoidh, Riona Ni Chaomhanaigh, Peadar O Searraigh, Ronan O Siochan, Stiofan Mac Uidhir agus Gearoid Mac Gomhnaill
Ulster Solo Singing Champion - Ard Mhacha (Ropairi na Madain - Madden)
Caitriona Ni Gharmaile
Ulster Instrumental Music Champions - Ard Mhacha (Drom an Ti - Dromintee)
Ciaran OMurchu, CaitrionamNi Mhurchu, Pol Mag Riabhaigh, Gearoid Mac Dhaibhead agus Leona Ni Sheachnasaigh.
Ulster Recitation Champion - Ard Mhacha (Carraig Chroppin- Carrickruppen)
Niamh Ni Dhaimhin Niamh Devine
Ulster Ballad Group Champions - Tir Eoghain (Coill an Chlochair- Killyclogher)
Poilin ODalaigh Amanda ODonnaille, Aisling Ni Ceallaigh, Michael OCeallaigh, agus Aidin O Dalaigh.
Ulster Novelty Act Champions - Tir Eoghain (Coill an Chlochair- Killyclogher)
Eanna Mac Ruairidh Eamon McCriostail, Ciaran MacGiolla Ruaidh, Pronsais Mac Suibhne, seamus O Corragain, Sean MacCoileain.
Ulster Set Dancing Champions - Muineachan (Scairbh na gCaorach- Emyvale)
Maire Ni Chuirc, Lorna Maitiu Vanessa Nic Aoidh, Riona Ni Chaomhanaigh, Peadar OSearraigh, Ronan O Siochan, Stiofan Mac Uidhir agus Gearoid Mac Comhnaill.
Ulster Question Time Champions - An Cabhan -(Corn a Feinne- Cornafean)
Michael Mac Duinnine Brian O Duill agus Tomas Mac Gibne.

back to top

Gaelic Start Programme for children across Ulster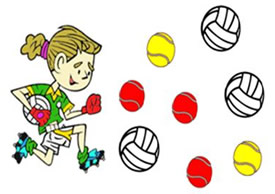 Ulster GAA is currently rolling out the Gaelic Start Programme across clubs to encourage children to get involved in Gaelic Games from an early age.
The aim of this programme is to help parents and coaches plan and implement a Gaelic Start and Fundamentals programme in their clubs.
The Gaelic Start programme will cover the first two stages of the LTPDP i.e. Active Start – 3 to 5 yrs. and the Fundamentals 6 to 8/9 yrs.
Specially trained tutors will help coaches run specific programmes to coach in their own clubs over a number of sessions
A specific programme of skills and activities has been developed on user friendly cards for coaches with little or no experience.
Any club hoping to run out the programme should contact their county games manager.
back to top

'Crossing the Bridges' Cross Community Youth Programme
Ulster GAA has made links with Youth Com, a Church-based organisation which aims to promote faith in young people. Based in Belfast, project manager, Carolyn Lowry asked Ulster GAA to become involved in a "Crossing the Bridges" project. This cultural diversity, capacity building programme engaged with youths from across the sectarian divide. Youths from six predominantly Unionist areas, and youths from four predominantly Nationalist areas came together in a cultural exchange programme. Following a forum highlighting topics seen as taboo in each of the "other" traditions, the GAA was revealed as an organisation which the protestant children felt they knew little about. The aim of the project was to allow the children to express their own traditions, while learning about others. Thus four GAA visits were arranged; one to Pairc Esler, Newry and three to Casement Park in Belfast.
Each visit took place on an evening beginning with a brief history of the GAA, followed by a question and answer session. Children were given a tour of the stadium and grounds, where the spectacle of Pairc Esler and Casement Park floodlit behind a dark Newry or Belfast sky were sights to behold. Of course the predictable question was "would we get to play on the field?" With great coaching from Ulster staff the teens got the chance to try Gaelic football, hurling and camogie; many for the first time! It was quite incredible to see how the children, many of them new to the game, took to the skills. And how many of the kids, although reluctant at the beginning, began to take an interest in the sports.
Although there were many highlights of the project, one will be the unfailing surprise of kids from both sides, when it was revealed how Sam Maguire was a Protestant. On the final visit we were lucky enough to have the Sam Maguire and Tom Markham cups in attendance. Cuthbert Donnelly spoke eloquently about the significance of the cups and the many journeys made by Sam Maguire, in particular.
Initially this project was considered to be a ground-breaking one, both from the GAA's and Youth Com's point of view. It was difficult to predict how the GAA visits would appeal to the youth groups, however, the success of the projects has resulted in many of the kids actively seeking to play gaelic games, and the youth leaders keen to come along to watch a live GAA game. Given that this would have been unthinkable for these groups a few years ago, it speaks volumes for the welcome given by officials at Pairc Esler and Casement Park. Sincere thanks to club and county officials who made our visits so enjoyable, and to Comhairle Uladh staff who helped-out during the visits.
back to top

Ulster Clubs to avail of Heartstart Training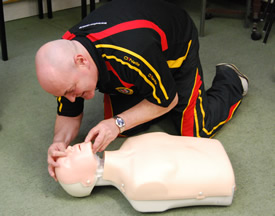 Comhairle Uladh is offering a number of 'Heartstart Ulster GAA' courses to interested Clubs over the coming months. The courses will teach life saving skills to members, enabling them to cope in life threatening situations.
The course lasts approximately 2 ½ hours and covers choking, bleeding, conscious and unconscious casualties, recovery position and CPR. Attendees will get the opportunity to learn the skills required to help keep the casualty alive until professional help arrives. The courses are limited to a maximum number of 20, with both coaches and administrators welcome.
All Heartstart courses will be delivered by professionally trained GAA tutors with all attendees receiving a certificate of attendance.
Courses will be available on a first come first served basis, so if you wish for your club to avail of this opportunity, please register by emailing atohill@ulster.gaa.ie
back to top

790 children enjoy U10 hurling blitz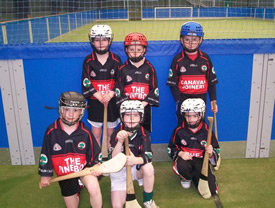 The Indoor Hurling Season came to a dramatic close with the 'GAA 125' Provincial U10 Indoor Hurling Blitz in Meadowbank Sports Arena, Magherafelt. 105 teams representing 50 Clubs participated in 'FUN' centred Blitz.
The Blitz was the 7th and 8th Indoor Regional Blitzes ran by the Ulster Council GAA this year and complemented the all-ready successful Indoor league run by North Antrim Hurling Board, the blitzes held by Donegal, Derry and Antrim County Boards.
It was a great occasion with the new Ulster hurling Indoor rules being implemented with ease.
790 Players participated in the Blitz with 54 teams playing on 9 Indoor Pitches from 11:30am – 1:00pm and another 54 teams playing from 1:30pm – 3:00pm.
There were a total of 270 games played in 3½hrs with all teams showing great team work and skill.
Feedback from the clubs was very positive with a number of the clubs expressing interest in attending similar blitzes with the rules very simple and easy to follow for both the players and referees.
Francis Fullerton, An Ceide Lamh Dhearg said, "Just a wee note of thanks for fantastic blitz yesterday. Well organised and in a great venue. Well done to everyone involved. Many Thanks,"
Jimmy Darragh, Ulster Hurling Development Manager stated, "Just a short note to congratulate you on the magnificent tournament in Magherafelt yesterday. A lot of work in preparing and delivering the event was undertaken and all teams, and indeed staff involved thoroughly enjoyed the day. With 105 teams participating in a hurling event is a first for Ulster GAA and augers well for the future."
Ronan McWilliams, Cúchulainn's, Armagh said, "Great Day, First Class. Boys had a great time."
Conor Murray, St Colm's, Ballinascreen said, "Cheers, Very Good events, cubs enjoyed it, thanks."
back to top

New health booklet for young Gaels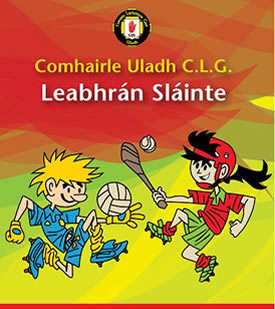 Following the success of the Health programme in schools last year, the second edition of Comhairle Uladh's hugely popular children's Health Booklet was distributed to schools this month.
7, 000 booklets, which complement the work of the DENI coaches, are now in circulation. An exciting development to the initiative this year was the provision of the booklet as Gaelige – enabling pupils in Irish medium schools to be fully involved.
The booklet is an interactive resource, containing fun puzzles, educational quizzes and eating record sheets to assist children in developing healthy attitudes towards diet and exercise.
There is also information for parents so that the whole family can get involved!
back to top

Lurgan Clubs against drugs and alcohol abuse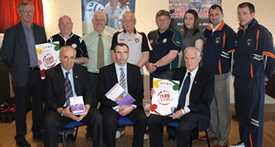 Four GAA clubs in Lurgan have set aside their traditional rivalries to unite in a common cause ­- to combat the abuse of drugs and alcohol.
Around 1500 children and young people aged under-18 play and train with Clan na Gael, Clann Eireann, St. Paul's and St. Peter's every week, and many others are also involved as youth club members, senior players, former players, coaches, club members and supporters.
The four clubs believe they are ideally placed to play a key role in the fight against the misuse of drugs and alcohol, which is a growing problem for the whole of society in Northern Ireland.
Research by local agencies and treatment referral figures suggest the misuse of these substances has grown significantly in Lurgan and surrounding areas in recent years.
"This is about leadership and responsibility. The GAA is an integral part of society and is a powerful force for good," says Jimmy Magee of St. Peter's.
"Thousands of young people and adults enjoy sport and keep themselves fit by training and playing with our Clubs every year. This initiative aims to take that a step further and to educate members and others about the dangers of drugs and alcohol."
These are issues that affect the whole of society and we want to to do what we can to reach those we can influence."
The initiative is part of the wider GAA Alcohol and Substance Abuse Prevention (ASAP) programme and each of the four Clubs has appointed an officer to oversee its implementation.
They will also work with the GAA, Sport NI and the Irish Sports Council to ensure that all players are educated about anti-doping issues.
"This kind of co-operation between Clubs is unprecedented. As those within the GAA will know, local parish rivalries run very deep," says Shane McConville of St. Paul's.
"But we believe this issue can best be tackled working together as a team. Prevention is better than cure and we hope that by showing leadership and example, we can play a positive role."
In addition to working with all relevant agencies involved in combating drug and alcohol abuse, Clubs are also seeking the cooperation, support and participation of parents, family members, local schools and local outlets who supply alcohol.
The strategy was launched by Brendan Murphy, the National Co-ordinator of the GAA's ASAP programme, in Clann Eireann's clubhouse on Tuesday, 21st April. Ahead of the launch, Brendan Murphy commended the initiative and paid tribute to the 4 GAA Clubs involved.
back to top

Down retain U21 Ulster Title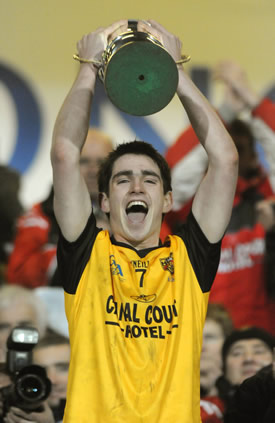 Ulster U21 FC Final:
Down 1-14 Armagh 2-10
Down retained the Ulster U21 football title with a 1-14 to 2-10 victory over Armagh at Casement Park.
The Mourne men youths got the better of their Orchard County rivals by a single point, with a late Conor Poland goal the difference between the sides.
The men from Armagh started well despite playing against the breeze and they were 2-4 to 0-7 to the good at half-time, with Shane Carroll and Kieran Hoey both notching goals.
Down hit back but Stefan Forker and Kyle Carragher responded with points to give their side a four-point lead with just a quarter of the game to go.
A flurry of scores from Down men then saw them draw level as Michael McGee, Paul McComiskey, Jamie O'Reilly and Peter Fitzpatrick all gave the umpires work to do.
However, it looked like it was going to be Armagh's night when Forker and David Cumiskey edged them back two points in front with time running out.
But there was still time for Down to put together a four-man move that ended with Poland slamming home to the net for a dramatic finish to give victory to the boys in red and black.
back to top